Helping Haiti: Students, Faculty, and Staff Pull Together to Assist Victims of Earthquake
How to help
There are many aid organizations assisting earthquake victims in Haiti. Here are just a few:
The Center for International Disaster Information also offers guidelines for donating to a disaster incident.
Message from President Seligman
January 14, 2010
"The extent of this humanitarian crisis is unknown now, but our hearts go out to those who are touched directly by this tragedy"
Read more
Update: January 22, 2010
An Eastman School graduate who was in Haiti during the Jan. 12 earthquake will perform at a benefit concert at the school at 8 p.m. Thursday, Jan. 28, in Kilbourn Hall.
Titled "Harmony for Haiti," the concert is organized and coordinated by Eastman School master's degree students Jordan Hayes and Emeric Viani, who connected with and invited alumnus Louima Lilite to participate in the event. In addition to Lilite, a tenor who will sing and speak briefly about Haiti, the concert will feature the Eastman School's Balinese gamelan ensemble, Gamelan Lila Muni; other Eastman School ensembles including a student orchestra; and the Yellowjackets, one of the University of Rochester's all-male a cappella groups.
The suggested donation for the "Harmony for Haiti" concert is $10, with proceeds going to the Clinton Bush Haiti Fund established by President Bill Clinton and President George W. Bush. One hundred percent of the fund donations are earmarked for immediate relief and to assist long-term recovery efforts.
Lilite, who received his Doctor of Musical Arts degree at Eastman in 2008 and is now assistant professor of music at Oklahoma Baptist University, was about four hours away from Port-au-Prince when the 7.0-magnitude earthquake struck on Jan. 12. He was in Limbe at the North Haiti Music Camp, where he serves as the coordinator, and it was several days before he learned of the safety of his sister and her family. Lilite, who was born in Haiti and grew up in Port-au-Prince, was able to return to the United States as planned on Friday, Jan. 15. Read more about the concert on Eastman's Web site.
---
January 16, 2010
On Tuesday, Jan. 19, in remembrance of the victims of the Haiti earthquake, the Interfaith Chapel and the Department of Music will toll the Carillon's Hopeman Bells at 4:53 p.m., the moment the earthquake struck. The carillon will chime for one minute, providing an occasion for reflection or prayer. The University flag also will be flown at half-staff on Tuesday.
---
January 15, 2010
Catholic Newman Community will celebrate a special mass this weekend for those affected by the earthquake in Haiti. Additionally, regular Sunday collection will be designated to Catholic Relief Services. Masses are held at 10:30 a.m. and 7 p.m. in the Interfaith Chapel.
---
Sen. Kirsten Gillibrand's office is offering assistance to Haitian or Dominican students, faculty, and staff who require help with a visa, reaching a loved one, or otherwise in the aftermath of the earthquake. If you need assistance, contact the University's Office of Government and Community Relations at 273-5955.
---
Rachelle Nesbitt is constantly monitoring the Internet, watching the news, and keeping her phone nearby, all in the hopes that she'll hear news about her family in Port-au-Prince.
Nesbitt, a registered nurse in the Kessler Family Burn/Trauma Intensive Care Unit (ICU) at the Medical Center, is awaiting word on the condition of most of her extended family in Haiti, including her grandmother. She said the experience has been "horrible."
On Friday morning, she got word from a relative in New Jersey who reported that a couple of her aunts had been found in Port-au-Prince. She posted the news on her Facebook page, which she says has been one of her primary forms of communication this week.
Nesbitt left Haiti nine years ago. Just before the earthquake, she says she was thinking about buying property there.
As she waits for updates, Nesbitt is working to arrange a trip to Haiti to help the victims and look for her loved ones.
"My goal is to get down there," she says. "On way or another it's going to happen."
---
January 14, 2010
Safira Amazan feels helpless as she watches the images of crumbled buildings and devastation from Tuesday's earthquake in her native Haiti, a place from which she returned just last week.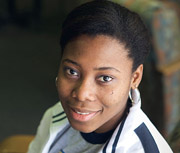 An aspiring doctor, Safira Amazan '12 hopes to return to Haiti to help where she can.
"It's a terrible feeling, not knowing how they're doing," the Rochester sophomore said Thursday morning about her family and friends in Haiti. "The worst part is the helplessness."
Amazan has been trying to reach loved ones since Tuesday with little success. Those people she has reached report that Les Cayes, where Amazan was raised and where her mother lives, was spared from widespread damage. But she worries about the welfare of her 23-year-old brother, who lives in Port-au-Prince, near the quake's epicenter.
Amazan is one of several people in the University community who has been personally affected by the tragedy.
"The extent of this humanitarian crisis is unknown now, but our hearts go out to those who are touched directly by this tragedy," President Joel Seligman said Thursday in a message to the University.
"At times like this, we draw strength from expressing our concern for others and assisting them," he adds.
The University community is finding ways to do just that. Several fundraisers are in the works, including:
The Simon National Black MBA organization will be hosting a booth at the Simon School during lunch and the break between evening classes next week to raise money for relief efforts. They will also place donation boxes at the bookstore and in Schlegel Hall, across from the Buzz. Organizers say they will donate the amount raised to the American Red Cross, Doctors without Borders, and InterVol.
Eastman students are in the early stages of planning benefit concert for the victims
Lambda Upsilon Lambda Fraternity is also working on an initiative for disaster assistance
Kevin Fiscella, a professor of family medicine and community and preventive medicine, has been to Haiti twice with the HOPE Haiti Outreach program. The group operates a hospital in the northern part of Haiti. The hospital, which is part of a partnership with the Haitian government, was not damaged by the earthquake, he says.
Fiscella describes Haiti as a poor area with widespread infectious disease and diarrhea from contaminated water. He adds that he expects some people in the hardest hit areas near Port-au-Prince will move north to get away from the devastation in the city.
Amazan says she and her friends here in Rochester have talked about what they can do to help the victims, but she said she does not have a clear plan yet.
"I'm relieved that so many people care and are willing to help the people who really need it," she says.
If you're planning a fundraiser or other event for the victims in Haiti, please e-mail @Rochester, at-rochester@rochester.edu, to share the details.
Read More