Kenneth Gross Receives Award for Dramatic Criticism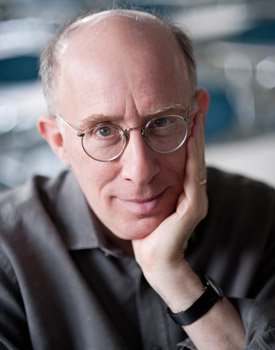 Kenneth Gross, Renaissance scholar and professor of English at the University of Rochester, will share the 2011-2012 George Jean Nathan Award for Dramatic Criticism for his book Puppet: An Essay on Uncanny Life. Cornell University's Department of English, which administers the prize, calls it one of the most distinguished in American theater.
Endowed by the theater critic George Jean Nathan in 1959, the annual award is honors an American "who has written the best piece of drama criticism during the theatrical year," whether in the form of an essay or book. The award committee includes heads of English departments at Cornell, Princeton, and Yale Universities.
Past recipients include writers Elizabeth Hardwick, Jan Kott, Daniel Mendelsohn, Michael Goldman, and Herbert Blau. "Many of the previous awardees are writers who I have taken for models, teachers, and have read hungrily for many years, writers who changed my sense of theater," said Gross.
Gross's Puppet, the Nathan judges wrote, "offers a brilliantly idiosyncratic meditation on the fascination 'wooden acting' exerts over its delighted but often unnerved human audiences."
"The puppet creates delight and fear," Gross said of his subject. "It can call to mind the innocent play of childhood or become a tool of ritual magic, an entity able to negotiate with ghosts and gods. Puppets can be creepy things, secretive, inanimate yet full of spirit, alive with gesture and voice."
Drawing on travels in Italy, Germany, Switzerland, France, Israel, and Indonesia, the book's subjects include the anarchic "Punch and Judy" show, the sacred shadow theater of Bali, Japanese Bunraku puppetry, and experimental puppet theaters in Europe and the United States. "Many people's experience with puppet theater is that it is something that belongs to children," said Gross. "I wanted to honor that connection, with its link to a world of play, but also to describe the stark effect it can have on adult theatergoers, including poets and visual artists."
Gross shares the prize with Jonathan Kalb, professor of theater at Hunter College, for his book, Great Lengths: Seven Works of Marathon Theatre. Both authors, the Awards committee wrote, realized Nathan's desire "to encourage and assist in developing the art of drama criticism and the stimulation of intelligent playgoing."
Gross received his doctorate from Yale University in 1982 and has taught English at the University of Rochester for nearly 30 years. He is currently the Director of Undergraduate Studies in English. His previous books include Shylock is Shakespeare (University of Chicago Press 2006), Shakespeare's Noise (University of Chicago Press, 2001), The Dream of the Moving Statue (Cornell University Press, 1995), and Spenserian Poetics: Idolatry, Iconoclasm, and Magic (Cornell University Press, 1985). He is the recipient of numerous awards, including fellowships from the Guggenheim Foundation and the American Academy in Berlin, and received the university's Goergen Award for Excellence in Undergraduate Teaching in 2010.
For additional information on the George Jean Nathan Award visit, http://www.arts.cornell.edu/english/awards/nathan/.