President Obama Lunches with University Students, Alumni to Discuss College Affordability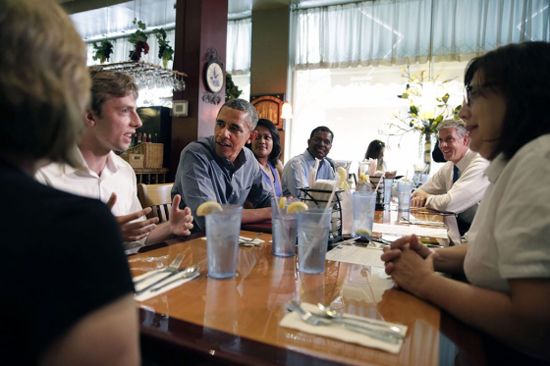 "If you could have lunch with anyone, who would it be?" It's a fun hypothetical question for a lot of people, and often times the response is the president of the United States.
For four University of Rochester students and recent graduates, the hypothetical became very real on Aug. 22 as they found themselves as the exclusive lunch guests of President Barack Obama. The president made a stop at Magnolia's Deli and Cafe in Rochester as part of his college affordability tour through Upstate New York and Pennsylvania. At Magnolia's, he lunched with Douglas Brady '15, Evalyn Gleason '13, Wesline Manuelpillai '16, and Brandon McDonald '13—as well as some of their family members—for a conversation on their experience with college costs and loans, and ideas on improving college affordability in the United States.
U.S. Senator Charles Schumer liaised with the White House and the University to help create this momentous luncheon and conversation on Park Avenue, which also included discussion with U.S. Secretary of Education Arne Duncan.
"I'm so honored to have met the president and I thank Senator Schumer for allowing me to participate. This all happened very suddenly and it is still crazy to digest," said Brady, an international relations major from Rochester.
"My biggest take-away moment was not only how casual the conversation was, but the genuine interest that both the president and the education secretary had for our opinions and stories," said Gleason, a political science major from Rochester. "They really seemed to care and wanted to hear what we had to say. I was also impressed with how much is actually being done to make college more affordable for everyone. There are a lot of ideas being bounced around and both the president and education secretary are putting a lot of effort into making sure that everyone can afford a college education."
"Having the opportunity to talk about financial aid with the president was an incredible honor. I was blown away that the president and secretary of education took the time to sit down with University students and parents to talk to us about an issue that plays such an important role in our lives now and in the future," said Manuelpillai, an economics major from Horseheads, N.Y. "He not only took the time to talk to us about his plan, but also to listen to our concerns as students about the rising costs of a college education and the burden it places on the middle class."
"The entire experience was surreal. I feel extremely honored and humbled by Thursday's event and it truly is a once-in-a-lifetime experience," said McDonald, a public health major from Rochester.
To view President Obama's plan for college affordability, visit: http://www.whitehouse.gov/share/make-college-affordable.