Writer, Social Activist Ngugi Wa Thiong'o on 'Language as Battlefield'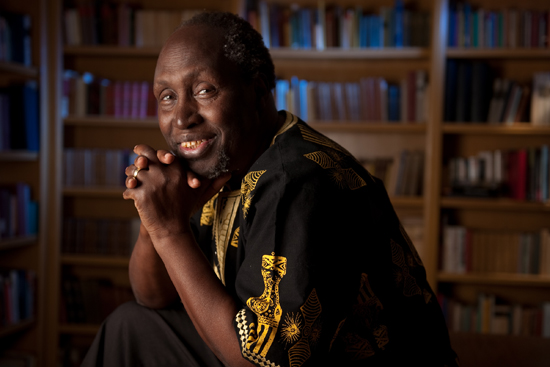 TIME, DATE, PLACE: 5:15 p.m., Thursday, Nov. 7, Dewey 1-101, University of Rochester River Campus.
Prior to the lecture, Kerfala Fana Bangoura and Mounfanyi drum & Dance ensemble will perform at 4:45pm. A reception following the lecture will be held in the Welles-Brown Room.
WHAT: Ngugi Wa Thiong'o, a social activist, writer, and scholar, will give a talk titled "Language as battlefield: My journey in the minefield," as part of the Frederick Douglass Institute speaker series. Ngugi Wa Thiong'o is currently a Distinguished Professor of English and Comparative Literature at the University of California, Irvine, and has written several novels, short stories, and one act plays.
Born and raised in Kenya, Ngugi Wa Thiong'o lived through the Mau Mau War of Independence (1952-1962), which was central to the making of modern Kenya and had a major influence on his early work. In 1967, he became a lecturer in English literature at the University of Nairobi. Then in 1977, he was imprisoned without charge after the release of his novel, Petals of Blood, which was highly critical of the inequalities and injustices in Kenyan society.
While in prison Ngugi Wa Thiong'o wrote the novel, Caitani Mutharabaini (1981) on toilet paper, which was translated into English as Devil on the Cross (1982). It was not until Amnesty International deemed him a prisoner of conscience that an international campaign secured his release a year later. Exiled from Kenya and hounded by the Moi Dictatorship, Ngugi Wa Thiong'o continued to publish his writing and work out of London with the Committee for the Release of Political Prisoners in Kenya. He gradually began to pursue a life of academia alongside his literary and social activism, to eventually become a visiting professor of English and comparative literature at Yale in 1989.
In 2001, he was the recipient of the Nonino International Prize for Literature and seven honorary doctorates. He continues to write and speak around the world today.
ADMISSION: The talk is free and open to the public.
SPONSOR: The University of Rochester's Frederick Douglass Institute for African and African-American Studies and the Department of Modern Languages and Cultures.
FOR MORE INFORMATION: Contact the Frederick Douglass Institute for African and African-American Studies at 585.275.9161.