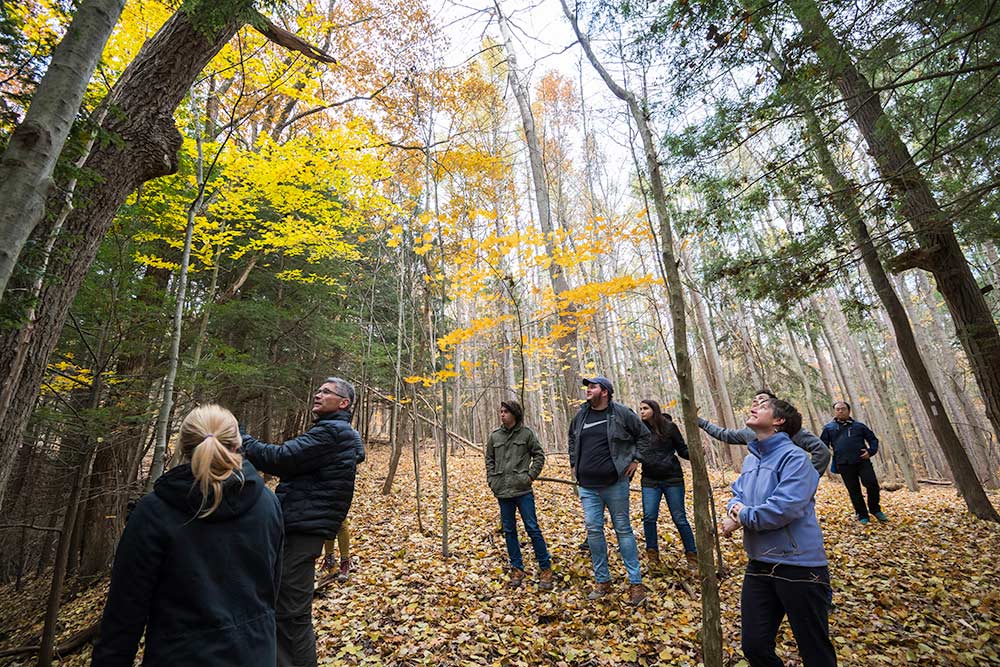 The University of Rochester has earned a STARS (Sustainability Tracking, Assessment & Rating System) Silver rating in recognition of its sustainability achievements from the Association for the Advancement of Sustainability in Higher Education (AASHE). STARS measures and encourages sustainability in all aspects of higher education.
The University's report is publicly available on the STARS website.
"Since the University achieved a STARS Silver rating in 2016, the program updated to the 2.1 version making it more challenging to achieve each level," said Amy Kadrie, sustainability coordinator in University Facilities and Services-Support Operations. "All members of our University community, and especially our students and staff, should be proud of this recognition, which is a result of their participation and ideas."
With more than 800 participants in 30 countries, AASHE's STARS program is the most widely recognized framework in the world for publicly reporting comprehensive information related to a college or university's sustainability performance. Participants report achievements in five overall areas: 1) academics 2) engagement, 3) operations, 4) planning and administration, and 5) innovation and leadership.
"STARS was developed by the campus sustainability community to provide high standards for recognizing campus sustainability efforts," said AASHE Executive Director Meghan Fay Zahniser. "The University of Rochester has demonstrated a substantial commitment to sustainability by achieving a STARS Silver Rating and is to be congratulated for their efforts." Unlike other rating or ranking systems, this program is open to all institutions of higher education, and the criteria that determine a STARS rating are transparent and accessible to anyone. Because STARS is a program based on credits earned, it allows for both internal comparisons as well as comparisons with similar institutions.
Some examples of the University's sustainability efforts included in the STARS report are:
University Dining Services often serves as labs for student EcoReps working on projects, including things like waste reduction, limiting the use of plastic bags, and other dining related topics. Dining Team Green, a group of undergraduate student staff who work to make sustainability more accessible for their peers on campus, measured plate waste at an evening meal while educating students on food waste issues in our country. They also spent a year looking at the sale of bottled water—performing research, holding educational programs, and making recommendations on how to reduce the use of bottled water on campus.
The University has established an Ethical Investment Advisory Committee consisting of faculty, undergraduate and graduate students, and staff members who help ensure that the University's endowment excludes investments in companies that represent business, labor, social or environmental practices that are inconsistent with the University's values.
During the summer of 2018, four students (Antoinette Nguyen '21, Ivana-re Baldie '21, Nicole Franki '20, and Rebecca Saubermann '20) worked with Katrina Smith Korfmacher, associate professor of environmental medicine, to analyze health equity aspects of the City of Rochester's ongoing Climate Vulnerability Assessment (CVA). Korfmacher also directs the Environmental Health Sciences Center's Community Outreach and Engagement Core (COEC), which works to address environmental health problems in the community. The students surveyed Rochester city residents to identify who will be most affected—and how they will be affected—by climate change in the coming years. Based on background research and data from the local government and area organizations, the team helped identify four key environmental health determinants that might be affected by climate change in Rochester: heat waves; extreme storm events; air quality and pollution; and ecological effects (e.g., changes in pollen or vector-borne diseases, which are human illnesses caused by mosquitoes, ticks, and other infected organisms). As a result of this foundational work, the fellows decided to create and administer a public survey. Farmers markets, like the Rochester Public Market and Westside Farmers Market, gave them a chance to get a representative sampling of residents' responses.
AASHE is an association of colleges and universities that are working to create a sustainable future. It provides resources, professional development and a network of support to enable institutions of higher education to model and advance sustainability in everything they do, from governance and operations to education and research. For more information about AASHE, visit www.aashe.org. For more information about the STARS program, visit stars.aashe.org.
Category: University News