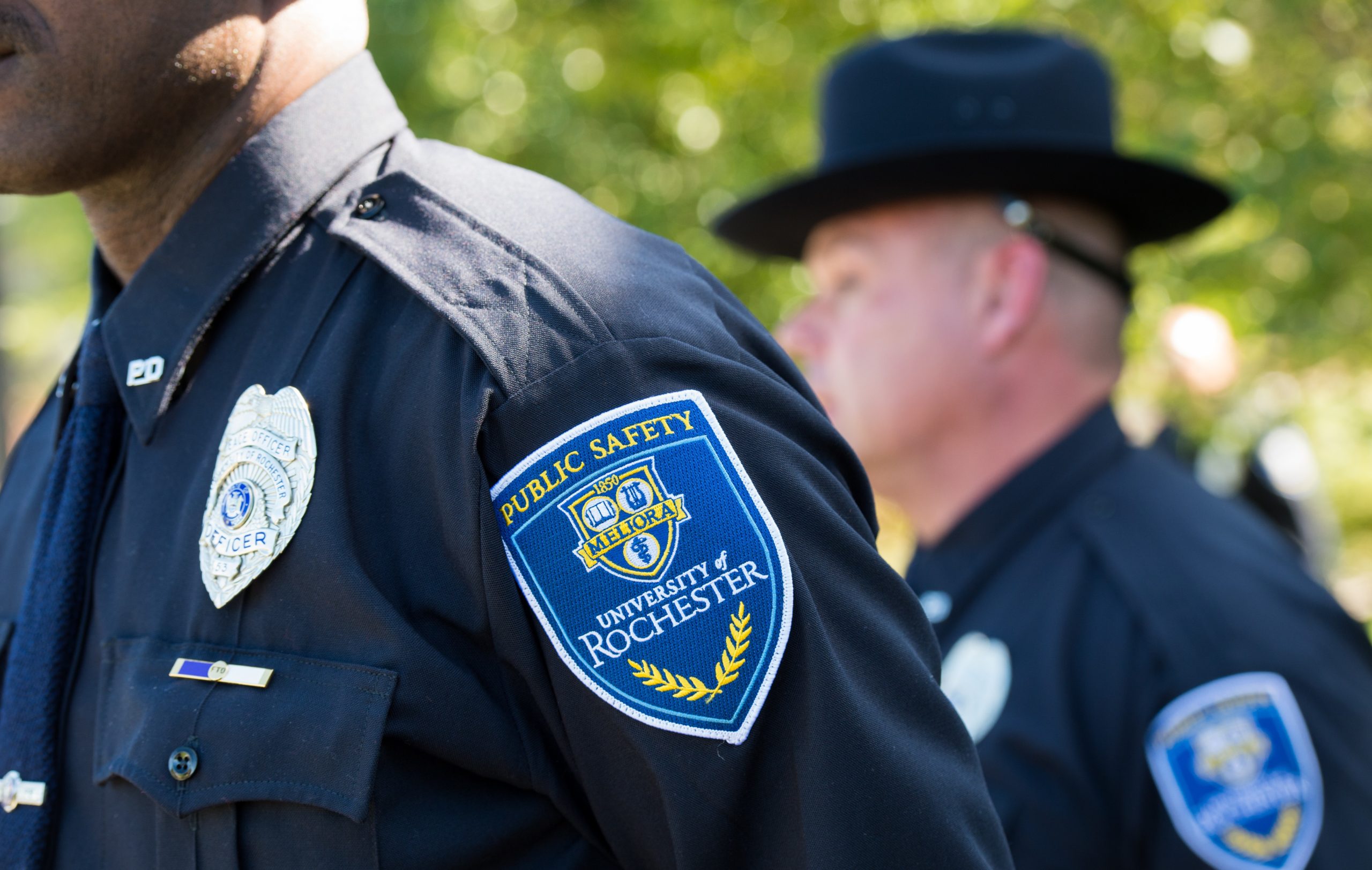 A team of assessors from the International Association of Campus Law Enforcement Administrators (IACLEA) will arrive on campus March 14 to examine all aspects of the Department of Public Safety's (DPS) policies and procedures, management, operation, and support services. The assessors will verify that DPS meets IACLEA's high standards, and their visit is part of a voluntary process to gain accreditation.
"This IACLEA accreditation is a highly prized recognition of campus public safety professional excellence," said DPS Chief Mark Fischer. DPS has to comply with 215 standards in order to achieve accredited status.
Members of the University or Rochester community, employees from local law enforcement agencies, and the general public are invited to offer comments to the assessment team by calling (585) 275-0034 on Monday, March 16, 2020, between 1 and 3 p.m. Telephone comments should address the department's ability to comply with IACLEA's standards in such areas as how DPS is managed, limits of authority, conduct and professional standards, training and professional development, use of force, investigative and patrol services.
For a full list of standards, see the IACLEA Accreditation Standards Manual at IACLEA.org. Anyone wishing to submit written comments may send them to IACLEA Accreditation, 1110 Bonifant Street, Suite 330, Silver Spring, MD 20910.
The Accreditation Assessment Team is composed of experienced campus law enforcement professionals who over the course of a few days will review written materials, interview individuals, and inspect facilities where compliance can be witnessed. The assessors are Gilbert Canevari, retired accreditation manager, Milton Hershey School and team leader; and Stacy DeRooy, director of Title IX, Clery Compliance and Ethics, Rochester Institute of Technology. Once the assessors complete their review, they will report back to IACLEA, which will then decide if the department should receive accreditation.
Accreditation is for four years, during which time the department must submit annual reports attesting to continued compliance with IACLEA standards.
Category: Campus Announcements, Uncategorized