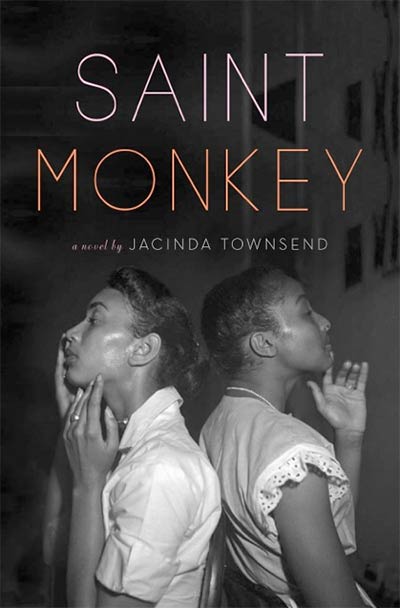 Jacinda Townsend has been named the 2015 recipient of the Janet Heidinger Kafka Prize for Fiction presented by the Susan B. Anthony Institute for Gender and Women's Studies at the University of Rochester. The award is being given for her debut novel Saint Monkey, which received critical acclaim from the New York Times Sunday Book Review, The New Yorker, and named by The Root as one of the 15 best works published by black authors in 2014.
Townsend will receive the award of $7,500 on Tuesday, Oct. 27 at 5 p.m. in the Hawkins Carlson Room in Rush Rhees Library on the University's River Campus. The event is free and open to the public. Townsend will give a reading from her novel and she will sign copies of the book at the reception to follow.
Saint Monkey (Norton, 2014) was selected for the Kafka Prize by a panel of three reviewers from a pool of more than 100 nominations. "One of the remarkable qualities of the novel is Townsend's ability to give each female character her own unique voice, while focusing on the intensity and complexity of their mutual friendship," says Jason Peck, chair of the selection committee. The novel follows the lives of two young girls in the 1950s Jim Crow South and is split between their two perspectives and mutual quest for "something better."
Although she has always written stories, Townsend said she never grew up thinking she would be a writer and was therefore taken aback by the reception her first novel has received. "I feel very fortunate to now be living out my dream and to be able to hear from readers whose lives have been touched by the story I told."  She hopes people are able to take away from her book a feeling that "we are all deeply flawed, yet all completely loveable."
Before writing Saint Monkey, Townsend was a lawyer, a broadcast journalist, and a Fulbright Fellow in Cộte d'Ivore. She has taught at a number of universities throughout the Midwest at Indiana University where she is an associate professor of English, and is currently working on her second novel.
Among its numerous accolades, Saint Monkey has received honors from the Black Caucus of the American Library Association, was long listed for the Flaherty-Dunnan First Novel Prize, and short-listed for the Crook's Corner Book Prize.
Each year The Susan B. Anthony Institute awards the Janet Heidinger Kafka Prize to an American woman whose book-length prose writing has been published the previous year. The winner must be a talented writer who has not yet become well established in the literary realm.  Previous winners include Anne Tyler, Ann Patchett, Ursula K. Le Guin, and Toni Morrison, all of whom won the award before achieving fame for their writing.
The award was established in the memory of Janet Heidinger Kafka, a young and promising editor who was killed in an automobile accident just as her career was beginning to gather momentum. The endowment that funds the award was set up by her friends and family to honor her memory, her personal ideals and her high standard for literature.
This year's selection committee panelists included Jason Peck, a visiting professor of German, Beth Jörgensen, professor of Spanish, and Terry Platt, professor Emeritus of Biochemistry and Biology.
Category: The Arts