Melissa Greco Lopes
Melissa Greco Lopes is the press officer for student life and teaching, and covers student organizations and campus activities.
Melissa Greco Lopes's Latest Posts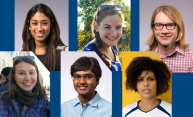 This spring, six Rochester students and one alumna have been awarded 2014-15 Fulbright U.S. Student Grants to advance their studies, perform research, and teach English abroad while serving as young ambassadors in six countries in Europe, Asia, South America, and the Middle East.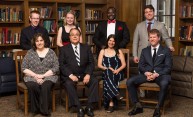 All seniors in the College are invited to nominate a high school teacher for consideration for the Singer Family Prize. The four award winners received a plaque and $3,000, as well as $2,500 for their school.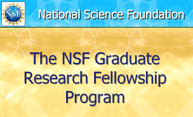 The fellowship, which is part of a federally sponsored program, provides up to three years of graduate study support for students pursing doctoral or research-based master's degrees.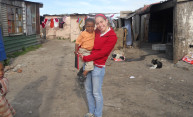 This summer Rochester students John Dawson '13/T5'14 and Katherine Wegman '15, will spend two months in Cape Town, South Africa, building a new community center for residents of Egoli, a squatter community on the outskirts of Cape Town.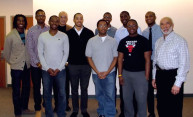 Nearly 40 minority male high school students from the Rochester City School District will participate in the symposium, organized by the Minority Male Leadership Association.
Trustee Laurence "Larry" H. Bloch '75 and his wife, Cindy, have funded the position of chief fundraising officer, and established the Larry and Cindy Bloch Endowment for University Advancement.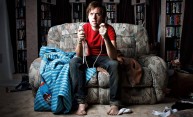 The disturbing imagery of videos games are often accused of fostering feelings of aggression in players. But a new study shows hostile behavior is linked to gamers' experiences of failure and frustration during play—not to a game's violent content.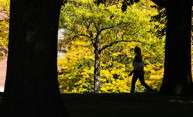 A series of lectures and workshops will examine how to prevent and respond to gender violence on college campuses during the Sexual Assault Awareness Conference.
The keynote address will be given by Lee Bollinger, president of Columbia University. Following the address, 18 workshops will focus on race in our community, power and empowerment, and redefining diversity.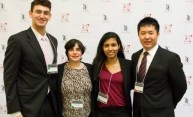 This semester, Yanhan Ren '14, Sarah Joseph '14, Nirlipta Panda '14, and Harris Weber 1'5 traveled to Boston to attend the National Collegiate Research Conference at Harvard to share their research on molecular genetics, neuroscience, and cell biology.