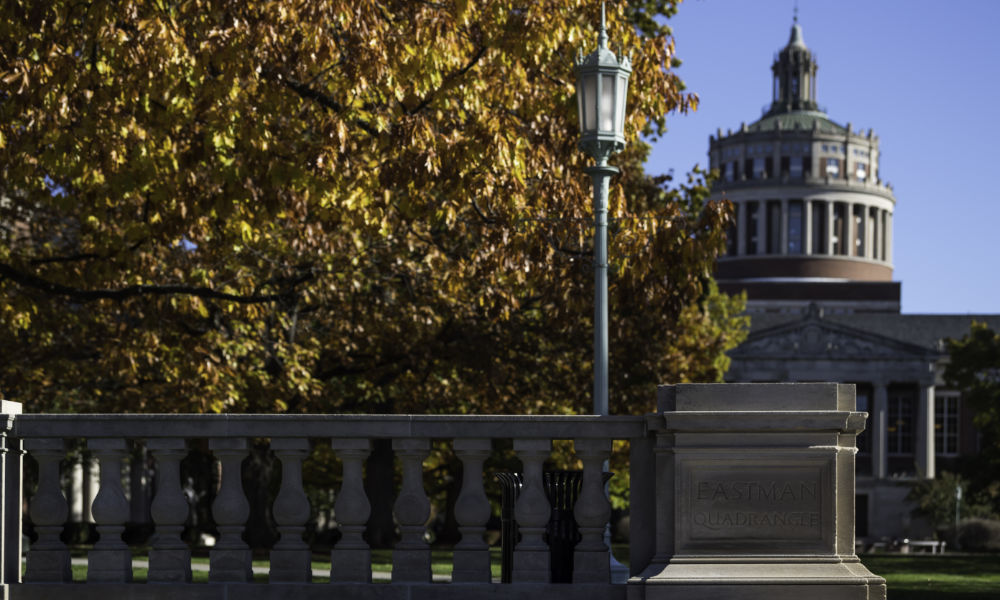 The University of Rochester's Board of Trustees has approved the College tuition rates, room and board fees, and financial aid increases for the 2022–23 school year.
Tuition for undergraduates in the College will increase by 3.9 percent over last year to $60,550; room and board will increase 3.7 percent to $18,032. With an increase in the cost of attendance comes additional financial aid to support College undergraduates—financial aid is rising to $157 million, a 6.9 percent increase over the current year actuals.
Each year, the board is presented with a proposal for determining the annual College tuition rates based on a careful evaluation of available revenue sources, projected operating costs and efficiencies for the new year, and the expected number of enrolled students. Rochester's comprehensive financial aid program is correspondingly adjusted to help offset the tuition increase for students and families who demonstrate financial need.
Tuition increases are a balance between the University's ability to provide the best instructional experiences for students and keeping the cost affordable. For 2022–23, undergraduate tuition will cover about 65 percent of Arts, Sciences & Engineering (AS&E) expenses. Tuition dollars go to the programs, services, and facilities that benefit all AS&E undergraduates, regardless of whether students live on or off campus.
"Ensuring access to a Rochester education is critical to enrolling a highly skilled, hard-working, and diverse student body," says Donald Hall, the Robert L. and Mary L. Sproull Dean of the Faculty of Arts, Sciences & Engineering. "We understand that no cost increase is most desirable, but our tuition revenue represents only a portion of what is needed to sustain and grow our world-class educational experience through investments in research, instruction, student support, and financial aid. Setting the tuition rates is always a balanced effort in which we remain extremely sensitive to the financial pressures that many of our current and prospective students and families face. While upholding the high value of a Rochester degree, we also ensure that our need-based financial aid program is able to deliver access to students of all financial backgrounds."
Financial aid increase
This year, financial aid funding in the College is rising by 6.9 percent to $157 million. This amount is in the form of institutional grants and scholarships. Overall, more than 74 percent of undergraduates in the College receive financial aid, with the average need-based financial aid package being about $48,000, most recently in 2021–22.
The College's commitment to generous financial aid—where all demonstrated need is met and robust non-need-based merit aid is provided—has resulted in national recognition for college affordability, including the University of Rochester being ranked No. 26 this year among National Universities in US News & World Report's "Great Schools, Great Prices." Additionally, the Association of American Universities (AAU) is an organization that represents 65 leading American research universities, including all of the Ivy League schools and Rochester. AAU member schools are focused on making high-quality education affordable, and graduates annually carry student debt well below national averages, as well as higher average graduation rates than both nonprofit and for-profit institutions.
Only half of College undergraduates take out any form of loan by graduation, and the average debt among those in the Class of 2021 who did borrow is approximately $29,500, with $21,722 of that being federal loans. In 2021–22, more than $206 million in total aid—the combination of grants, as well as loans and scholarships from federal, state, and institutional sources—was awarded to undergraduate students at the College.
As additional tools for comparison, students and families can view the University's costs, financial aid, and other institutional figures on the US Department of Education's College Navigator website. The website College Insight uses this federal data to illustrate average debt for students upon graduation. The University's Office of Financial Aid and Scholarships provides an online cost estimate calculator to help students and families plan for a degree program, and financial aid officers are available to meet virtually with individuals to discuss their financial needs.
Approved tuition rates at the University's schools
The Board of Trustees also approved the 2022–23 tuition rates at the University's schools:
Eastman School of Music:
Undergraduate: $60,550, a 3.7 percent increase (room and board will be $18,032)
Graduate (per credit hour): $1,890, a 3.8 percent increase
Simon Business School (rates approved January 20):
MBA: $50,000, a 2 percent increase
MS Finance: $83,500, a 2.1 percent increase
MS Accounting: $65,000, no increase
MS Business Analytics and Marketing Analytics: $71,000, no increase
School of Nursing's three-semester accelerated program: $76,650, a 2 percent increase
Warner School of Education (per credit hour): $1,670, a 2.6 percent increase
School of Medicine and Dentistry (MD program): $65,920, a 3 percent increase
Category: University News