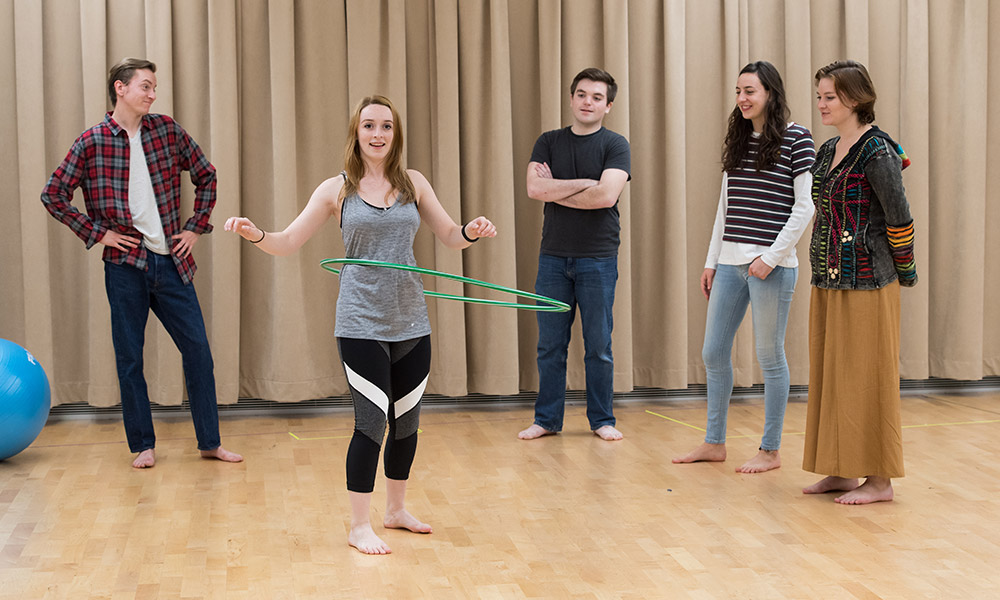 As the International Theatre Program brings its last production of the semester, Annie Baker's Circle Mirror Transformation, to the Todd Union stage, cast and crew members say the character-driven play has offered an unusual opportunity for reflection on their own lives, on and off the stage.
The drama, directed by guest artist Pirronne Yousefzadeh and set in small-town Vermont, chronicles the interactions, emotions, and desires of five people in an acting class. Through theater games and acting exercises, the characters reveal their unique stories and form relationships with one another. With its pinpoint focus on a single classroom, the play allows the audience to become intimately connected to the characters and their inner turmoils.
The student cast and crew, a mixture of rookies and veterans, share some of the insights they've gained in working on the production. 
Ian E.W. Von Fange '17 as Schultz
Ian E.W. Von Fange '17 says his life as a student at Rochester has gone well. A creative writing major who has been acting for more than 14 years, he has performed in three productions at Todd Union, plays drums, and writes poetry.
Von Fange's character, Schultz, is much older—and he's had a rough time of late. He's in his late forties, and after being married for more than 20 years, has recently gone through a divorce. Schultz is, as Von Fange describes him, "a really genuinely good-hearted guy who just has a lot of problems."
Von Fange says that portraying a character who has undergone experiences far beyond what he can personally comprehend has been one of the challenges and benefits of performing in Circle Mirror Transformation.
"That's what has made discovering and shaping Schultz's character so rewarding," he says. "He's human, and sometimes he triumphs and sometimes he fails."
Von Fange hopes to pursue a career in acting and writing in New York City. The playwright Annie Baker has made a deep impression on him in  Circle Mirror Transformation. 
"Every line so precisely imitates natural speech," he says. "The characters become vivid and real through their words."
 Andria Rabenold '18 as Theresa
Andria Rabenold '18, like her character, Theresa, is a seasoned actress. But while Rabenold has yet to experience any serious setbacks, Theresa, 35, struggled to find work in New York City before picking up and moving to Vermont.
Rabenold says that she and Theresa share a drive to perform and an enthusiasm to work—and that one of the biggest challenges of portraying Theresa is discovering the ways they are different. She overcomes that challenge by drawing on Theresa's past.
"Theresa is older than I am and has more life experience to draw on," Rabenold says. "So inventing all the things she has gone through over the years is a big part of my process."
Since beginning at the University, Rabenold, a double major in mathematics and political science, has performed in four International Theatre productions, and with The Opposite of People (TOOP), a River Campus theater company that's entirely student run. She is also involved in the Students' Association, Ballet Performance Group, and Kappa Alpha Theta.   
Murie Gillett '20 as Marty
Murie Gillett '20 plays the role of a teacher not only through her character, Marty, but in her own life as well. Marty is the encouraging, caring instructor of the acting class that's at the center of Circle Mirror Transformation. Gillet is a history and English double major working towards her certificates in English secondary education and Teaching of English to Speakers of Other Languages (TESOL) at the Warner School of Education.
The theater has helped her become not only a stronger actress, but a better teacher.
"I have become more able to command a room and create and execute engaging lessons," she says. "As an English and TESOL teacher, I think that incorporating theater into my classroom will help my students to develop better communication skills."
Gillett has participated in four International Theatre productions. She's also acted in four plays with the student-run theater company, The Opposite of People, and is the group's artistic director; and has served as a writing fellow in the Writing, Speaking, and Argument program.
Carrie Daniela Shapiro '20 as Lauren
Freshman Carrie Daniela Shapiro '20 sees herself as a clear reflection of her character, Lauren. Just as Shapiro is making her debut on the University of Rochester stage, her character, Lauren, 16, is a young actress excited about developing her acting skills.  
Lauren—whom Shapiro views as a younger version of April Ludgate from the comedy television show Parks and Recreation—is by far the youngest student in the acting class at the center of Circle Mirror Transformation. Similarly, Shapiro says she's been more than 30 years younger than some of her peers in her own improv classes. 
"What I love about Circle Mirror Transformation is how much goes on that is never said or written in the script," she says. "It's a very 'feely' play."
Shapiro is  a member of the Student Association of Vegan and Vegetarian Youth (SAVVY) and the pan-African dance team, Ma'Frisah. She also plays intramural soccer.
Casey Brentnall '20 as James

Like Von Fange, freshman Casey Brentnall '20 has had the difficult task of portraying a character whose life experience is vastly different from his own. 
His character, James, is divorced, middle-aged, and has been remarried, to Marty. He has a daughter from his previous marriage from whom he's become estranged. He's moved from place to place, and simply desires "to have the people he wants back in his life," says Brentnall.
Brentnall says the role has been a challenge in multiple domains. He's had to learn to hold himself in a way that makes him appear much more mature and experienced than he feels. He's had to bring James to life through words and symbolic gestures. 
"The show is incredibly realistic and minute, and so much of the story is told through simple acting exercises and tiny details," Brentnall says. "It makes it feel very life-like, but also creates a big challenge for me as an actor."
Like Rabenold and Gillett, Brentnall is a member of the student-run theater company, The Opposite of People. When asked about what role he hopes theater will play in his life, he says, "I plan to continue acting at least as a hobby. But obviously, the dream is to be able to support yourself with your passion. We'll see."
DeeDee Krupkin '18, assistant director
Although DeeDee Krupkin '18 is not under the lights on stage with the cast, she plays an integral role in the play. As the student director, Krupkin, a theatre major, is what she describes as "a second pair of eyes for the director." In addition to helping and advising the cast, she spends much of her time working on dramaturgy, compiling resources and information about the play to ensure its historical and situational accuracy.
"I started acting when I was 11 back home in New Hampshire at a place called Andy's Summer Playhouse, and I've had the theater bug ever since," she says. "My interest in directing really blossomed after I stage managed there for two years."
Krupkin says each actor plays a unique part and offers a different mood to the stage. She's enjoyed watching each performer evolve throughout the rehearsal process, becoming more and more connected to their characters.
Category: Campus Life