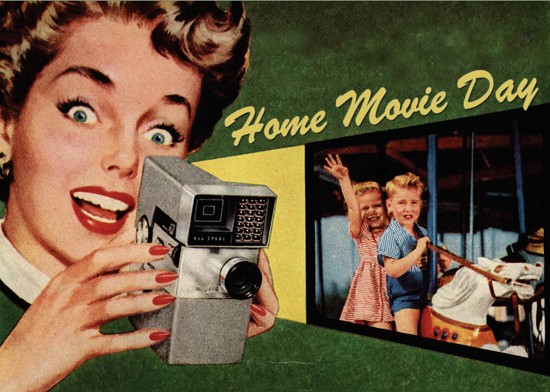 Community invited to bring films and VHS tapes for public screenings
Rochester home movie buffs are invited to share their films and VHS tapes as part of the 10th annual International Home Movie Day on Saturday, Oct. 20. Free and open to the public, the event provides an opportunity for communities to experience these personal records of the past and learn how to preserve them for the future. Experts will also explain how to have films converted to digital formats for easy viewing at home.
The Rochester screenings run from noon to 4 p.m. in the Hawkins-Carlson Room of Rush Rhees Library on the University of Rochester's River Campus and films can be dropped beginning at 11 a.m. that day. The annual event is sponsored by the George Eastman House and the L. Jeffrey Selznick School of Film Preservation.
"The films you'll see at Home Movie Day enable those of us who weren't around at the time to visit moments like the New York World's Fair of 1939-40, and I for one can't get enough of those," said film critic and historian Leonard Maltin. "Documentary filmmakers build whole features around such footage, and I'm sure historians will continue to rely on amateur movies to tell them what life was like in 20th-century America."
The event is especially helpful for people who have inherited films from older relatives but are unable to view them. The organizers accept a variety of formats, including 8mm, super-8, 16mm films, or, new this year, VHS tapes and trained archivists and technicians will inspect each movie prior to projection.
Featured movies are not restricted to one's own family and can include found films. Participants are invited to provide narrations, sing songs, or play music along with their films. The Eastman House and the University of Rochester will also screen home movies from their collections.
"Saving our film heritage should not be limited only to commercially produced films," said film director Martin Scorsese, a fan of the annual event. "Home Movie Day is a celebration of these films and the people who shot them. This is a truly special way of celebrating this often over-looked area of our film history, and I congratulate George Eastman House for supporting this important initiative."
Admission and participation is free, but donations will be accepted. For more information call (585) 271-3361 ext. 396, or visit homemovieday.com. There is free weekend parking in campus lots as well as metered parking available.
About George Eastman House International Museum of Photography and Film
George Eastman House International Museum of Photography and Film (www.eastmanhouse.org) is the world's oldest museum of photography and the third largest motion-picture archive in the United States. It was founded in 1947 and is located on the estate of Kodak founder George Eastman, the father of popular photography and motion picture film. The museum's archive houses more than 4 million artifacts, including the world's largest collection of camera technology and 400,000 photographs representing 9,000 photographers plus an unparalleled 19th-century collection. The museum partners with Toronto's Ryerson University to offer a master's degree in Photographic Preservation and Collections Management. The collections also include 30,000 motion-picture titles and film-related publicity stills, posters, scores, and scripts. The Eastman House is the archive in which many filmmakers have chosen to preserve their films, including Cecil B. DeMille, Martin Scorsese, Spike Lee, and Kathryn Bigelow. The L. Jeffrey Selznick School of Film Preservation is regarded as the premier venue of professional training in film preservation and restoration, and grants a master's degree from the University of Rochester.
Category: Society & Culture