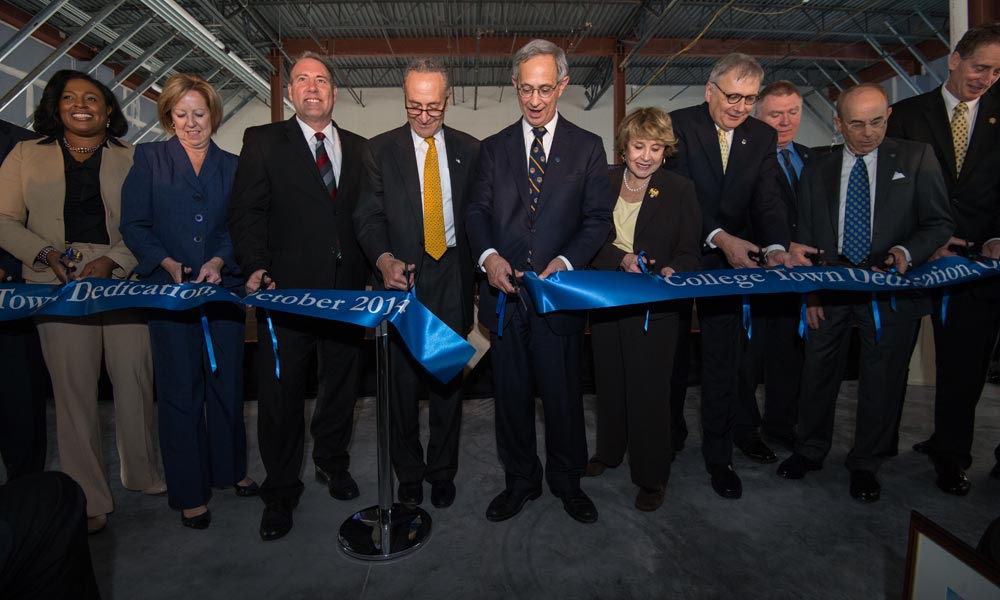 From left to right: Lovely Warren, Mayor, City of Rochester; Maggie Brooks, Monroe County Executive; Joseph E. Robach, New York State Senator; Charles E. Schumer, U.S. Senator for New York; President Joel Seligman; Louise M. Slaughter, U.S. Representative for New York; Ronald J. Paprocki, Senior Vice President for Administration and Finance, CFO, and Treasurer; New York State Assemblyman Mark Johns; Edmund Hajim, Chair of the Board of Trustees; Robert J. Duffy, Lieutenant Governor, New York State cut the ribbon to dedicate the new College Town district.
On Friday, Oct. 17, University officials celebrated with Mt. Hope community members; city, county, state, and federal government leaders; and project partners the dedication of College Town, the $100 million shopping, dining, business and residential district in the city of Rochester near River Campus and the Medical Center.
The 20,000 square-foot, two-level Barnes & Noble—which anchors College Town and is both a community and University bookstore—is the first tenant to open for business, with others filling in this fall. Several future College Town tenants, including Breathe yoga and juice bar, Moe's Southwest Grill, Constantino's Market, Insomnia Cookies, Jimmy John's Gourmet Sandwiches, and the DelMonte Hotel Group took part in the dedication ceremony, previewing the goods and services they will offer.
Other confirmed College Town tenants include Bean Cruises & Travel, The Beer Market, Bourbon, Canandaigua National Bank & Trust, The Creator's Hands, Corner Bakery, Flaum Optical, GNC, Hairzoo, and Saxby's Coffee, which will be connected to the Barnes & Noble.
Developed by Fairmount Properties and Gilbane Development Company, College Town's construction began in summer 2013 and has continued through this fall.
In addition to 500,000 square feet of shopping and dining, College Town features the Mount Hope Lofts apartments; a five-story, 136-room Hilton Garden Inn hotel and conference center (to open in Spring 2015); a 500-space parking garage; and 50,000 square feet of Class A office space, which several University offices will transition into in November.
"This is an historic day for the University and the City of Rochester," said University President Joel Seligman. "As one of the largest development projects in the history of the city of Rochester, College Town is strengthening the economic fabric of our community by providing essential services and incredible new spaces. It is an excellent model of how public-private partnerships should work, and let me express my sincere gratitude to all our outstanding partners who have made this vision a reality."
College Town sits on 14 acres of University-owned property and has been a dream for local community partners since 2008 to create a welcoming and cohesive University-neighborhood community.  The project has involved years of planning and coordination among officials from the University, the City of Rochester, and local organizations including the Mount Hope Avenue Task Force, the Mt. Hope Business Association, the Southeast Area Coalition, and Mt. Hope Cemetery.
College Town was designated a Transformational Priority Project in 2012 by the Finger Lakes Regional Economic Development Council. Significant local, state, and federal support has made College Town possible:
In November 2012, a $20 million Housing and Urban Development (HUD) Section 108 loan to the City of Rochester was announced for the project, made possible through the leadership of U.S. Sen. Charles Schumer and then HUD Secretary Shaun Donovan, as well as with support from the City of Rochester and Rochester City Council.
In December 2012, College Town was awarded $4 million through New York Governor Andrew M. Cuomo's Regional Economic Development Council Initiative, as part of a total $96.2 million award to the Finger Lakes Region representing the state's investment in projects aimed at creating 50,000 new jobs in the region over the next five years.
In February 2013, COMIDA (the County of Monroe Industrial Development Agency) gave its support to the project through $13.5 million in tax incentives, based on College Town's expected economic benefits and job creation potential for the region.
Additionally, $800,000 in federal funding was secured for the Rochester Genesee Regional Transportation Authority to improve mass transit for College Town. This funding effort was secured by Rep. Louise Slaughter and supported by Senators Schumer and Kirsten Gillibrand.
$17 million in public infrastructure improvements by the City of Rochester at the Mt. Hope and Elmwood intersection included landscaped medians, new sidewalks, broadened roadways, reduced curb cuts, new signals, signage, and traffic controls. This past January, the City of Rochester's College Town Cycle Track project received a $1 million grant to create a two-way bike path along Elmwood Avenue, linking the Genesee River Trail to College Town. Both Sen. Schumer and Governor Cuomo announced the grant through the Transportation Enhancement Program (TEP), a federal reimbursement program administered by New York State Department of Transportation that helps finance projects not generally eligible for funding through traditional transportation programs.
This past September, Constantino's Market received a low-interest loan managed by Action for a Better Community Inc. and supported with federal funds. The loan to the Cleveland-based family grocer is funded by a federal grant of nearly $750,000 to the Community Economic Development Healthy Food Financing Initiative. Senator Schumer and Rep. Slaughter helped to secure this loan to assist Constantino's with the start-up costs associated with opening at College Town.
College Town has brought more than 900 construction jobs to city, and developers are continuing to recruit for more than 320 permanent service and retail positions. Additionally, $2.5 million in estimated annual sales tax will be generated from the retail operations of College Town, as well as $1.8 million in income taxes and $600,000 in annual hotel taxes.
The College Town website (http://www.collegetownrochester.com) gives a glimpse into the types of entertainment and community activity planned for College Town, including live music, farmers' markets, and book events for both children and adults.
For University community members and visitors, it is an easy walk or bike ride to College Town's dining, shopping, entertainment and services. From River Campus, students and employees can also shuttle any day of the week right to the center of activity.
Those participating in the dedication ceremony included:
Charles E. Schumer, U.S. Senator for New York
Louise M. Slaughter, U.S. Representative for New York
Robert J. Duffy, Lieutenant Governor, New York State
Joseph D. Morelle, New York State Assembly Majority Leader
Joseph E. Robach, New York State Senator
Maggie Brooks, Monroe County Executive
Lovely Warren, Mayor, City of Rochester
Adam McFadden, Rochester City Council Member
Edmund Hajim, Chair, University of Rochester Board of Trustees
Joel Seligman, President, University of Rochester
Ronald J. Paprocki, Senior Vice President for Administration and Finance, CFO, and Treasurer, University of Rochester
Holly G. Crawford, Associate Vice President for Budgets and Planning and Deputy to the Senior Vice President and CFO, University of Rochester
Melanie Warren, President, Mt. Hope Business Association
Randy Ruttenberg, Principal, Fairmount Properties
Bob Gilbane, Chairman, CEO, Gilbane Development
The ceremony concluded with dedication of Paprocki Plaza, located in front of the Barnes & Noble bookstore. The plaza is named to recognize Ronald J. Paprocki, University senior vice president for administration and finance, CFO, and treasurer, for the central role he played for several years in envisioning the project and coordinating the University's efforts as a catalyst for College Town.
A College Town grand opening event will be held in the spring.
Category: University News