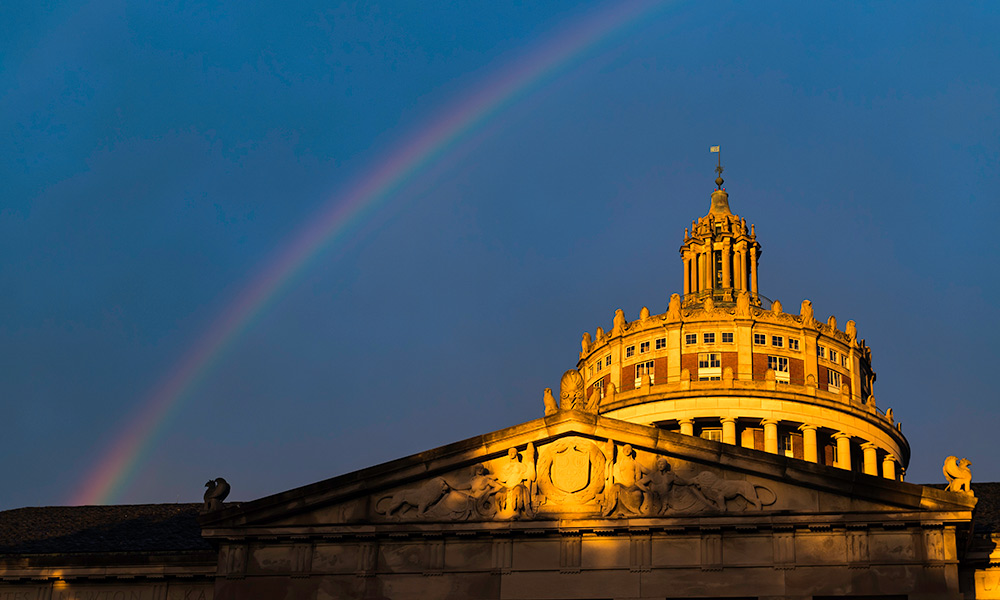 Offices of admissions and financial aid throughout the University have been carrying out a mix of traditional and adaptive recruitment and enrollment activities in preparation for the upcoming academic year and in the midst of COVID-19. The uncertain nature of the pandemic means that both students and school officials are adding more flexibility to the college planning process and preparing for a variety of scenarios.
Here are a few notable updates for students, families, and the University community:
AS&E Undergraduate Admissions:
The Office of Admissions released its regular decision undergraduate admissions notifications to the Class of 2024 on March 18, and financial aid offers were sent beginning March 20. For students who have been admitted during regular decision, the deposit deadline remains May 1.
Students who have been accepted for the fall 2020 semester, as well as other prospective students, who are now not able to make traditional spring visits to see the campus are encouraged to attend virtual online events where Admissions staff members, as well as current students, will be available to answer questions and guide students through the enrollment process.
Throughout the month of April, the virtual events can help provide information to prospective fall 2020 students about specific academic programs or majors they are considering, speak with current students and ask questions about campus life, and engage parents in the Rochester experience.
Many high school juniors are just beginning their college search, and the spring semester traditionally represents an important time for them to make campus visits.  All general information sessions and admission interviews have moved online, and there is additionally a series of webinars known as the "College Admissions Workshop Series" to assist high school students (and families) navigate the college application process.
"We appreciate the difficulty that the current health crisis places on prospective students and their families during the important college search and decision process," says Jason Nevinger, director of undergraduate admissions. "We hope that by offering opportunities to engage virtually through our online events that future students can get a feel for our University community and the academic experiences they can expect."
Financial Aid
The COVID-19 crisis is undoubtedly changing the financial situations for many families around the country, and representatives from the Office of Financial Aid are available to answer questions about the availability of aid and how to apply for it.
The Office of Financial Aid and Scholarships will be hosting virtual drop-in hours for both accepted students and current students to address financial questions, and the details will be posted to the Financial Aid website in the coming days. Additionally, financial aid counselors are available to speak with students about issues regarding submitting aid application materials, including any late submissions due to the impacts of COVID-19.
A virtual session, Financial Aid: Next Steps, will take place on Tuesday, April 7, at noon for admitted students.
Eastman School of Music Undergraduate Admissions:
The Eastman School of Music was able to complete its preadmission auditions with prospective students on its normal schedule and has likewise delivered acceptance notifications to applicants to the Class of 2024. The deposit deadline is also May 1 for Eastman students, and the school will be promoting virtual Eastman experiences to admitted students and families in the coming days.
Graduate Admissions:
Graduate admissions representatives from across the University are staying flexible with deadlines and new opportunities to make enrolling easier. Staff members are currently working to accommodate students' needs depending on the countries they are coming from and when they may be able to arrive on campus.
Recognizing that many May bachelor's degree graduates may be interested in immediately enrolling in a graduate program if the job market can't provide strong employment options, the AS&E Office of Graduate Education and Postdoctoral Affairs is now promoting to interested University of Rochester 2020 graduates the following:
priority attention in the AS&E graduate application process
waived GRE requirement
waived application fee
available scholarship opportunities.
The Simon Business School has launched dedicated COVID-19 admissions websites for its full-time MS programs and the full-time MBA program.
For more information on specific programs still accepting applications in master's programs for the fall 2020 term, please contact the Graduate Admissions Office: graduateadmissions@UR.Rochester.edu.
Category: Student Life