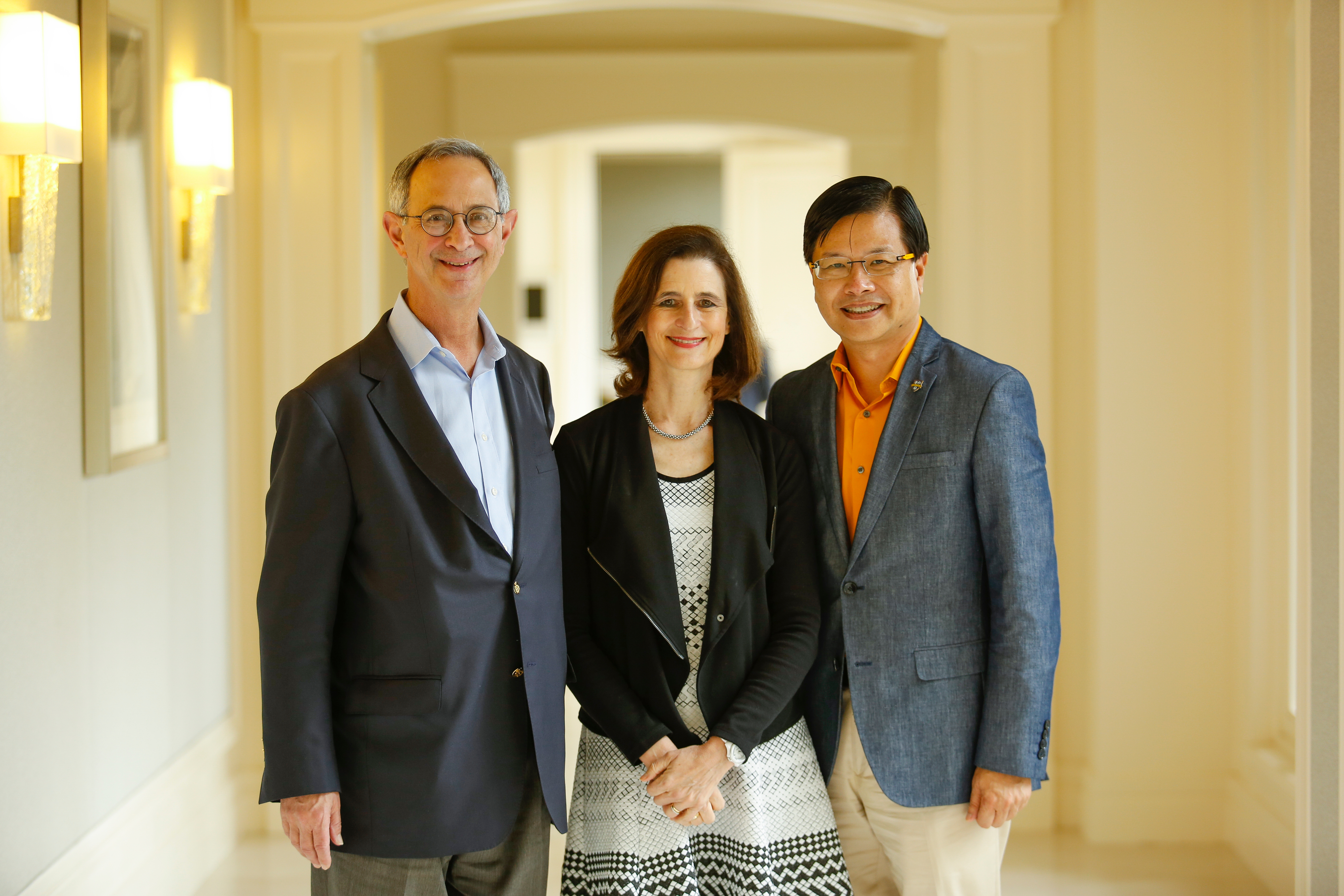 Evans and Susanna Lam have committed $1 million to the River Campus Libraries to establish the Evans and Susanna Lam Library Revitalization Fund. The fund will support the modernization of the patron services area in Rush Rhees Library, which will be named Evans Lam Square.
"I am deeply appreciative of the wonderful commitment by Evans and Susanna to transform this learning space in Rush Rhees Library," said President Joel Seligman. "Everyone who uses the library will benefit from this innovative project. They are making a difference with their generosity."
Evans Lam Square, a state-of-the-art meeting space located off the Roger B. Friedlander Lobby of Rush Rhees Library, will serve as the central location for library users to do research, collaborate on projects, explore new technology, and unwind.
"We are deeply grateful to Evans and Susanna for their support," said Mary Ann Mavrinac, vice provost and Andrew H. and Janet Dayton Neilly Dean of River Campus Libraries. "Evans Lam Square will be the ideal setting for discovery and exploration, where students can access the staff expertise, collections, and technology that support their scholarly ambitions."
The square will be home to technology-enhanced spaces that facilitate in-depth research consultations with librarians. A "technology sandbox" will serve as an open space for exploring cutting-edge tools that can be used in coursework. Evans Lam Square will also be the central location for Rush Rhees Library's Q&i service, which provides circulation and basic research support for patrons. Evans, who worked at the Rush Rhees circulation desk as an undergraduate, has a personal connection to the library.
"I am forever grateful to my alma mater for offering me a scholarship to pursue the best education and realize my American dream," said Evans, a member of the University's Board of Trustees since 2012. "The center of my college life was the iconic Rush Rhees Library. It was my home where I could learn, discover, network, and even sleep and enjoy a good rest. It was also the hub for my various on-campus jobs to pay for my room and board. I hope the Evans Lam Square with the state-of-the-art amenities will continue to function as the center hub for our students to explore knowledge, generate ideas, establish friendship, and attain their aspirations. Meliora!"
In 2012, the Lams endowed the Susanna and Evans Y. Lam Professorship, which supports a professor at the Simon Business School who is an excellent scholar and teacher in a field of specialization vital to the school. In 2014, the Lams created the Evans Lam Scholarship at the Eastman School of Music in honor of Jamal Rossi's investiture as the Joan and Martin Messinger Dean of the Eastman School of Music, as well as the Evans Lam Study Abroad Scholarship, sponsoring five undergraduates annually to pursue scholarly exchange in Hong Kong, China, beginning this summer. Evans and Susanna are also charter members of the George Eastman Circle, the University's leadership annual giving society.
Evans is senior vice president of wealth management and senior portfolio manager at UBS Financial Services, Inc. in Pasadena, Calif. Prior to joining UBS in 2008, he was senior vice president at Citigroup Smith Barney for 17 years. From 1989 to 1991, he served as vice president of Bankers Trust Co. He was director of corporate finance for Toronto Dominion Bank from 1987 to 1989. Susanna is a retired CPA, as well as an accomplished Chinese opera singer and performer.
A native of China, Evans was recognized as one of Hong Kong's top 50 high school graduates in 1979. He was honored as a Genesee Scholar by the University of Rochester, and earned his B.A. in economics magna cum laude in 1983. He received his M.B.A. from the Simon Business School in 1984.
Evans remains closely connected to the University as an advisor, leader, and philanthropist, serving on the Simon National Council and on the Simon Executive Advisory Committee. He is also a member of the University's Los Angeles Regional Cabinet.
Category: University News