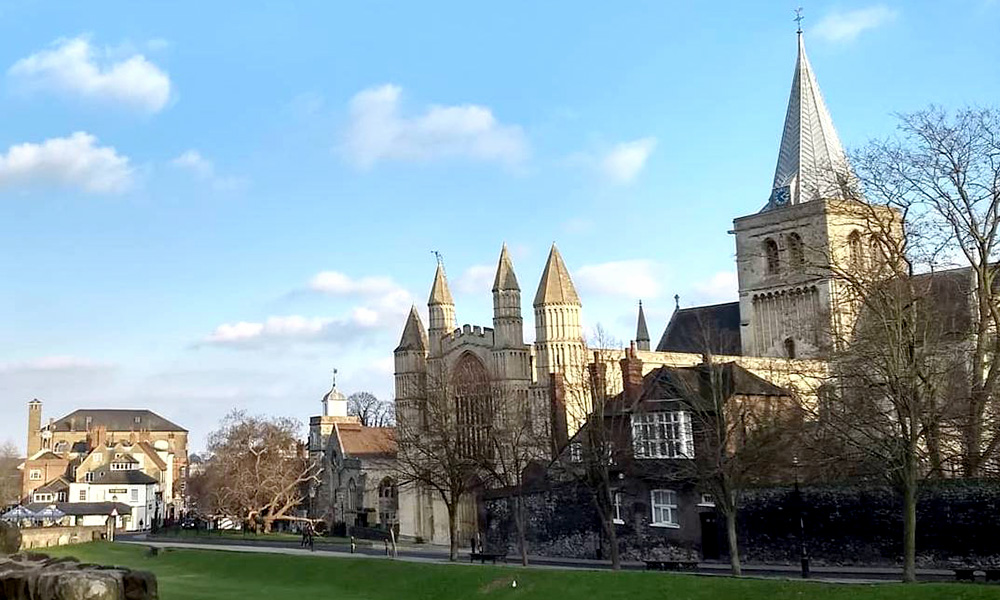 The Fulbright Program grants available to faculty at U.S. colleges and universities, as well as to international faculty to come to the U.S., aim to improve intercultural relations and knowledge by making it possible for faculty to either teach, conduct research, or do a combination of both in another country. All of these prestigious programs are designed so that participants return to their institutions to share their global experiences with their students and colleagues.
Fulbright programs have been popular with Rochester faculty members.
"The many programs and awards that comprise the entire Fulbright program for faculty and scholars benefit the entire University," says Jane Gatewood, vice provost for Global Engagement. "Recipients benefit from professional and personal growth while working in a new context, often conducting research that would otherwise not be possible. Equally, the University is regularly a host institution for scholars from abroad who have Fulbright awards to visit institutions in the U.S., and many of these connections help to spawn deep connections and collaborations that are sustained well beyond the award period."
Below, a few Rochester faculty members reflect on their Fulbright experience and how it has informed their teaching and research, as well as created new global connections.
---
Catherine Cerulli

TITLE Director of the Susan B. Anthony Center
LOCATION AND TIME Delhi, India—Academic year 2017-18
I was a Fulbright Specialist at Jamia Millia Islamia, a public university in Delhi, teaching law and empirical research to law undergraduates, masters and PhD students. The goal was to build relationships and potential future opportunities for cross-learning.
I was matched to India through the Fulbright Program and was very happy to learn about that area of the world. The focus of my work is homicide, suicide and violence research, predominately against those who are disenfranchised. Recently, a report came out that indicating that Asia has the highest number of women killed by partners or family members.
It was an amazing experience to be on a Muslim campus, interacting with students eager to share their thoughts about law, policy, their country and culture. The students were open and warm, inviting me into discussions after class and on the weekends.
The Susan B. Anthony Center and the Laboratory of Interpersonal Violence and Victimization based out of the University of Rochester Medical Center, will be collaborating with Jamia Millia students who are launching a new journal, the South Asian Journal of Legal and Social Research. We will be partnering with them as editors of the first special edition, which will focus on violence prevention and address how public health law is a framework to create mechanisms to confront public health issues. This partnership provides a unique opportunity for University of Rochester students, faculty and staff to get involved in the launching of a new journal and meet colleagues across the world who share our commitment to reducing violence.


---
Joshua Enck
TITLE Adjunct Instructor, Department of Art and Art History
LOCATION AND TIME Gurgaon, India—Aug. 2018-Jan. 2019
PROJECT TITLE "Art, Design, and Craft: Utilitarian Metalwork in India"
As a Fulbright-Nehru scholar, I combined the roles of artist and educator through research on utilitarian metal vessel production and teaching at the Sushant School of Design at Ansal University, Gurgaon.  I researched the fabrication of metal vessels such as lotas with the goal of documenting living craft traditions, learning metal fabrication techniques that I can use in my own art making, and collaborating with Indian artisans.  I spent the other half of my time teaching furniture design to interior design masters students at the Sushant School of Design in Gurgaon.
I was able to do field research at craft clusters in Ahmedabad, Nadiad, Jaipur, Moradabad, and multiple visits to Old Delhi.  I was particularly interested in the historical and contemporary applications of sheet metal for utilitarian metal forms found in the home.  These objects are made in a variety of materials including copper, brass, bronze, aluminum, and stainless steel, and the shapes often are unique to a region and their use—Lotas for water, chapatti tins, subzi dishes, tin-lined cooking pots, katoris, thalis, drinking tumblers, and milk churns are vernacular.  In my field research, I observed metal being hydraulically pressed and spun in small factories; brass being cast in a foundry and rolled into sheet material; brass trays being hand pounded into shape using wooden mallets over a metal die; and many more of the region's metalworking traditions.
I was welcomed by and learned from so many incredibly talented artisans during my research.  The skills that these artisans possess have been passed down through hands-on-learning and refined through years of practice.  Mass production of utilitarian metal ware, the introduction of inexpensive plastic, and the lack of widespread appreciation and support for this craft has greatly reduced the number of practicing artisans in India.
My teaching afforded me the opportunity to guide students through a design project, which was unique to their culture and country.  I am bringing what I learned in the master's level design studio in India back to my teaching in studio art at the University of Rochester.  For my research on utilitarian metal vessel production, I am returning to Rochester with hundreds of photographs taken of artisans at work, videos illustrating processes, my hand-drawn sketches, notes, approximately 50 metal vessels, which I purchased as learning tools, and the contact information for many craftsmen and factories.  I also sourced tools unique to this art in India – metal shears used for cutting sheet material and four custom profiled hammers which I had made for me in Delhi.
I plan to keep in touch with many of the craftspeople in met in the field, and also plan to work with the former dean of the Sushant School of Design to find future ways for cross-cultural art education.


---
Martin Lynch
TITLE Associate Professor of Counseling & Human Development, Margaret Warner Graduate School of Education and Human Development
LOCATION AND TIME Kazan, Republic of Tatarstan—Academic year 2014-2015
PROJECT TITLE "Human Motivation and Social and Emotional Development: Identifying 'Basic Psychological Needs' Within a Local Culture"
I have been involved in professional collaborations with colleagues in Russia for more than 20 years. During my time as a Warner School of Education doctoral student in the late nineties, I was actively engaged as a member of the board of directors of Linkages, a not-for-profit organization promoting people-to-people connections between the people of Rochester and those of our Russian Sister-City, Veliky Novgorod. Even earlier, as an undergraduate student at the University of Rochester, I completed the certificate in Russian Studies program, writing my senior thesis on what was then Soviet psychology in which I explored the work of key people in the field. Little did I imagine that 30 years later, thanks in large part to the Fulbright organization, I would have the opportunity to work at institutions where some of these luminaries had worked.
My Fulbright-sponsored research in the capital city of Kazan, Tatarstan–one of the numerous republics of the former Soviet Union–proved to be an ideal location. Given that I hoped to study what local experts in another culture considered to be key nutriments for children's psychological well-being, Kazan was ideally situated: roughly 50 percent of its population were ethnically Tatar, religiously Muslim people, and roughly 50 percent were ethnically Russian, religiously Russian Orthodox people. It allowed me to tap into the perspectives of two important and fairly distinct cultural groups.
Kazan Federal University (KFU), which hosted me during my Fulbright year, is one of the leading universities in Russia. Kazan is an ancient city filled with a rich history and many cultural opportunities, from museums to the performing arts. Among the greatest of Kazan's cultural treasures is its very location, along the storied Volga River.
From my Fulbright experience, I gained a better understanding of the Russian higher education system, and the realities of doing scholarship in Russia. These connections and contacts have led to numerous new ventures, opportunities, and collaborations.  No fewer than four co-authored publications, not to mention conference presentations, have emerged from the partnership forged during my Fulbright year with KFU professor of psychology, Nailya Salikhova. As well, for several years I have been in contact with Dmitry Leontiev, a psychologist from Moscow, who is well-known internationally for his work in the areas of positive psychology and existential psychology. Leontiev has visited the University of Rochester's Warner School three times, most recently in March of last year when he spent several days as my guest and a guest of the Warner School. Following up on my Fulbright experience, which ended in May 2015, together with Leontiev and several other key colleagues, we established the International Laboratory of Positive Psychology of Personality and Motivation in 2015, based at the National Research University Higher School of Economics, in Moscow, Russia.
During the winter 2018 semester, I hosted a visiting doctoral student from Leontiev's laboratory at the Higher School of Economics, a nearly semester-long visit that was coordinated through the University of Rochester's Office of Global Engagement.
At the nomination of Leontiev, I became a member of the Dissertation Council in the Department of Psychology at the National Research University Higher School of Economics in Moscow. To my knowledge, I am the only non-Russian, voting member of this 25-member council. The position is noteworthy not only for the honor that it represents, both for me and for the Warner School, but for the potential for impact on upcoming generations of scholars in Russia.
For me, these partnerships reflect an extension and a deepening of my work to promote the development of the mental health professions in post-Soviet Russia, which was given a remarkable boost by the Fulbright teaching and research award.


---
Daniel Reichman
TITLE Associate Professor of Anthropology
LOCATION AND TIME São Carlos, Brazil—April-July 2016
PROJECT TITLE "A Neighborhood Ethnography of Santos, Brazil 1920-2016"
My Fulbright grant took me to Santos, a municipality in the Brazilian state of São Paulo, for my research into the political economy of Brazil, examined through the lens of the coffee industry. As someone who studied coffee in Central America for more than a decade before starting work in Brazil, this was an opportunity to understand first-hand the economic and political realities of "big coffee" for this country. Brazil is the world's largest coffee producer and second‐largest consumer, and the port of Santos is one of the country's largest and most important exporting site. I study how changes in the global economy are experienced by people who are living through them.  Brazil's society and economy are changing very rapidly, largely as a result of expanding agricultural exports, creating significant impacts on this port city.
I also traveled several times during my time in Brazil to Federal University of Sao Carlos, where I taught a class and performed my research. This endeavor has actually resulted in one student joining the University of Rochester from Brazil. Spending time at the university with the students was one of the most culturally rewarding experiences of my Fulbright program because I was able to hear their perspectives on politics as their country was in the middle of an impeachment process.
Much of the research for my forthcoming book on Brazil's economy, "Time in the Balance: Histories of Progress in a Brazilian Port" (Cornell University Press) took place during my Fulbright experience in Santos.


---
Steven Rozenski
TITLE Assistant Professor of Literature in the Department of English
LOCATION AND TIME London, U.K.—Academic year 2018-19
PROJECT TITLE "Translating Popular Continental Devotional Literature in Trans-Reformation England"
View this post on Instagram
I work on medieval English, German, and Dutch manuscripts and most of them are in London, Cambridge, and Oxford. For my Fulbright project, I am currently in the U.K. to research my book project, "Wisdom's Journey: Continental Mysticism and Popular Devotion in Trans-Reformation England," at Queen Mary University of London. This monograph is an inquiry into the transformations of Continental spiritual literature in England across a 300-year period. It examines the English translation and adaptation of the works of Henry Suso, Catherine of Siena, and Thomas a Kempis in order to change our understanding of English devotional and mystical literature and its wider European context across the reformations of the 16th century.
While I've been here, a highlight has been seeing Christopher Marlowe's late 16th century play Doctor Faustus at a reconstructed 17th century theater lit by candlelight. The consequences of selling your soul to the devil take on a different tone when the only light comes from beeswax!
I am still in London, but I look forward to sharing new ideas about medieval and Renaissance drama with my students next year.


---
Llerena Searle
TITLE Assistant Professor of Anthropology
LOCATION AND TIME Delhi, India—Aug. 2018-June 2019
PROJECT TITLE "Home, Inc.: Globalizing Domesticity in India"
I received a Fulbright-Nehru Academic and Professional Excellence award to conduct five months of ethnographic research in Delhi, India.  My research investigates the ways in which growing markets in home products fuel changes in the material culture of Indian homes, domestic practices, and gender and class ideals.  During my Fulbright, I worked primarily with the people designing new homes and manufacturing home-related products (stoves, sinks, furniture, etc.).  I interviewed architects, designers, manufacturers, and media professionals.  I did first-hand observation at industry events and exhibits, toured showrooms, and sat in on design meetings at one firm.
I've been studying and teaching about India for 15 years.  It's a complicated place undergoing rapid economic and social changes, which makes it an interesting site for understanding themes that are important to anthropologists, like globalization, social inequality, and consumerism.  I have been particularly interested in changes in Indian cities since the liberalization of the economy in the early 1990s.  This project on domestic material culture is an outgrowth of my earlier research on urbanization, which focused on the real estate industry and culminated in my book, Landscapes of Accumulation: Real Estate and the Neoliberal Imagination in Contemporary India (University of Chicago Press, 2016).
This fieldwork was the beginning of a long-term qualitative research project.  It is an inductive, open-ended process, but I have begun writing two articles based on the fieldwork, and I am returning to India for two weeks this April to continue my research.  I am also collaborating with a scholar I met while on the Fulbright to write an article about land politics in Goa, India.  I'm excited to bring new ideas about land, housing, and design into my teaching next year.
Applications to the Fulbright Scholar Program usually open in July, with the deadline typically in early August. Opportunities are available for faculty and administrators, as well as for professionals, artists, journalists, scientists, independent scholars, and many others. In addition to several new program models, Fulbright is offering more opportunities for flexible, multi-country grants. See https://www.cies.org.
Category: University News