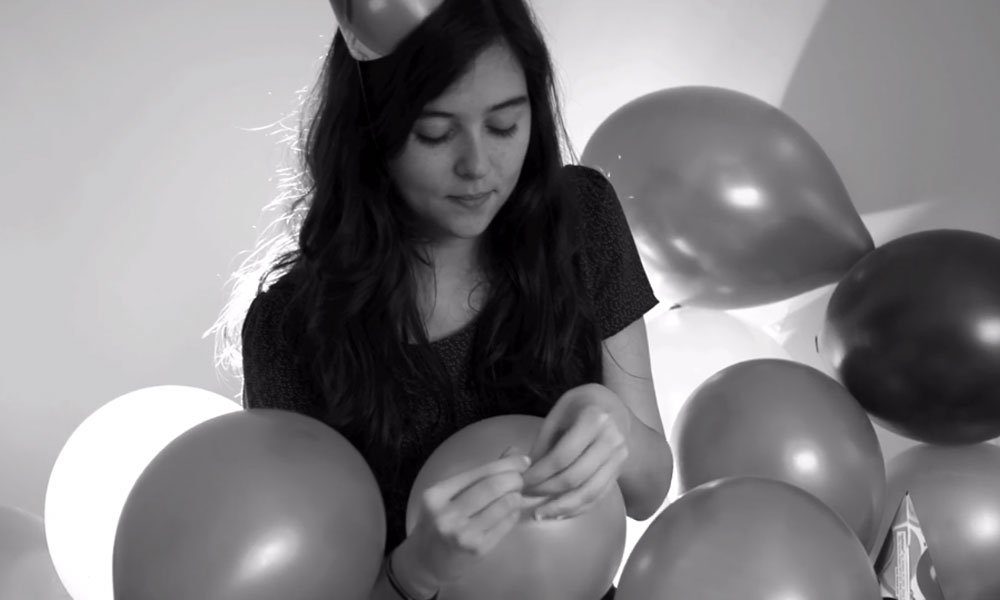 A diverse group of 19 student films was presented at the 9th annual Gollin Film Festival at the University of Rochester on Wednesday, May 1, with the top films winning $1,200 in cash prizes. The festival, which is open to all undergraduate students at Rochester, is sponsored by the University's Film and Media Studies Program with generous support from Studio Art.
"This year's festival had one of the largest and most diverse submission pools and highest attendance rates in recent years," said Jason Middleton, assistant professor of English and director of the University's film and media studies program. More than 50 people attended the event, including Professor Emeritus Richard Gollin, for whom the festival is named. "Along with strong student participation in the Undergraduate Film Council, the Gollin Festival represents the vibrant and exciting state of creative work in film and digital media among today's students at the University of Rochester."
The first place film TubStep, submitted by Brynn Wilkins of Fairport, N.Y., Jared "JD" Page of Honeoye Falls, N.Y., and Melissa Goldin of Brooklyn, N.Y., was an experimental video art piece which was shot on a Sony camera, and then run through a "glitch" codec once edited. "It was really cool to see our film on the big screen and not just in a classroom setting," said Wilkins. "Ours was definitely not a typical art piece, and it was nice to see it get recognized in this way."
Molly Nemer of Mendota Heights, Minn., received second place for her short film Lightheaded, a black and white piece which featured a lone girl inflating balloons to music. "It was exciting to see the breadth of work produced here," said Nemer.
Third place was awarded to the film Out of Hand, submitted by Jonah Jeng of Armonk, N.Y., and Casey Gould of Portland, Ore. "We shot the film entirely with an iPhone and two-person crew to prevent production from getting out of hand," says Gould. "While Out of Hand was never intended to be a Dogme 95 film, we believe you don't need professional camera equipment or cast to make something worth watching."
Students were allowed to submit a maximum of two films created since enrollment at the University, which could be made using a variety of media formats and devices. The winners were determined by a panel of university professors including Middleton, Cary Peppermint, assistant professor of art, and Allen Topolski, associate professor of art.
The festival was established in 2005 in honor of Professor Emeritus of English Richard Gollin, who founded the film studies program at the University in 1976 with the assistance of a grant from the National Endowment for the Humanities. Gollin, who retired in 1989, authored A Viewer's Guide to Film: Art, Artifices, and Issues, and received recognition for his research and writings on Romantic poetry and the Victorian novel. For additional information about the Gollin Film Festival visit http://www.rochester.edu/College/FMS/.
Category: Student Life