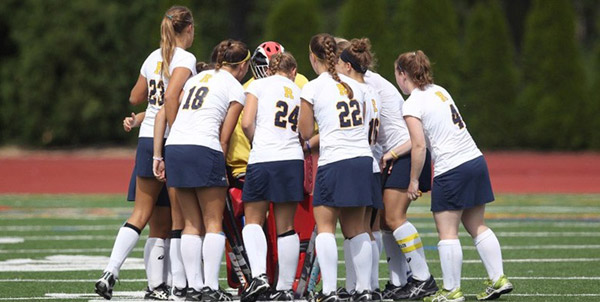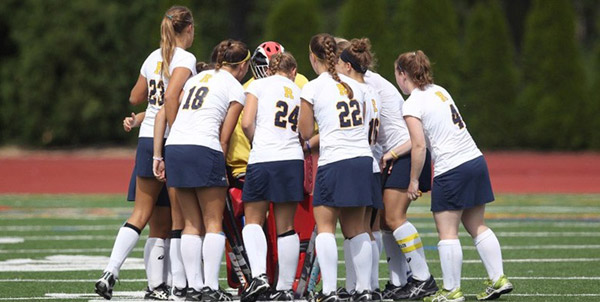 Rochester received its first-ever berth into the NCAA Division III field hockey playoffs and will host a first round game on Wednesday at 2 p.m. The Yellowjackets will face Rowan University of the New Jersey State Athletic Conference.
The Liberty League received three bids to the 2012 championships, including two of the six available Pool C (at-large) bids. William Smith won the Pool A automatic berth by winning the Liberty League championship. The Herons defeated the Yellowjackets, 3-1, in Saturday's title game. The other Pool C bid from the league went to Skidmore College. Rochester defeated Skidmore, 3-2, in overtime in the semifinals of the Liberty League playoffs last Thursday at Edwin Fauver Stadium.
The first round match between Rochester and Rowan will be played at Fauver Stadium at 2 pm. It is one of eight first-round matches scheduled for that day. The NCAA took 24 teams into its 2012 championship field. Seventeen teams received Pool A bids. Christopher Newport University earned the sole Pool B bid. Six squads received the Pool C invitations.
Tickets are priced at $6 for adults and $3 for students with ID. They can be purchased at Fauver Stadium beginning one hour before the game begins.
Rowan lost in the NJAC playoffs to Montclair State University. The Profs were 15-6. Rochester was 16-5 this year, setting a single-season record for victories. The winner of the Rochester-Rowan game advances to play Salisbury University in a four-team regional on Saturday at Salisbury. The other game in that regional matches second-seeded Montclair against the winner of the Christopher Newport-Gwynedd Mercy match (played Wednesday at Christopher Newport).
Winners of the four regionals will compete in the 2012 Final Four at William Smith College on November 17-18. The four regional hosts this year are Salisbury, third-seeded Mary Washington, fourth-seeded William Smith, and top-seeded Middlebury College.
Skidmore opens at home against Mass-Dartmouth on Wednesday. The winner advances to Middlebury to play the top-seeded Panthers.
Rochester had seven players selected for the All-Liberty League team this year. Freshman forward Michelle Relin was named the Liberty League Rookie of the Year. Head coach Wendy Andreatta and assistants Ashley Smeltzer and Alexis Vangellow were named the Coaching Staff of the Year. Rochester finished in a three-way tie for second place in the league with Skidmore and RPI.
Yellowjacket goaltender Madison Wagner ranked third in the NCAA Division III statistics in save percentage and 10th in goals-against average. She has allowed 21 goals this year (1.12 GAA), made 114 saves, and has a save percentage of .844.
The top scorers are senior Shelby Hall and freshman Relin, both with 17 goals and eight assists for 42 points. Junior Katie Flaschner has 10 goals and 5 assists for 25 points.
Rowan is making its 18th appearance in the national tournament, its first since 2009. The Profs won the 2002 national championship with a perfect 21-0 record. Rowan reached the semifinals in 1998 and 2000 and made six other appearances in the quarterfinals: 1999, 2001, 2003, 2005, 2007, 2008.
Nine different players have scored gamewinning goals for Rowan. Sophomores Jenna O'Sullivan and Karlee Henderson have three apiece. Sophomore Kellie Campbell tops the scoring chart with 18 goals, three assists for 39 points. Senior Erin Bernat is second in scoring with seven goals and six assists for 20 points. Junior Amy McKeever is third in scoring (6-6-18) and Henderson is fourth (6-4-16).
In goal, senior Jen Goldberg has a 1.40 GAA with 19 goals allowed, 62 saves, and a .765 save percentage. Junior Steph Colombo has a 2.41 GAA with 18 goals allowed, 57 saves, and a .760 save percentage.
Category: Featured, Student Life