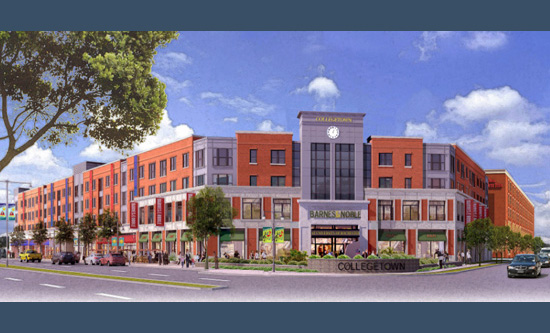 Fairmount Properties and Gilbane Development Company have announced the first group of eateries, shops, and services set to be a part of College Town, currently being developed at Mt. Hope and Elmwood avenues and set to open in fall 2014.
The list of tenants can be found at www.CollegetownRochester.com and features national and local names, including:
The Creator's Hands: Rochester-based arts, crafts, home décor and gifts, made in the U.S.
Corner Bakery Café: specialty breads and sandwiches, hot breakfasts and pastries.
Saxby's Coffee: popular Philadelphia-based gourmet coffeehouse.
Panini's Bar and Grill: sports-themed restaurant famous for its overstuffed sandwiches.
Insomnia Cookies: freshly baked cookies with late night delivery.
Constantino's Market: a 20,000 square-foot city grocery offering fresh produce, meats, seafood, prepared foods and everyday items.
"We are excited to bring a wonderful variety of businesses to serve the residents of Rochesterand University of Rochester community," said Randy Ruttenberg, principal at Fairmount Properties.
Some of the new tenants will also introduce live music and entertainment to College Town, such as the microbrew house, The Beer Market, which frequently stages local musical performers.
"The vision of College Town as a one-of-a-kind new and vibrant place to live, learn, dine, shop, work and play is confirmed with the addition of these new tenants," added Bob Gilbane, chairman and CEO of Gilbane Development Company.
College Town will be anchored by a two-story, 20,000 square-foot Barnes & Noble, which will be both a community and University bookstore. The community can regularly attend authors' nights and special events, and a children's section will offer weekly storytelling time and other activities geared towards younger readers.
In addition to the items customers would expect to find at other Barnes & Noble retail outlets, the new bookstore—accented with Rochester blue and dandelion yellow—will offer textbooks, course materials, apparel and other University branded items.
Especially significant for visitors to the area is the 136-room Hilton Garden Inn University of Rochester/Medical Center that will stretch along Elmwood Avenue and feature an upscale restaurant and conference center.
College Town is a comprehensive plan to redevelop 14 acres of University-owned property with 500,000 square feet of retail and dining space, hotel and conference facilities, parking, and housing for the Mt. Hope and University communities and area visitors. The $100 million project has been a vision for local community partners since 2008 and promises to provide economic benefits to the region, while building a welcoming and cohesive University-neighborhood community.
Construction is ongoing and currently focused on building footings, foundations and structural steel. Excavation of the underground parking garage is also underway. To view updated construction progress, visit: http://www.rochester.edu/construction/?p=786.
Additional College Town tenants will be announced as project construction continues.
For more information on College Town businesses, email fmiller@fairmountproperties.com, or call (216) 514-8700, Ext. 127.
Category: Student Life, University News