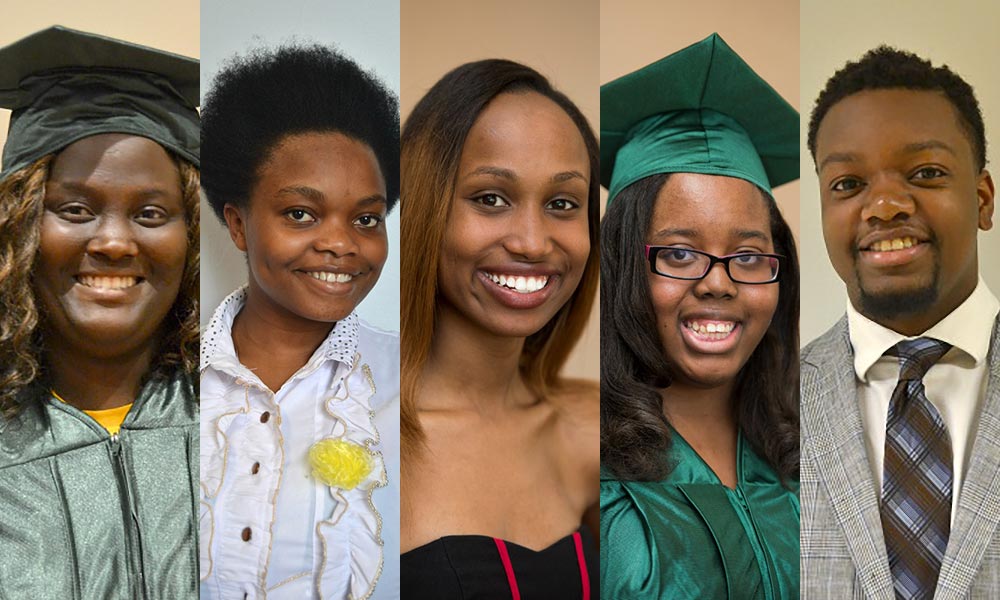 On Wednesday, May 27, the Susan B. Anthony Center at the University of Rochester selected five students to receive the 2015 Susan B. Anthony Urban Scholar Award. The award is a $1,000 scholarship given to current and former students in the Rochester City School District enrolled or planning to enroll in college or trade school. All applicants are employed at the University through the UR Teen Health & Success Partnership Program.
Since the scholarship's founding in 2013, the Susan B. Anthony Center has awarded $13,000 in financial aid to students in the Greater Rochester community.
"The goal of the Urban Scholar Award is to recognize youth who have overcome tremendous obstacles to obtain their high school degrees and move on to college careers," said Catherine Cerulli, director of the University's Susan B. Anthony Center. "This year's winners' stories are inspirational and I look forward to watching their stars rise."
This year's recipients consisted of three graduating high school seniors and two current college students. They are:
Tianna Alston, a senior at Northeast College Preparatory High School who is employed as a patient companion observer at Highland Hospital. She plans to attend SUNY College at Brockport to study nursing.
Sheilah Kirui, a senior at Joseph C. Wilson Magnet High School who is a project assistant at the UR Center For Community Health. She plans to attend University of Rochester.
Halima Munyakayanza, a senior at Vanguard Collegiate High School, who is employed as food service worker at Hillside Market. She plans to attend Nazareth College.
Niyera Jeanine, a student at Monroe Community College pursuing a career as a medical assistant. Jeanine is currently employed as a food service worker in the University's Wilson Commons on River Campus.
Peterson Pierre, a student at SUNY Buffalo State studying biochemistry. Pierre is currently employed as food service staff at Highland Hospital and as a cashier at Wegmans.
Criteria for the scholarship are students in good academic standing, who embrace the spirit of Susan B. Anthony, and who participated in the Hillside Work Scholarship Connection. The winners also must be committed to achieving success in their personal education and the education of others with a demonstrated dedication to social justice and community service. For additional information about the Urban Scholar Award, visit http://www.rochester.edu/sba/about/ScholarshipsandFunding.html.
Category: University News