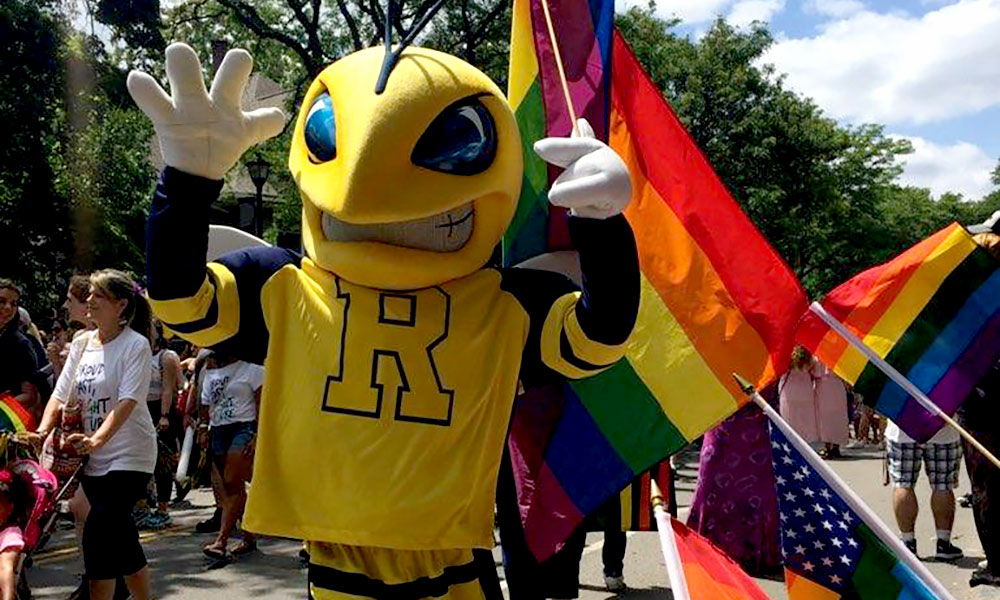 A large contingent of University of Rochester students, faculty, and staff joined the more than 150 organizations and an estimated 35,000 spectators who participated in the Rochester Pride Parade on Saturday. More than 250 University community members marched together, waving flags, carrying signs, and sporting t-shirts proclaiming, "Proud Past, Bright Future," and "MelioRAINBOW: Ever Gayer."
"I definitely think this year represents an increase in our participation," says Catherine Cerulli, director of the Susan B. Anthony Center, one of the sponsors behind this year's presence. There were many different outreach efforts this year, from both existing programs and new offices, from student groups to the Medical Center. "There are real leaders and champions across the University," she adds.
For Colleen Raimond, in her first year as the LGBTQ coordinator for the Paul J. Burgett Intercultural Center, Pride was an opportunity to combine her connections and networks with these University-wide groups on outreach efforts.
"It is really important to see the commitment the University has to an event like Pride," says Raimond. "For students, it is important to see that, at the place where they are getting their education, there is a lot of support."
"I think Pride is incredibly important because it is one of the few opportunities that gives people that opportunity to be completely visible and outwardly authentic," adds Raimond.
Matty Savich '20, vice president of the Pride Network student organization, agrees. "For a lot of college students, they aren't out at home, or they aren't out in certain areas, and when they come to college they can be themselves. And when a university shows that they support that, I think it's so important for the University to take initiative so students can have these opportunities to be who they want to be."
For Savich, it was the first time attending a Rochester Pride event. Working together with students from the Pride Network and Queer Students of Color, and newer groups such as ABCs (Anthing But Cis) and TINT (Transgender, Intersex, Non-Binary, and Two Spirit), was "a lot of planning, a lot of communication, and also a lot of fun with everyone sharing a similar queer identity."
And those t-shirts, designed by Susan B. Anthony Center student assistant Nicholas Kasper '18 (T5), were also a hit.
"I was just throwing them at people," laughs Savich.
Category: In Photos