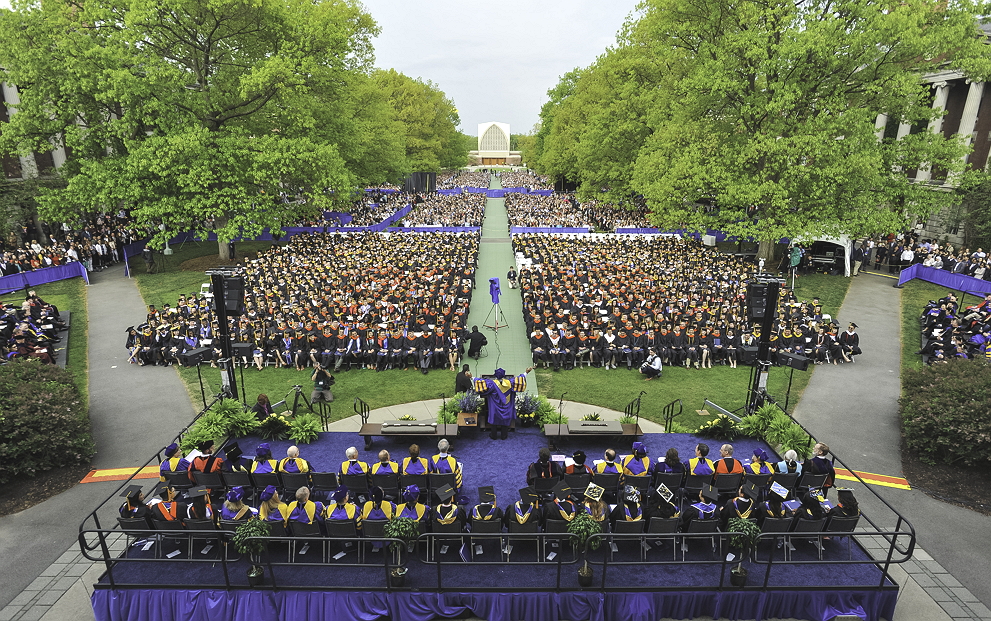 Commencement 2018: This is one in a series of stories marking the 168th Commencement Ceremonies of the University of Rochester.
The University of Rochester will recognize the outstanding contributions of distinguished leaders, educators and humanitarians by bestowing honorary degrees, Eastman Medals, Hutchison Medals, and awards for scholarship and teaching. These awards will be presented at the 168th Commencement ceremonies on May 18, 19, and 20, and at the Simon Business School ceremony on June 10.
University Honorary Degrees
Frederick Douglass (1818-1895)—Honorary Doctor of Laws
Frederick Douglass is widely recognized as the most important abolitionist leader in American history. Born a slave on a Maryland plantation in 1818, Douglass escaped to the North at age 20 with the help Anna Murray, a free black woman in Baltimore. The two eventually married and settled in Rochester where Douglass founded the abolitionist newspaper, the North Star, in 1847, which was later renamed Frederick Douglass' Paper.
He taught himself to read and write and became an accomplished writer and orator. Before settling in Rochester, he traveled to Great Britain and Ireland to avoid recapture, and spoke widely to growing crowds. In Rochester, Douglass befriended Susan B. Anthony and took up the cause of women's rights, attending the 1848 Women's Rights Convention at Seneca Falls, New York.
Douglass and Anthony were at the center of a prominent group of western New York activists who agitated for abolition and women's suffrage under the common umbrella of human rights.
Douglass delivered many of his most famous speeches while in Rochester, including his 1852 Independence Day address, "What to the Slave is the 4th of July?" He published three memoirs: Narrative of the Life of Frederick Douglass (1845), My Bondage and My Freedom (1855), and Life and Times of Frederick Douglass (1881).
A prominent recruiter of African American soldiers for the Union Army, Douglass moved to Washington, D.C., in 1872. Later, he accepted a position as U.S. Marshal under President Rutherford B. Hayes. He would eventually serve in several roles under five presidents.
Douglass remained married to Anna until her death in 1882. He died at his home in Washington, D.C., in February 1895, and is buried in Rochester's Mount Hope Cemetery.
Douglass' honorary degree will be accepted by his great-great-great grandson, Kenneth B. Morris Jr.
Ronald H. Fielding '73 (MA), '76S (MBA)—Honorary Doctor of Laws
Ronald Fielding is retired chief strategist and senior vice president of the Rochester division of OppenheimerFunds, one of the nation's largest asset management companies. He managed its Rochester municipal bond funds and their predecessors, the Rochester Funds, for more than 25 years.
An adjunct professor at the Simon Business School, as well as at RIT, from 1975 to 1982, Fielding founded Fielding Management and the Rochester Funds in 1980. In 1995, his business was sold to OppenheimerFunds and he became senior vice president and manager of all municipal bond funds. Under his leadership, Oppenheimer's municipal group grew from $4 billion to $35 billion in total assets before his retirement in 2009.
The founder of the Ronald H. Fielding Scholarship Fund—the premier scholarship awarded to Simon students—Fielding serves on the Simon National Council and the Simon Advisory Committee. He is the recipient of the Simon Distinguished Alumnus Award and the Simon Dean's Medal, the school's highest honor.
An inductee of the Rochester Business Hall of Fame, he is a past board member and past chair of the George Eastman Museum of Photography and Film, and a board member of Geva Theatre Center.
After earning a bachelor's degree from St. John's College in Annapolis, Maryland, where he currently serves as board chair, he earned a master's degree in economics and MBA from Rochester.
The Eastman Medal recognizes outstanding achievement and dedicated service in honor of the University's great benefactor and the founder of Eastman Kodak Company
Margaret Georgiadis
Margaret (Margo) Georgiadis is an internationally recognized executive and leader in technology and innovation. She is CEO of Ancestry, the global leader in family history and consumer genomics that brings together science, technology and self-discovery to provide consumers with valuable insights into their lives and the world.
She will deliver the College's Commencement address on May 20.
Georgiadis joined Ancestry in May 2018, most recently serving as CEO of Mattel, Inc., the global leader in play, learning and development. Before joining Mattel, she served as president of Americas at Google, where she oversaw the company's commercial operations and advertising sales in the United States, Canada and Latin America. She also previously served as Google's vice president of global sales operations, leading the operations and technical teams that enabled the successful commercialization of Google's products, as well as the development of new businesses.
During her tenure at Google, she helped lead Women@Google, a global organization of over 10,000 women across 45 countries that focused on advancing women leaders and inspiring girls to pursue careers in science and technology.
Georgiadis earned a bachelor's degree in economics magna cum laude and Phi Beta Kappa from Harvard College, and an MBA from Harvard Business School where she was a Baker Scholar. She is a recipient of the Forbes "Excellence Award in Innovation," the POW! Womenetics "Purposeful Women Award," and was named to Crain's "Most Powerful Women in Business" and Fortune's "50 Most Powerful Women in Business" lists.
Her son, Andreas, is a member of the Class of 2018.
Seymour I. Schwartz '57M (Res)
Seymour Schwartz is the Distinguished Alumni Professor of Surgery at the School of Medicine and Dentistry.  In a career spanning seven decades, he has established a record as one of the nation's foremost medical educators.
He is the editor and coauthor of one of the main textbooks for medical students and junior surgical residents, Schwartz's Principles of Surgery, which is now in its 10th edition.  A widely regarded surgeon, scholar and teacher, Schwartz has served as president of the country's most important surgical societies:  the Society of Clinical Surgery, the American Surgical Association, and the American College of Surgeons.  Last October, the American College of Surgeons recognized him as an "Icon of Surgery."
A native of New York City, Schwartz earned his bachelor's degree at the University of Wisconsin.  He completed his medical degree at New York University and then came to Rochester where he did his surgical residency, graduating in 1957.  Joining Rochester's surgical faculty, he served as chair of the Department of Surgery and as surgeon-in-chief of Strong Memorial Hospital from 1987 through 1998.  He retired from performing surgery at age 72.
Schwartz is also well known outside medicine as a collector of historically significant maps, and as an author and historian of cartography.  The author of six books on the subject, he has served on the boards of the Museum of American History, the Smithsonian Institution, and he is a member of the Philip Lee Phillips Society of the Library of Congress, Geography and Map Division.  This year, he will publish another book, From Medicine to Manuscript, a profile of well-known physician/writers, such as Sir Arthur Conan Doyle, Anton Chekhov, Abraham Verghese, Oliver Sacks and Atul Gawande.
The Charles Force Hutchison and Marjorie Smith Hutchison Medal recognizes alumni for outstanding achievement and notable service
Mary Ellen Burris '68W (Mas)
Mary Ellen Burris is senior vice president of Consumer Affairs for Wegmans Food Markets Inc. In 1971, she joined Wegmans as the voice of the consumer, and today is now responsible for customer services, food safety and quality assurance, community relations, public relations, nutrition programs and sustainability.
Founded in 1916 and headquartered in Rochester, Wegmans is a 96-store family-owned supermarket chain with stores in New York, Pennsylvania, New Jersey, Virginia, Maryland and Massachusetts. Wegmans has been named one of the 100 Best Companies to Work for in America by Fortune magazine for 21 consecutive years, ranking No. 2 in 2018.
Burris serves on the National Council for the Warner School of Education, where she also is a member of the Advisory Council for Warner's Center for Urban Education Success. She also is a member of the policy team for Healthi Kids, a grassroots, community-based initiative in Monroe County administered by Common Ground Health.
She was a founding board member of the Healing Connection, a nonprofit organization that provides treatment for eating disorders, and a founding member of the national Center for Produce Safety. Burris has received the Food Marketing Institute's Esther Peterson Award for consumer service, the Chairman's Award from the New York Wine and Culinary Center (now New York Kitchen), and United Way's Alexis de Tocqueville Award for exemplary leadership.
She received her bachelor's degree from West Virginia University and a master's degree in education from the Warner School.
University Teaching Awards for Excellence
David M. Primo—Edward Peck Curtis Award for Excellence in Undergraduate Teaching

David Primo is the Ani and Mark Gabrellian Professor and associate professor of political science and business administration.
He teaches courses in American politics, corporate political strategy, and innovation and global business, and has focused his undergraduate instruction in recent years on courses regarding the interplay of business and government. These courses, Business and Politics, and Politics and Markets: Innovation and the Global Business Environment, reflect his multidisciplinary approach to research connecting economics and political science and his belief that students should leave his classes with tools for understanding the world. Even in large classes, Primo gets students involved by peppering his lectures with open-ended questions intended to draw students out. Underlying all of Primo's teaching is a commitment to getting students to think for themselves and be willing to challenge ideas, including his.
In 2014, Primo created the Politics and Markets Project, which fosters education, research and debate about the relationship between business and government in the 21st century. As part of the project, he moderates a panel that brings together experts from across the political spectrum for a civil debate of controversial issues.
Primo is recipient of the University's Goergen Award for Distinguished Achievement and Artistry in Undergraduate Education, as well as the Undergraduate Professor of the Year Award given by the Students' Association.
He received his PhD from Stanford University, where he also earned a master's degree in economics.
Chigusa Kurumada—G. Graydon Curtis '58 and Jane W. Curtis Award for Nontenured Faculty Teaching Excellence

Chigusa Kurumada has been an assistant professor in the Department of Brain and Cognitive Sciences since July 2014.
Leading a widely recognized laboratory focused on language development, Kurumada investigates how human language users communicate their intentions through subtle variations and choices of linguistic expressions. She regularly wins praise from students as a teacher, both in an undergraduate course on language development and for a new, yearlong course on research methods in cognitive sciences.
As a mentor, Kurumada is known for involving her students in the work of her laboratory, the Kinder Lab, where she uses large-scale Internet-based studies, eye-tracking technologies, and in-person testing to explore language. Guiding her students in the principles of experimental design, statistics and other techniques, she commits time to advising students, reading and critiquing applications for graduate school or other venues, and offering to conduct mock interviews. She also developed a workshop designed to help students apply for graduate fellowships from the National Science Foundation.
Kurumada has received a course development fellowship from Rochester's Center for Excellence in Teaching and Learning for the past three years. In collaboration with Rochester's digital scholarship initiative, she developed a web-based tutorial for experimental design that allows students to conduct their own research projects.
Kurumada completed her PhD at Stanford University and her master's degree at the University of Tokyo. She received the Jerrold J. Katz Young Scholar Award in 2014 and has received funding from the National Science Foundation and the Japan Society of Promotion of Sciences.
Wyatt Tenhaeff—G. Graydon Curtis '58 and Jane W. Curtis Award for Nontenured Faculty Teaching Excellence

Wyatt Tenhaeff, assistant professor of chemical engineering, has earned recognition for leading research that has applications for the development of future generations of batteries. Tenhaeff joined the faculty in 2013 and has received accolades from undergraduates for his innovative approaches to teaching. He is credited with revamping a course on chemical reactor design, for example, to bring in new computational programs, provide more hands-on experiences, and increase in-class participation.
As a noted mentor, he advises chemical engineering seniors as they work on semester-long projects designed to address a real-world engineering problems. In addition, during the past four years he has supervised undergraduate research assistants who have gained research experience that has resulted in coauthored papers, recognition from multiple local organizations, and presentations at regional and national conferences.
Tenhaeff received his bachelor's degree in chemical engineering from Oregon State University in 2004 and his PhD in chemical engineering from MIT in 2009. After receiving his PhD, he won the Weinberg Fellowship at Oak Ridge National Laboratory where he worked on the development of electrolytes for solid-state lithium batteries, as well as several other materials problems in lithium-ion batteries. He was a staff scientist at Oak Ridge for more than three years before joining the Rochester faculty.
Joanne Larson—William H. Riker University Award for Excellence in Graduate Teaching

Joanne Larson is the Michael W. Scandling Professor of Education at the Warner School of Education, where she is also the associate chair of the Center for Urban Education Success, which supports the success of K-12 urban schools in Rochester and beyond and is grounded in the University's partnership with East High School.
A noted scholar of curriculum development, Larson focuses on language and literacy, how young people develop literacy practices, and how schools and teachers can adapt and implement change to improve the development of those practices.
As a teacher and mentor, Larson is central to the Warner School's graduate program, having guided 28 students to the completion of their doctoral degrees. Her contributions to the success of the school and its students have earned her recognition from her graduates, her colleagues and members of the Rochester-area teaching community.
With a particular emphasis on urban education, she has earned recognition for her ethnographic research that examines the ways in which language and literacy practices, social and power relations, and schools and communities interact and influence one another. Her current research centers on the University's historic partnership with East High School.
She is author or editor of five books, and her most recent, Community Literacies as Resources for Transformation (Routledge, 2018), is co-edited with Rochester community leader George Moses and tells the story of a collaboration between community members and University faculty and students who together transformed an urban corner store into a cornerstone of the community.
A member of the Warner School faculty since 1995, Larson earned her bachelor's degree and PhD from UCLA. Before entering academia, she was a pre-school and elementary school teacher for more than a decade.
Deborah Cory-Slechta—Lifetime Achievement Award in Graduate Education

As a faculty member at the School of Medicine and Dentistry, Deborah Cory-Slechta holds professorship positions in the departments of Environmental Medicine, Pediatrics, and Public Health Sciences. A former chair of the Department of Environmental Medicine and principal investigator of the department's National Institute of Environmental Health Sciences Center, Cory-Slechta has been nationally and internationally recognized for her scientific contributions.
Considered one of the medical school's most distinguished faculty members, Cory-Slechta served in leadership roles for several Ph.D. programs, where she also teaches key graduate courses. As the recipient of a Women's Health and the Environment over the Entire Lifespan grant, she oversees a career development and mentoring initiative for junior faculty members.
Widely regarded for her research on the consequences of developmental exposures to environmental chemicals on brain development and behavior, she has examined the effects of exposures to metals, pesticides and air pollutants. That work—particularly her groundbreaking research on the biological effects of exposure to lead—has had important regulatory and policy implications.
After earning her undergraduate and master's degree at Western Michigan University, she received her PhD at the University of Minnesota. Following a postdoctoral fellowship at Rochester, she joined the University in 1982.
For full Commencement details, visit rochester.edu/commencement.
Category: University News