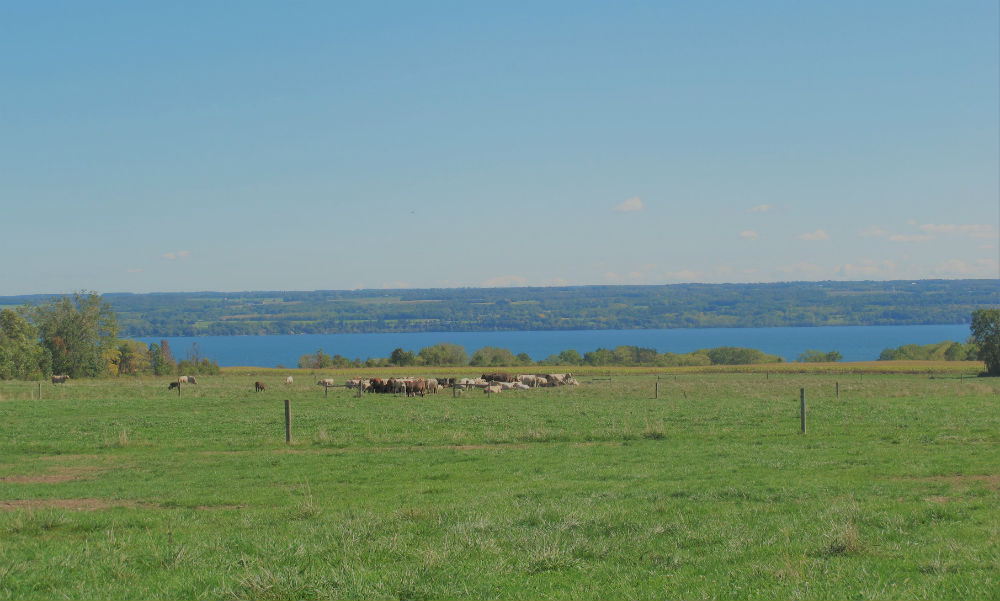 (University of Rochester photo / Sara Miller)
Autumn's Harvest Farm sits high upon the western hillside of Cayuga Lake in the heart of the Finger Lakes region, about 60 miles from the University of Rochester. Owners Sarah and Tim Haws started the livestock farm in 2001, and now it is one of the University's newest and most trusted local providers of pork, beef, and eggs.
On a picturesque September day in the Finger Lakes, University Dining Services Director Cam Schauf and some of his senior staff, joined students from Dining Team Green and Facilities Team Green at Autumn's Harvest Farm for a tour.  The connection was made between Schauf—who oversees program development for everything served in the University's residential Dining Halls, campus eateries, and catering operation—and the Hawses because of their shared food philosophy: delivering consumers a healthier and more natural way to eat, while respecting the animals and the environment that give humans this nourishment.
The Hawses operate their 100-acre family farm with the mindset of using the most sustainable operations possible in all of their work. Since its founding, they have never incorporated the practices followed by larger livestock confinement farms, so there's little to draw back from in the name of sustainability and animal welfare. Autumn's Harvest Farm operates largely on solar power with very minimal electricity, and the staff typically use one ATV to get places around their property and herd their cattle (although they are currently training their horse, Sugar, to take on a cattle-herding role).
On the tour, their Murray Grey cows are observed slowly grazing on the natural grasses in a wide open pasture. These cows have never been fed steroids, growth hormones, or antibiotics. The farm chickens lay their eggs in coops that are mobile units easily moved to different areas of the farm, with drains built into them to catch the rainwater for the chickens to drink. The chicken "tractors" often visit the pastures that the cows just left in order to pick at the bugs and scrubs that can hinder the grass from growing.
Autumn's Harvest is located in Seneca County, which is in large part farmland and vineyards, and they work closely with New York State's Agriculture Environmental Management program to continuously improve upon the sustainable aspects of raising their livestock and mitigating any farm runoff into Cayuga Lake.
"Our farm went from one with erosion issues and multiple bare spots to a lush, vibrant new ecosystem," according to the Hawses. "Seeing these positive changes to the environment encourages us to farm more efficiently and in ways that are utilizing animals to heal and improve the environment."
Dining Services works with Headwater Food Hub of Ontario, New York, to help get top-quality, "farm-to-school" food products from regional sources to the University, and Autumn's Harvest Farm is one of these top sources. According to Schauf, more than 60 percent of all of the items sold and served on campus are grown, raised, processed, or wholly manufactured within New York State. Eighty-five percent of the protein and seafood served to students is responsibly sourced. It was this past year that Schauf transitioned to Autumn's Harvest from a sustainable beef supplier in North Carolina, reducing the supply chain from to 700 miles to 60. In doing so, the beef earns an even higher Global Animal Partnership rating (Gap 4 to Gap 5), the delivery dramatically decreases the greenhouse gas emissions associated with transporting food long distances, and the University is able to support the New York state farmers who are trying to do things the sustainable way.
"The Hawses have created a farming system that goes back to a simplified, sustainable ecosystem approach to raising animals," said Chris Hartman, founder and president of Headwater Food Hub. "And farms like theirs work best when a large institution like the University of Rochester comes in to say 'we'd like to stand by the good, positive work being done in the sustainable food system.'"
Autumn's Harvest Farm doesn't operate on the large scale that national livestock farms do, and this smaller and more patient focus helps Sarah and Tim's operation be everything that industrial-produced meats are not: sustainable, humanely raised, and healthier. "I was actually a vegetarian when I met Tim, just because of everything I knew about the livestock industry and the conditions in which the animals are raised," said Sarah. "Now we're here today to give beef and pork consumers a new experience and better way to eat meat, and show that we are committed to a humane way to raise animals."
Dining Services reinforces this commitment by whenever possible purchasing the whole cow as opposed to cuts. With Tony Pignagrande—executive chef of the University's Harvest Table Culinary Group—and Harvest Table's many recipes, Dining Services can maximize the grass-fed meat through roasts, ribs, steaks, and ground beef, without having to discard a lot. This economical approach to local purchasing embraces a waste-reducing consciousness and gives respect to the life of the animal that nourishes humans.
Schauf notes that Dining Services partnerships with local food producers represent a $6 million annual investment in New York State. As another example, many of the pork, sausage, and cured meats products served at the University come from Autumn's Harvest Farm and Hillskine Farm in Rensselaer Falls, New York, also in the Finger Lakes region.
For more information on University Dining's Sustainable initiatives, visit https://dining.rochester.edu/sustainability/.
---
Schauf named 2019 Individual Winner of Seneca Park Zoo Society Environmental Innovation Award
On Oct. 30, the Seneca Park Zoo Society recognized University Dining Services Director Cam Schauf with its individual Environmental Innovation Award for his commitment to sustainability.
The Environmental Innovation Awards celebrate leadership in environmental stewardship, raising the profile of innovative companies and people working to solve complex environmental problems in the Rochester and Finger Lakes Region. The winners are leaders from throughout the region who are building a more sustainable future by implementing zero waste practices, leading renewable energy efforts, creating advanced green technology and infrastructure, and driving efforts in conservation education.
Schauf was nominated for the award by Katrina Korfmacher, director of Community Engagement Core in the Environmental Health Sciences Center and associate professor of environmental medicine. "Cam is nationally recognized for his leadership and innovation in making campus dining healthier, less wasteful, more energy efficient, and based on local foods," said Korfmacher. "By working with "Team Green,"—a group of dedicated student workers who do research, promote new initiatives, and gain valuable experience in systems change—he has made a huge impact on the local food system through purchasing and partnerships. His integration of action, engagement with students, and community partnerships is a great model for sustainability at the University."
Schauf has been responsible for many fundamental changes over the years in how food is purchased, prepared, and disposed of at the University.  He has sought input from students, staff and community, developed partnerships, and grown capacity of his workforce and local businesses. In the process, he has developed new models of how University food services can support development of local food systems, most notably through Harvest Table and longstanding partnership with Headwater Foods.
In 2018, his commitment to sustainable dining won the gold award in the category of Procurement Practices in the National Association of College and University Food Services Sustainability Awards.
Category: University News