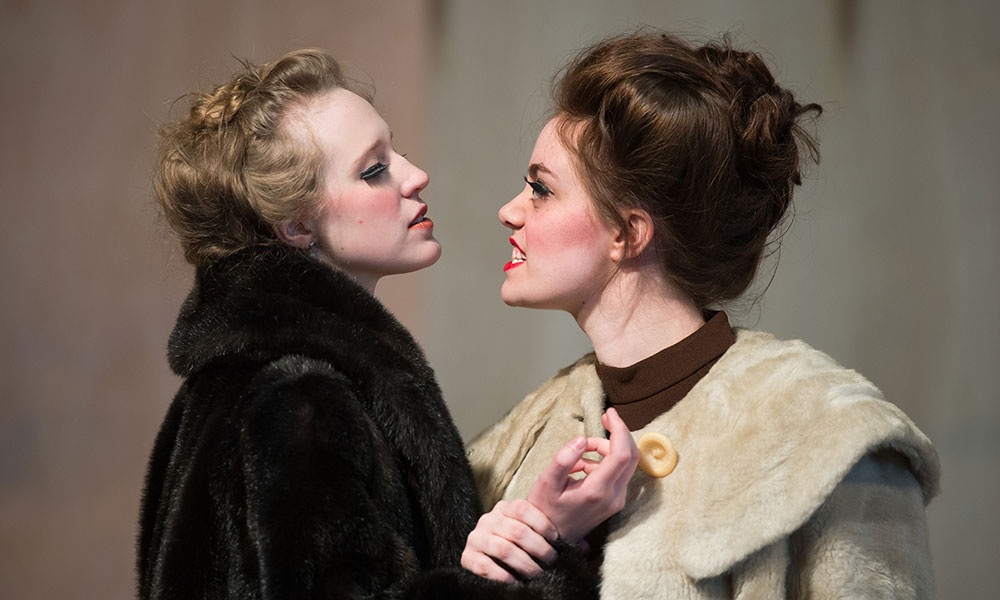 As a deeply reviled and controversial figure in history, the aristocrat and writer Marquis de Sade fascinated, repelled, and tested the limits of 18th century French decency. But was the man a myth or a monster? On Thursday, April 24, the University of Rochester's International Theatre Program presents the rarely performed Madame de Sade, a work that explores complex and deeply disquieting questions about the nature of suffering and belief.
"What's particularly fascinating about the play is that de Sade is seen exclusively through the eyes of women—specifically his wife, mother-in-law, and sister-in-law," remarks Nigel Maister, the production's director and the Russell and Ruth Peck Artistic Director of the International Theatre Program. "The playwright dwells not on de Sade's debauchery, but rather on his work's philosophical ramifications."
Written by Yukio Mishima, Madame de Sade examines themes of sexuality, death, and political change that controversial actor writer and novelist embraced in both his personal life and body of work. As one of the most celebrated and prolific post-war Japanese writers, Mishima was nominated three times for the Nobel Prize in Literature. He died in 1970 at the age of 45 in a public ritual suicide after a failed attempt to inspire a coup d'état.
The play is based on the life of Donatien Alphonse Francois the Marquis de Sade who was incarcerated for most of his adult life due to his sexual activities and assorted deviations from the perceived sexual norm. Kept on the defensive by his mother-in-law, who worked tirelessly to keep him behind bars to protect both her daughter and family, de Sade took to writing novels, pamphlets, political tracts, and plays—each more scandalous, sexually explicit, and violent than the next. His body of work was rediscovered in the early 20th century (it had been—and in many places continues to be—subject to banning and censure.)
Madame de Sade is directed by Maister, who has led the International Theatre Program since 2002. Born in South Africa, he has trained as an actor and director and has a master of fine arts from Carnegie Mellon University. Maister is the recipient of numerous awards and a founding member and resident theater director of the music group Alarm Will Sound. His work has been seen at the Lincoln Center Festival, Carnegie Hall, NY's River to River Festival, and the Holland Festival. His newest work is set to premiere at the Metropolitan Museum of Art in summer 2014.
Set design is by Marsha Ginsberg, whose award-winning work specializes in new plays and opera. Her previous Rochester credits include The Puzzle Locker, The Lower Depths, Featuring Loretta, and Adding Machine: a musical. Costume design is by Tilly Grimes, co-artistic director of the theater company SavageCharm. Her previous Rochester credits include The Rochester Plays and Cinderella. Lighting is designed by Thomas Dunn, whose previous Todd Theater productions include The Illusion, The Hairy Dutchman, King Lear, and Killer Joe. Sound design and original music is by Obadiah Eaves, whose work has been seen on- and off-Broadway in works by David Mamet, Woody Allen, Eric Bogosian, Ethan Coen, and Suzan-Lori Parks.
Madame de Sade runs Thursday, April 24 through Saturday, April 26, and Wednesday, April 30 through Saturday, May 3. All shows begin at 8 p.m., except for a matinée performance on Sunday, April 27 at 3 p.m. and a performance on Saturday, May 3 at 6 p.m. Tickets are $7 for UR students; $10 for UR alumni, faculty and staff, and for seniors (55+); and $13 for the general public. All performances take place in Todd Theater, located in the Todd Union building on the River Campus. Tickets can be purchased online at www.rochester.edu/theatre, or by calling 585.275.4088
585.275.4088. Tickets may also be purchased up to an hour before each performance at the box office.
Category: The Arts