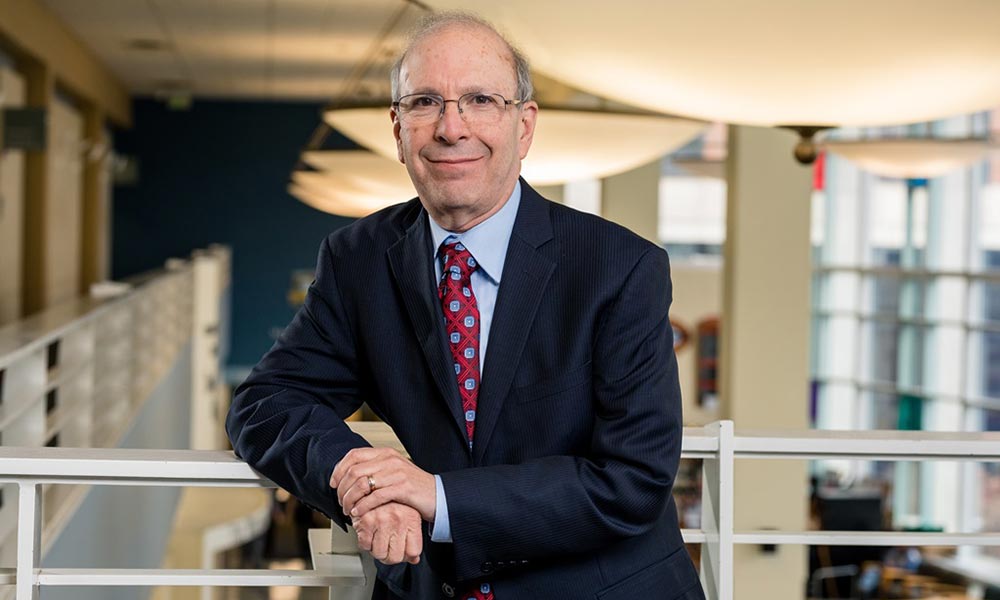 University President Richard Feldman has announced the appointment of Mark B. Taubman, M.D., to a new term as dean of the School of Medicine and Dentistry, effective July 1, 2019. The Board of Trustees approved this deanship renewal at its October meeting. Taubman will also continue his joint responsibilities as University senior vice president for Health Sciences, and CEO of the University of Rochester Medical Center (URMC) and UR Medicine, the University's health care network.
Taubman has served as CEO since January 1, 2015 and as dean since March 2010.  He is the first person in the history of the Medical Center to serve this dual role.
"Mark is a leader with great integrity and experience who has devoted a tremendous amount of work to ensuring that our School of Medicine and Dentistry remains among the best and most selective medical schools in the country," said Feldman. "He spearheaded a strategy that guides the actions essential to sustaining our academic excellence, and these efforts have greatly enhanced the global profile of both the school and the University as destinations for top medical students and faculty. I am very pleased that Mark will continue as dean, in addition to the other key leadership positions in which he serves."
Since being named CEO, Taubman and his leadership team have refined and executed a strategic plan that re-invigorated the institution's core missions of patient care, research, and education, while improving its culture and establishing financial agility.
Under Taubman's leadership, the Medical Center has experienced unprecedented growth in clinical faculty and programs, along with the development of strategic affiliations and alliances with other health care providers. Today, UR Medicine encompasses six hospitals, eight urgent care centers, more than 225 outpatient sites, and through its accountable care network, AHP, now provides care to more than half a million patients.  It is the sole Upstate New York provider of liver and heart transplants, as well as care and treatments for many pediatric subspecialties; with 11 locations, the Wilmot Cancer Institute is Upstate's largest cancer center
The strategic plan coalesced the Medical Center's research portfolio into 15 multi-disciplinary "Programs of Excellence" supported by newly reinforced cores.  Taubman has also taken steps to diversify the sources of financial support that sustain URMC's research.
Within education, URMC has emerged as a national leader in interprofessional education and an innovator in the training of resident physicians. Meanwhile, Taubman has put in place an infrastructure to improve the Medical Center's efforts around diversity and inclusion.  The Medical Center has adopted a new, integrated financial reporting model and is implementing changes to funds flow to foster cohesiveness and transparency, while incenting greater collaboration among its divisions.
"I'm honored to have the support of administrative and faculty leaders at the Medical Center and University that has enabled our success during my first term, and I look forward to all that we can achieve in the next five years," Taubman said.  "I'm also grateful for the confidence of the University trustees and the URMC board as we aim to become Upstate's premier academic medical center and health system."
A board-certified cardiologist, Taubman came to the Medical Center as chief of the Cardiology Unit and Paul N. Yu Professor in Cardiology in February 2003. He became chair of the Department of Medicine and Charles E. Dewey Professor of Medicine in May 2007, and served in that role until being named as dean. He briefly served as acting CEO in 2010 while former CEO Bradford Berk, M.D. recovered from an injury.
Taubman graduated from the New York University School of Medicine and interned at Peter Bent Brigham Hospital in Boston before completing his residency and cardiology fellowship training at Brigham & Women's Hospital.  He held academic appointments at Harvard Medical school, Children's Hospital Boston, and Mt. Sinai School of Medicine. Prior to being recruited to the University of Rochester, he was director of cardiovascular research at Mt. Sinai.
Category: University News