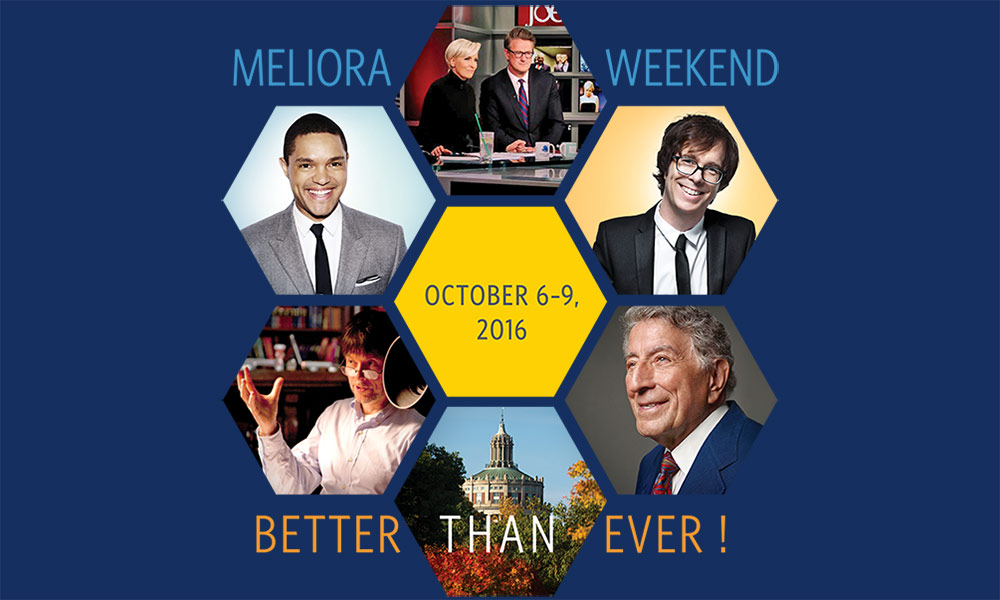 Legendary singer Tony Bennett to perform at Kodak Hall
Meliora Weekend has always been a feast for the mind and the Yellowjacket spirit. This year, October 6–9, the experience will be better than ever as the University celebrates the success of The Meliora Challenge: The Campaign for the University of Rochester. Set to formally conclude on June 30, the Campaign has raised more than $1.3 billion for groundbreaking research, endowed professorships for faculty members, student support through scholarships and fellowships, improvements to facilities and buildings, and innovative new programs.
The weekend, which will blend the Campaign celebration with reunions, homecoming, and family activities, will offer something exciting for everyone.
"At its core, Meliora Weekend is about Rochester pride and gratitude," said Thomas J. Farrell, senior vice president of University Advancement. "This year brings an exceptional opportunity to celebrate all that we have accomplished together and recognize those whose leadership has carried us this far. Our campaign donors and volunteers have given us incredible momentum, and every member of the University and Medical Center community is important to our continued progress, now and in the future."
Meliora Weekend 2016 will celebrate where the University has come from, where it is, and where it's going. Fittingly, the impressive list of featured guests unites the past, present, and future.
Legendary singer Tony Bennett, whose artistry and accomplishments are lauded around the world by people of all ages, will perform Saturday, October 8, at Kodak Hall at Eastman Theatre.
On Friday, October 7, Ken Burns, one of the most acclaimed historical documentary filmmakers of our time, will participate in a conversation about race in America with Paul Burgett, vice president, senior advisor to the president, and University dean, at the Presidential Symposium. The Presidential Symposium, which is traditionally held on Saturday, has been moved to Friday to make it easier for students, faculty and staff members to attend.
On Saturday, October 8, MSNBC's "Morning Joe" hosts Joe Scarborough and Mika Brzezinski will take the pulse of the nation just one month shy of a landmark presidential election during the weekend's keynote address.
Later Saturday, multi-platinum singer/songwriter Ben Folds will perform a free, outdoor concert for registered guests. In 2009, Folds released "Ben Folds Presents: University A Cappella!" on which the Midnight Ramblers, one of the University of Rochester's all-male a cappella groups, is featured. Two years later, he worked with The YellowJackets, another all-male a cappella group from the University, when they performed on the NBC television series "The Sing-Off."
Saturday's late night entertainment will come from Trevor Noah, the host of the Emmy and Peabody Award-winning program The Daily Show. Noah won the "Personality of the Year" award at the 2015 MTV Africa Music Awards.
"There are so many new and engaging elements this year that we can't wait for people to see," said Farrell. "This is on top of all the traditions everyone who cares about this University has come to expect—the football game, class reunions, parents' programs, Mel Talks, student showcases, and much more. We believe we've put together an experience that will inspire everyone to gather their friends and families and make plans to be here to celebrate with us."
Registration and ticketing for Meliora Weekend opens in July. For more information visit www.rochester.edu/advancement/meliora-weekend-2016/, email alumni@rochester.edu, or call 877.MELIORA (877.635.4672).
Category: University News