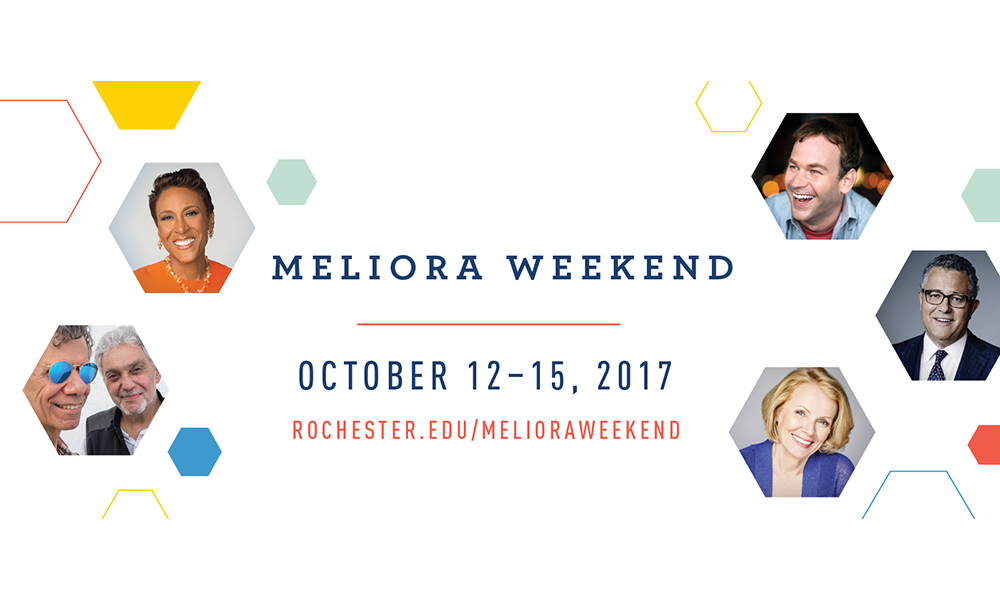 Registration is open for Meliora Weekend, the University's annual fall celebration combining family weekend, homecoming, and reunions—with events for students, parents, alumni, faculty and staff. Meliora Weekend 2017 will be held October 12–15. Details on some of this year's signature programs follow.
Robin Roberts to deliver keynote
Robin Roberts, coanchor of ABC's Good Morning America will deliver the keynote address from the Palestra in the River Campus's Goergen Athletic Center on Saturday, October 14.
Under Roberts' leadership, Good Morning America won five Daytime Emmy Awards for "Outstanding Morning Program" from 2007 to 2009 and again in 2014 and 2017. She has conducted interviews with a diverse group of newsmakers, including former President Barack Obama and Facebook founder Mark Zuckerberg, and has done extensive reporting around the globe on breaking news events such as the devastating earthquake in Haiti and the AIDS crisis in Africa. She has also won personal fights against breast cancer and the bone marrow disease myelodysplastic syndrome, which she recounts in her memoir, Everybody's Got Something (2014).
Peggy Noonan offers an afternoon of perspective
On Friday, October 13, Peggy Noonan, Pulitzer Prize-winning columnist for The Wall Street Journal and best-selling author, will bring her thoughtful analysis of the nation and its leaders to the annual Presidential Symposium hosted by President Joel Seligman.
Noonan's political experience as a member of the White House staff and a keen observer has given her humorous anecdotes and thought-provoking insight. She has authored nine books on American politics, history, and culture, and her essays have appeared in TIME, Newsweek, The Washington Post, and other publications. This year, she received the Pulitzer Prize for Political Commentary for her coverage of the 2016 presidential election.
Corea/Gadd Band brings jazz to Kodak Hall
With a new studio album dropping this fall, the Corea/Gadd Band will perform in concert at Kodak Hall at the Eastman Theatre on Friday, October 13.
Keyboardist and composer Chick Corea is a 63-time Grammy Award nominee (fourth-most of all-time) and a 22-time Grammy Award winner. He's also earned three Latin Grammy Awards.
Drummer and Rochester native Steve Gadd '68E is among the most well-known and highly regarded session and studio drummers. Co-leading a band for the first time, Corea and Gadd have previously produced albums together including The Leprechaun and My Spanish Heart. Both have performed to sold-out crowds at Rochester's International Jazz Festival in recent years.
Mike Birbiglia brings his comedy show to the Palestra
Comedian and storyteller Mike Birbiglia will take the stage at the Louis A. Alexander Palestra at the Goergen Athletic Center for two shows on Saturday, October 14.
Birbiglia has performed in front of audiences worldwide, from the Sydney Opera House to Carnegie Hall. His most recent shows, My Girlfriend's Boyfriend and Thank God for Jokes, were both filmed for Netflix. Birbiglia has released four albums for Comedy Central Records, including My Secret Public Journal Live, which was named one of the "Best Comedy Albums of the Decade" by The Onion AV Club. In addition to performing live, Birbiglia is an author and filmmaker who wrote, directed, and starred in the acclaimed films Sleepwalk with Me and Don't Think Twice. His book, Sleepwalk with Me and Other Painfully True Stories, was a New York Times bestseller and a finalist for the Thurber Prize for American Humor. As an actor, Birbiglia has appeared on Orange is the New Black, Inside Amy Schumer, and Girls, as well as in the films Trainwreck, The Fault in Our Stars, and Popstar.
Miller's Court welcomes distinguished panelists
On Saturday, October 14, Jeffrey Toobin, staff writer for The New Yorker and senior analyst for CNN, will join noted attorney and broadcaster Arthur Miller '56, '08 (Honorary) to discuss and interpret the law in one of Meliora Weekend's signature events, Miller's Court.
Panelists bring a breadth of experience and knowledge to the event. Robert Sack '60 is a second U.S. Circuit Court of Appeals Judge and Columbia Law School adjunct professor; University President and CEO Joel Seligman is the G. Robert Witmer, Jr. Professor; New York University President Emeritus John Sexton '05 (Honorary) is the Benjamin Butler Professor of Law and NYU Law School's Dean Emeritus, as well as a University of Rochester trustee; Congresswoman Louise Slaughter represents New York's 25th district; and Toobin is a noted lecturer and best-selling author.
Much more to see and do
The Meliora Village returns this year to Wilson Quadrangle, featuring family activities, food trucks, and student performances on Friday and Saturday. There are also sporting events, lectures, music and theater performances, tours, and more offered throughout the weekend. The full schedule is posted at rochester.edu/melioraweekend.
Category: University News