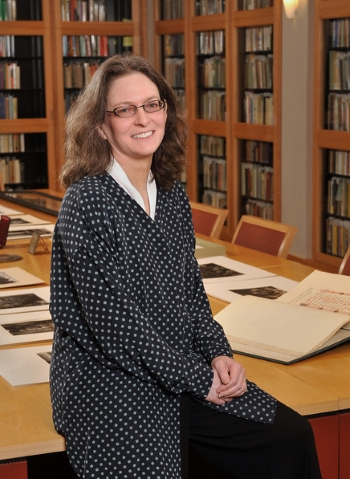 The photographs, texts, recordings, and additional items that fill the University Archives paint a full picture of the University of Rochester's 165-year history.  Few know this history better—or are more familiar with these materials—than Melissa Mead, the John M. & Barbara Keil University Archivist and Rochester Collections Librarian. Mead's leadership, creativity, and dedication to keeping  the University's history alive and accessible have earned her the 2015 Messinger Libraries Recognition Award. The annual award, created and funded by life trustee Martin E. Messinger '49, includes a $5,000 prize.
"Melissa's commitment and devotion to the River Campus Libraries and the University of Rochester are outstanding and an inspiration to her peers," said Mary Ann Mavrinac, vice provost and Andrew H. and Janet Dayton Neilly Dean of River Campus Libraries. "She goes above and beyond to respond to questions accurately, comprehensively, and in a timely manner, exceeding the expectations of the administrators, faculty, staff, and students who request information from our archives and beyond. This award is our way of thanking Melissa for her cumulative contributions that, no doubt, will continue to accumulate."
Throughout her 20-year career at the River Campus Libraries, a large part of Mead's job has been collaborative: in addition to working with faculty, staff, and students from every division of the University, she provides assistance to offsite scholars and researchers in search of primary sources about University history. She supplies University Communications, University Advancement, and the Office of the President with hundreds of digital images every year selected from the special collections and University Archives. She also provides images for the University's homepage, for local and national media, and most recently, for Our Work Is But Begun, the University's new history book by Janice Bullard Pieterse. Mead's work on this project earned her and her fellow contributors a 2015 Meliora Award.
In 2014, Rochester Review launched a new, regular column—"Ask the Archivist"—in which Mead answers readers' questions and shares interesting stories about the University's history. She also edits and acts as coordinator for the Living History Project, the University's digital collection of oral history interviews. Mead also frequently curates exhibitions of materials from the archives for display in Rush Rhees and Carlson Libraries.
"Melissa Mead has been tireless in her conscientious, creative, and enthusiastic support for our University Archives and their increased use," said Jim Kuhn, Joseph N. Lambert and Harold B. Schleifer Director of the Department of Rare Books, Special Collections, and Preservation. "Her efforts have helped to unlock and to share this rich history with students, faculty, and scholarly researchers."
Mead joined the River Campus Libraries in 1994 as a special projects coordinator in the Preservation Department. In 1998, she became a librarian in Rare Books and Special Collections, where she managed the department's digital projects and website. From 1998 to 2000, she managed library renovation projects, including the Messinger Periodical Reading Room, the Plutzik Library, the Gamble Room, the Welles-Brown Room, and the Friedlander Lobby. In 2010, she became director of the Digital Projects Research Center, and in 2012 was named the John M. and Barbara Keil University Archivist and Rochester Collections Librarian. She is the recipient of two Meliora Awards: one in 2010 and the second, a team award, in 2015 for her contributions to Our Work Is But Begun. She has been a member of the teaching team at Rare Book School (University of Virginia) since 2001.
"It is an honor to have my name added to the roster of previous winners, my colleagues in the library," Mead said. "That the award was created by Martin Messinger–whose generosity restored some of our most beautiful and historic spaces–is a great joy for me."
The annual Messinger Award honors contributions that advance the educational mission of the library or the library profession. Previous Messinger awardees include Kathy Metz, head of Patron Services (2014); Nora Dimmock, assistant dean for information technology, research, and digital scholarship (2013); and Nancy Fried Foster, former director of anthropological research for the River Campus Libraries (2012).
A longtime supporter of the libraries, Martin E. Messinger provided support for the 1998 restoration of the Periodical Reading Room and the creation of two graduate student study rooms in 2010. The Messinger family is a generous supporter of the Center for Jewish Studies, the Debate Union, and the Eastman School of Music, where Messinger and his wife, Joan, endowed the deanship. They also funded the building that houses the Eastman Community Music School, which is dedicated in memory of Anne Waltuck Messinger.
Category: University News