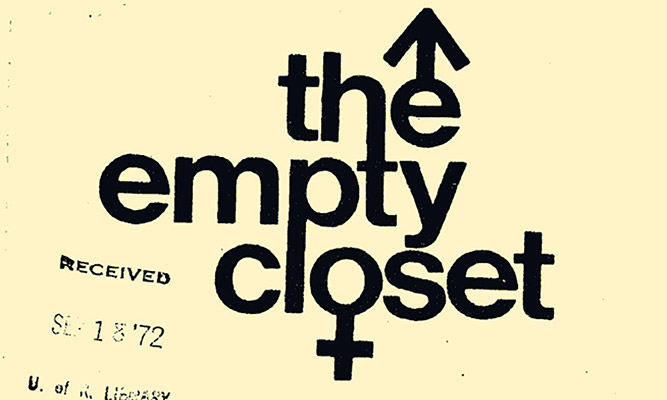 The University of Rochester's River Campus Libraries (RCL) and the Gay Alliance of the Genesee Valley (GAGV) were awarded a NEH Humanities Collections and Reference Resources Foundation grant to create a pilot project that will preserve and provide wider access to a significant collection of documents focused on the history of the LGBTQ civil rights movement in the Rochester, New York area.
The collection, which includes born-digital oral histories, early radio programs, photographs, videotapes, newsletters, and corporate papers from GAGV archives, brings to light the individuals, organizations, and institutions that supported the early struggle for gay rights in Rochester. These materials represent the "lived experience" of the Rochester LGBTQ community across several disciplines and fields of study including: American LGBTQ social and political history; drag culture and entertainment; the hidden lives of the crossdresser and transgender community; the use of radio broadcast media in political organizing in the '70s; and noteworthy activities and contributions to the social reform and liberation movements in New York State.
The project aims to secure these important archival materials in the libraries' digital repository, and make them broadly accessible through the Digital Public Library of America. In addition, the project aims to create a model of collaboration and preservation between libraries and community organizations. The grant will help the University of Rochester and its libraries support and further document Rochester's long history of social activism, and will fill a gap in current local and state history, making New York State's history more complete and inclusive.
"We are very pleased to work on this important community partnership, and help preserve and provide access to Rochester's rich LGBTQ history," says Jessica Lacher-Feldman, assistant dean and director
of Rare Books, Special Collections, and Preservation. "The grant serves as a critical reminder that part of our responsibility is to document the world around us and regard the recent past as important history."
"The grant will strengthen and expand the already existing partnership between GAGV and RCL," says Evelyn Bailey, chair of GAGV's "Shoulders To Stand On" program.  "GAGV looks forward with gratitude to working with RCL to archive, preserve and make visible this unknown chapter in New York State's history."
The March 29, 2017 NEH press release and list of funded projects is available here.
Category: University News