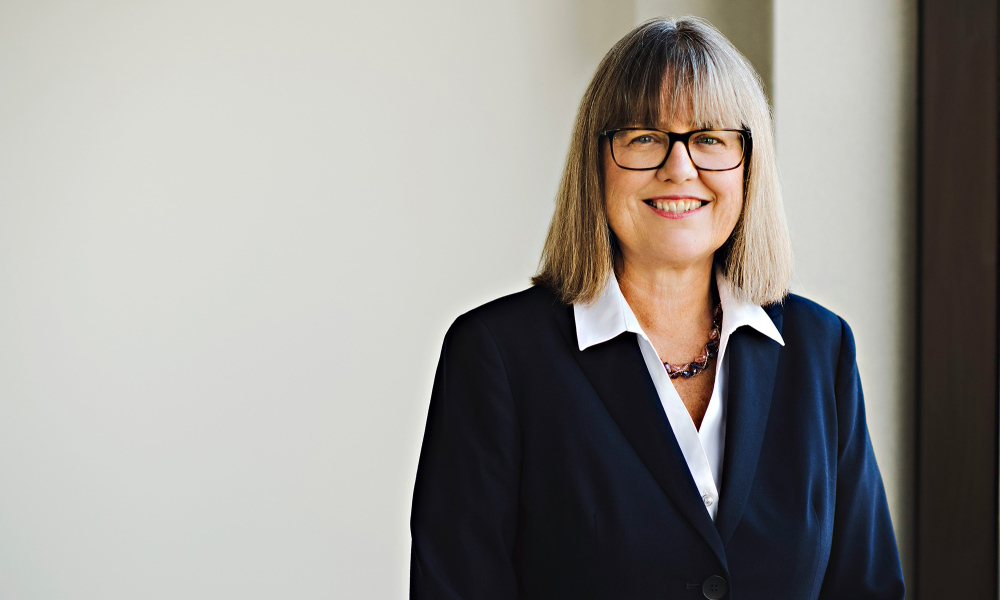 Strickland will also speak at the May 18 doctoral ceremony
Donna Strickland '89 (PhD), professor of physics at the University of Waterloo in Ontario, Canada, pioneer in the field of pulsed lasers, and a 2018 recipient of the Nobel Prize in Physics, will deliver the 169th College commencement address on Sunday, May 19.
At the College ceremony, Strickland will be presented the University's George Eastman Medal, which recognizes outstanding achievement and dedicated service. The medal was created in honor of Eastman, one of the University's great benefactors and the founder of Eastman Kodak Company.
Strickland will also speak at the University's doctoral ceremony on Saturday, May 18 where she will receive the Rochester Distinguished Scholar Award, which recognizes doctoral alumni who have led distinguished careers in academia, private enterprise, public service and the arts.
In October 2018, Strickland became the third woman ever to receive the Nobel Prize in Physics, and the first woman laureate in University of Rochester history.
"The entire University of Rochester community was delighted when the Nobel Prize committee recognized Donna Strickland's scientific accomplishments, and now I'm so pleased that our graduating students will be able to hear from her and share in the excitement and joy of her research and recent award," said University President Richard Feldman. "Undoubtedly, her achievements have already inspired our students who are studying physics and optics, but more broadly any student who knows how Strickland set out to solve a great challenge and conquered it."
"I'm thrilled that Donna Strickland will be the College's 2019 Commencement speaker," said College Dean Jeff Runner. "Donna's connection to our University is one that our students and graduates can be very proud of. For our graduating seniors, this will be an opportunity to hear words of inspiration that they can take with them forever."
Strickland and Gérard Mourou, former engineering professor and scientist at the University's Laboratory for Laser Energetics (LLE), were together recognized with the 2018 Nobel Prize for revolutionizing the field of high-intensity laser physics. Mourou was Strickland's PhD advisor during the time they pioneered "chirped-pulse amplification." Known as CPA, this work was the basis of Strickland's PhD in optics dissertation.
"Undoubtedly, her achievements have already inspired our students who are studying physics and optics, but more broadly any student who knows how Strickland set out to solve a great challenge and conquered it."

—President Richard Feldman
The goal of their research was to show how high-intensity light changes matter, and how matter affects light in this interaction. Until the introduction of CPA, the peak power of laser pulses was limited because of the damage the pulses caused to the material used to amplify them. Strickland and Mourou worked together to overcome the problem, developing the groundbreaking CPA technique that involves stretching the laser pulse thousands of times, amplifying the pulse in a laser material without damaging it, and recompressing it in time back to its original duration.
Today, CPA has applications in corrective eye surgeries and other surgical procedures, data storage, and quantum computing.
From 1988 to 1991, Strickland was a research associate at the National Research Council Canada. She then became a physicist at Lawrence Livermore National Laboratory and a member of technical staff at Princeton University. In 1997, she joined the University of Waterloo, where her ultrafast laser group currently develops high-intensity laser systems for nonlinear optics investigations—studying how intense light interacts with matter. She is a recipient of a Sloan Research Fellowship, a Premier's Research Excellence Award and a Cottrell Scholar Award.  She served as the president of The Optical Society (OSA) in 2013 and is a fellow of OSA and SPIE (International Society for Optics and Photonics).
A native of Canada, Strickland received a bachelor's degree in engineering physics from McMaster University in Hamilton, Ontario, before earning her PhD in physics from Rochester in 1989. She serves on the LLE's Visiting Trustee Committee and will speak to the group on May 15.
Additional information about University commencement ceremonies and related activities is available at www.rochester.edu/commencement/. The May 19 College ceremony will be webstreamed live.
View photos and activity from the 2018 Nobel Prize ceremony in Stockholm, Sweden.
Category: University News