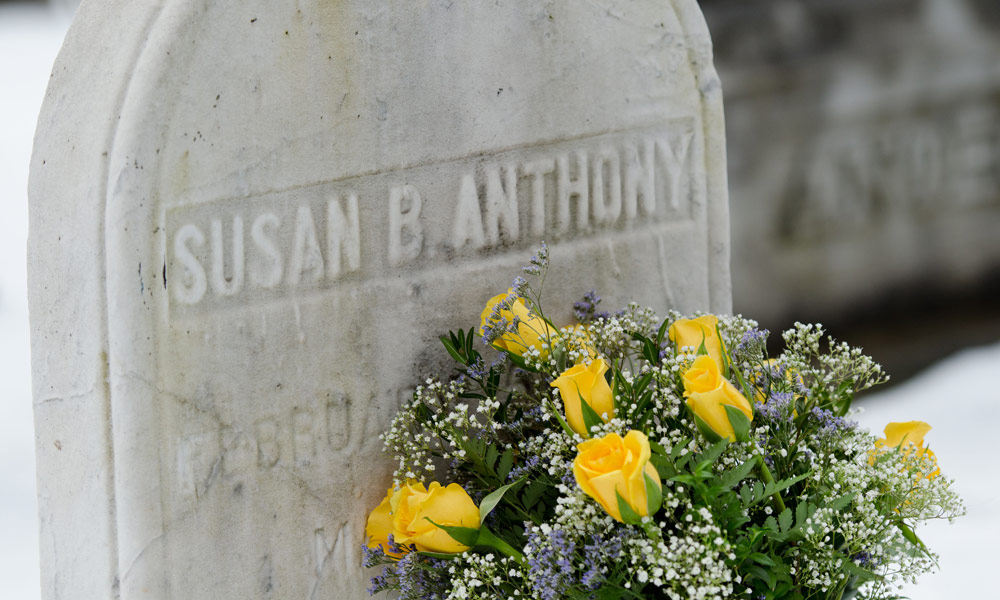 UPDATE: Due to severe cold temperatures expected, the celebration of Susan B. Anthony's birthday will be held indoors in the Welles-Brown Room of Rush Rhees Library beginning at 12:30 p.m. The event at the gravesite at Mt. Hope Ceremony has been cancelled.
WHO: Faculty, students, and staff at the University of Rochester celebrate Susan B. Anthony's birthday with a visit to her gravesite in Mount Hope Cemetery.
DATE, TIME, PLACE: Noon on Monday, Feb. 16, at Mt. Hope Cemetery (791 Mt. Hope Ave. in Rochester.) Use the north gate entrance on Mt. Hope Ave. into the cemetery. Her gravesite is to the right.
WHAT: Honey Meconi, professor of music and Susan B. Anthony Professor of Gender and Women's Studies, will give a brief talk before students leave yellow roses, a symbol of the suffrage movement, on Anthony's gravesite. The event then moves to the Welles-Brown Room in the University's Rush Rhees Library for a birthday reception with tea and cake.
ABOUT: The Susan B. Anthony Institute for Gender and Women's Studies at the University of Rochester is named to honor Susan B. Anthony, the 19th-century suffragist who led a successful campaign to have women admitted to the University of Rochester in 1900. The institute is dedicated to addressing curricular and scholarly issues important for understanding the role of women and gender throughout history and in contemporary society.
FOR MORE INFORMATION: Contact Valerie Alhart at (585) 520-8842.
Category: Society & Culture