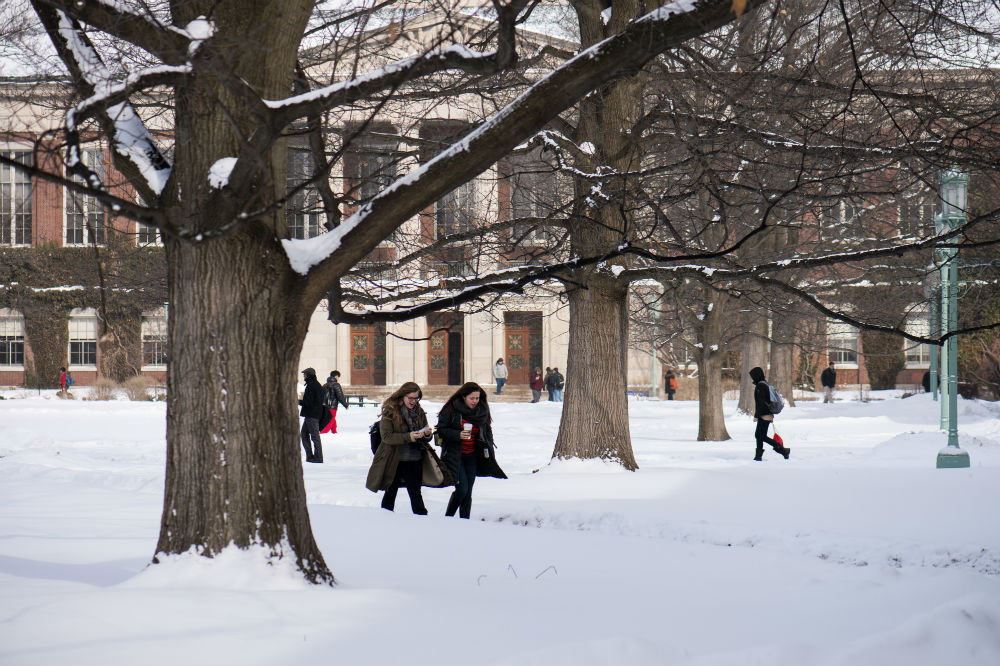 In anticipation of the winter season, the University's emergency preparedness teams are readying the services that keep the University operational and community members informed during severe weather. Beginning this winter, AlertUR—the University's emergency notification system—will be used to send urgent messages to students, faculty and staff in the event of an actual University-wide weather delay or closing.
Severe weather protocols

It is policy that the University will in general continue with its regular operations and classes despite adverse weather conditions. This continuity of services is essential to the needs and expectations of students in a residential campus community, as well as patient care in the Medical Center.
The full "Operation in Adverse Weather" policy, which includes information on how a decision is made to change the University's operations, can be viewed at: www.safety.rochester.edu/ep/pdf/6_1WeatherEmergencyPlan.pdf.
When the University does decide to reduce staff or operations due to severe weather conditions, it is important to note that all essential University staff members are still expected to report to work unless otherwise notified by a supervisor.  All Medical Center employees–whether at Elmwood Avenue or any off-site location–are considered essential staff and are required to report even during severe weather unless notified otherwise.  All University employees are encouraged to work with their supervisor to understand their essential or non-essential status prior to any significant weather event.
Official information sources
While winter weather closings or cancellations are infrequent, the Office of University Communications is responsible for delivering announcements to employees and students as soon as a change to regular University operations is known. This winter, AlertUR text, email and voice messages will be the first notification. To promptly receive these messages, it is essential that University community members keep their AlertUR phone and email settings current. Students, faculty and staff can use their NetID to update their settings any time at rochester.edu/alertur. More information on AlertUR can be found at tech.rochester.edu/faqs/alertur-faqs.
AlertUR will supplement the traditional University communications channels for important weather-related announcements:
University email
the University homepage (rochester.edu)
Twitter (@UofR)
local TV and radio news stations
University Information Line (585-275-6111).
For additional information, visit rochester.edu/emergency/ and click on the Severe Weather button.
Category: University News