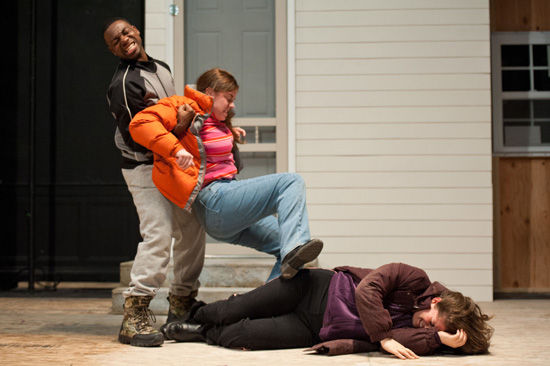 The Rochester Plays debuts at the University of Rochester
The University of Rochester's International Theatre Program opens its spring season with the world premiere of local playwright Spencer Christiano's love story about trust, questionable parenting, and unforgivable neighbors in The Rochester Plays. Part I of the two-part series opens on Thursday, Feb. 14.
"The Rochester Plays challenges us to confront some of our most deeply held fears and to examine the ties that bind friends to lovers and parents to children," said Nigel Maister, artistic director of Rochester's International Theatre. The work contains mature themes and situations and is not intended for children.
Set on a snowy inner-city street during a time of blizzard, a young single mother embarks on a friendship and relationship with two men; an ex-con trying to find his way in the world, and a reclusive welfare recipient looking to overcome his addictions. When a suspected sex-offender moves into the neighborhood, tensions, prejudices, and pasts come to the surface and the characters struggle with justice, truth, and forgiveness with sometimes violent results.
Performed in repertory over two evenings (Part I is titled Attraction and Part II, Escape), audiences can see both parts on alternate evenings or experience both parts in one day on Saturday, Feb. 23 or Sunday, Feb. 24.
Writer Spencer Christiano is a playwright-in-residence and new play facilitator at the MuCCC theater in Rochester. A graduate of SUNY College at Brockport's theater program, he has directed and facilitated the production of more than 60 new plays and performance art events over the past three years. He is the author of Midnight on the Front Lawn of Good and Evil: A hypothesis, a work based on the 2011 arrest of Emily Good, a local woman who was put in handcuffs while recording a police traffic stop from her front yard; Mystery of the Golden Buddha, a children's play for adults; and To My Friends: The Life and Death of George Eastman, a supernatural play set on the afternoon of the death of the founder of Kodak.
The play is directed by Maister, who has extensive credits at the University and beyond. He also is the staging director for the acclaimed new music ensemble, Alarm Will Sound, with whom he co-developed and directed the production of 1969, to be performed in Kodak Hall on Tuesday, Feb. 19.
The production's scenic and costume design is by Alexis Distler, a Barrymore award-winning designer. Her work has been seen at the Wilma Theater, Juilliard, Bard College, and exhibited at the 2011 Prague Quadrennial. Costume design is by Tilly Grimes, whose work has been seen extensively in this country and in London and Paris. She is also the co-artistic director of the theatre company SavageCharm.
Lighting design is by Allen Hahn, whose extensive credits include work for New York City Opera, Santa Fe Opera, Glimmerglass, and the Spoleto USA Festival. He has designed world premiere operas at Juilliard and at the Royal Danish Opera, and worked with the acclaimed experimental theatre company, The Builders Association.
Sound design and music is by Obadiah Eaves, a graduate of Rochester's School of the Arts and an International Theatre Program Master Artist. He has worked extensively for on- and off-Broadway productions, and his credits include collaborations with Woody Allen, Ethan Coen, Eric Bogosian, and David Mamet. Fight direction is by J. David Brimmer, whose work with actors and writers/directors includes Paul Rudd, Patrick Stewart, and Sam Shepard.
Part I of The Rochester Plays opens on Thursday, Feb. 14, and Part II debuts at 8 p.m. on Friday, Feb. 15, in Todd Theatre on the University of Rochester's River Campus. Tickets are $7 for UR students; $10 for UR alumni, faculty, and staff, and for seniors (55 and over); and $13 for the general public. Tickets may be purchased up to an hour before each performance at the box office. They also are available online, along with a complete production schedule, at rochester.edu/theatre or by calling 585.275.4088.
Category: Society & Culture