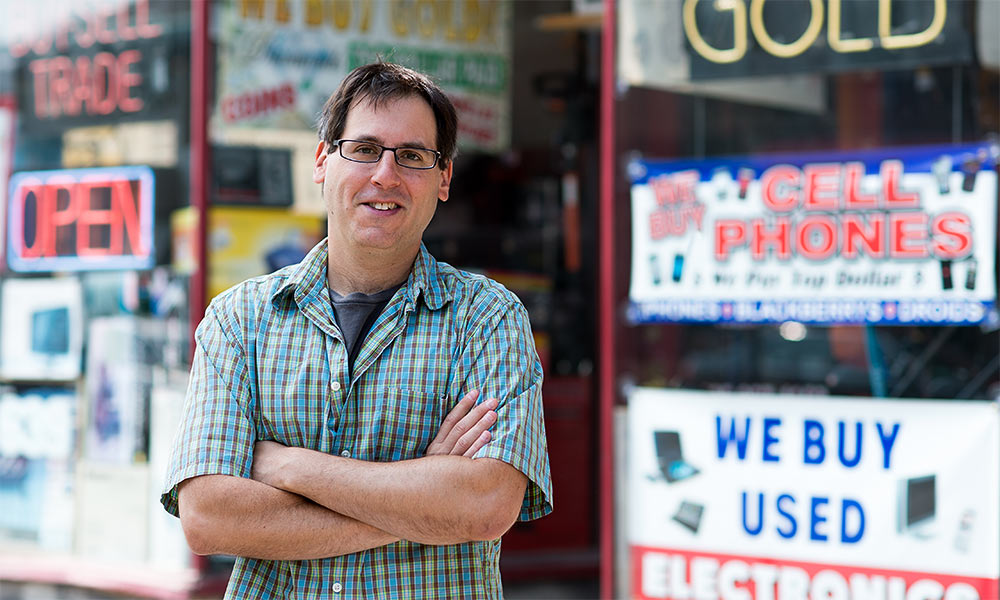 Tough economic times can bring out the worst in people, especially when you mix in family, desperation, and the drive to get ahead in business. This is one of the messages in Bluff City Pawn, a new novel by University of Rochester Professor Stephen Schottenfeld, which hits bookstores this week.
The book follows Memphis pawnshop owner Huddy Marr as he enlists his brother's help in a scheme to acquire a valuable gun collection. Through the lives of three brothers, the book explores themes of class, race, ownership, and loyalty.
When writing Bluff City Pawn, Schottenfeld researched pawnshops in Memphis by talking to workers about everything – from their lives to the items inside the stores.  "I like to write about work lives," says Schottenfeld, who often takes a journalistic approach to fiction writing. "I'm looking for the texture and specificity of what they do."
Inspired by a long stretch of commercial strips on Summer Avenue in Memphis, Tennessee, Schottenfeld created the shop in Bluff City Pawn from research conducted in several stores over a year. Once the setting and characters were shaped by the research, the story took on a life of its own, he said. Nevertheless, throughout the five years of drafting the novel, he continued talking to pawnbrokers, as well as antique gun collectors, gold buyers, jewelers, and home builders.
A winner of multiple awards for short stories, Schottenfeld spent five years on the faculty of Memphis's Rhodes College before coming to Rochester in 2008. In 2013, he was appointed the James P. Wilmot Assistant Professor of English. He holds a master's degree from Johns Hopkins University and is a graduate of the Iowa Writers' Workshop.
Schottenfeld teaches fiction writing, screenwriting, and modern and contemporary literature at the University of Rochester. He is also working on several short stories and has plans for a second novel based in Rochester.
For more about Bluff City Pawn (Bloomsburry Press, 2014), visit  http://www.bloomsbury.com/us/bluff-city-pawn-9781620406359/.
Category: The Arts