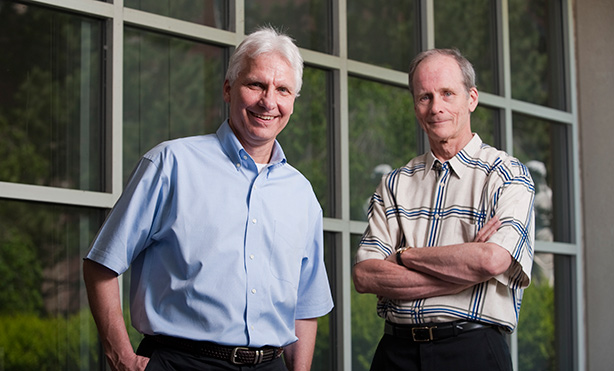 Hundreds of psychologists from 38 countries will gather in Rochester to share the latest scientific insights into the mysteries of human motivation during the Conference on Self-Determination Theory, June 27 to 30.
Developed by University of Rochester experimental psychologists Edward Deci and Richard Ryan in 1985, self-determination theory today is a leading theory of human motivation, vetted by scientists worldwide. The psychological framework, in the words of author Joe Robinson, provides "a veritable GPS to fulfillment, decoding our innermost longings and linking the world of science and spirit."
"If anything ever merited a Nobel Prize, this is it," wrote Robinson in the Huffington Post.
The theory's founders—who will open the conference with keynote addresses—are ranked among the world's most influential researchers in psychology based on their publication record and the number of citations their work has generated, according to ISS Web of Knowledge. Popularly, they were lionized in Daniel Pinks' New York Times bestseller Drive: The Surprising Truth About What Motivates Us.
"Deci and Ryan are the sun around which all this other research orbits," says Pink. "They're true pioneers. Forty years from now, we'll look back on them as two of the most important social scientists of our time."
Self-determination theory maintains that motivation originates from within, grounded in basic human needs to develop competence, to act according to our own will on behalf of goals we find meaningful, and to connect to others and our environment.
Some of the theory's most counterintuitive findings call into question the traditional use of incentives. For example, experimental research has shown that extrinsic rewards, like money or excessive praise, can sometimes undermine a person's interest in voluntarily engaging in a task.
At this year's conference, more than 400 talks and posters will report on discoveries that can lead to more fulfilling relationships, more effective parenting, better educational outcomes, enhanced work and athletic performance, and more.
"The meeting brings together valuable new insights into people's deepest, most powerful sources of motivation," explains Deci. "Through experimental research, we are learning how to support, instead of thwart, natural psychological drives."
The conference, most recently held in Toronto, Canada (2007) and Ghent, Belgium (2010), is now six times larger than the inaugural meeting on the University's River Campus in 1999. Deci and Ryan credit the burgeoning international interest to the theory's direct applications to management, health care, coaching, and school settings. The theory also has encouraged numerous cross-cultural studies to see if these principles hold true across different cultural contexts.
"Motivation is central to our existence as human beings," says Ryan. "Understanding how innate psychological needs shape our motivation will help us better navigate the most important areas of our lives."
Other keynote lecturers include Heather Patrick of the National Cancer Institute, who will speak about how the theory can be used to encourage healthier lifestyles, and Pedro Teixeira from FMH-Technical University of Lisbon, who will explore people-centered approaches to lasting health behavior changes.
For business and health care professionals, a series of pre-conference workshops on Wednesday, June 26, will review strategies for building deeper and more effective relationships with employees and customers and for helping patients embrace healthier behaviors.
Held at the Rochester Riverside Convention Center, the conference is still open for registration. For a full schedule of speakers and to register visit:http://www.sdtconference.org/program-schedule.
Category: Society & Culture