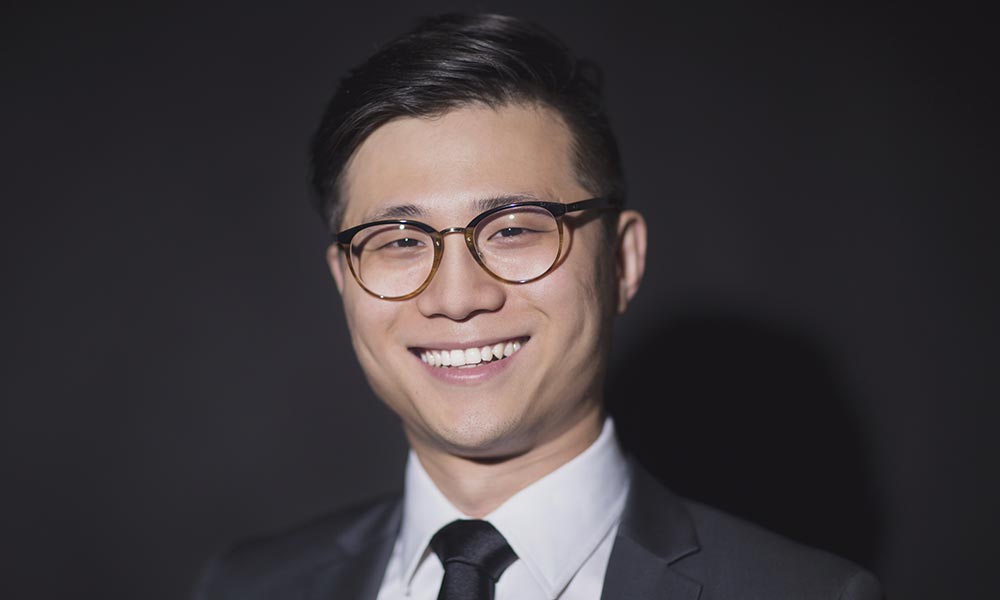 When Steven Schwarzman, chairman, CEO and co-founder of Blackstone, announced the inaugural class of Schwarzman Scholars in 2016, University of Rochester graduate Jintian "Jay" Li '12 was among the first 111 students chosen—selected from more than 3,000 applicants—for the prestigious master's degree scholarship in China. The program is aimed at giving the most talented future leaders from all over the world a global context to change the course of history. Today Li and this first class of Schwarzman Scholars are residing and studying at the newly constructed Schwarzman College on the Tsinghua University campus in Beijing. Expenses for each scholar are funded by the program.
In catching up with Li, he shares some of his experiences at Schwarzman College at the halfway point of his program.
How has the master's program been going for you? What is academic life like at Tsinghua University?
The program will yield a Master of Management in Global Affairs degree, and I'm doing the economics and management concentration. It's has been a fantastic experience since the program started in late August. We've been having the face-to-face opportunities to interact and learn from many political leaders, prestigious professors and business leaders on a daily basis. The program is very rigorous with four modules in one year of time, so our schedule is always packed with classes, lectures, and other social events.
Tsinghua is the most prestigious higher education institution in China with the most extensive academic resources and alumni network. It's the home of some of the most prestigious Chinese professors and world-leading research projects. We are fortunate to have basically full access to those resources.
I read that all of the Scholars recently completed a week-long travel study program. Where did you go for your study program, and what was the experience?
 Yes we just came back from our Deep Dive trips and people had the options to go to three different Chinese cities, namely Suzhou, Xi'an, and Baoji. I decided to go to Suzhou because it's my birthplace but I hadn't been back for almost 10 years. The week-long trip was a lot of fun and for me it was great to be back and see how the city has developed. We visited a few industrial parks/special development zones and had meetings with representatives from the local government to learn about the city's economic development. The trips also served as a great bonding opportunity with our fellow scholars to travel together for a week.
How does life at Schwarzman College differ from life at the University of Rochester?
Life at Schwarzman College definitely reminds me of being an undergrad at University of Rochester a lot. Everything within our building is very American-style and it feels like back in the states when you are inside of the College, and then there is the real China experience outside of the College. It's also different from UR in a sense that it's a residential college so students and professors all live together in the same building and go to our meals together. We also have a library, a pub and a gym in our college shared by the students and faculty. It almost feels like you mash the functions of Hoeing, Danforth, Wilson Commons, Hoyt, our athletic center and Rush Rhees all together in the same building, ha ha.
What are your plans for the upcoming spring semester, and beyond?
I have less classes in the spring semester (in our terms, module 3 & 4), so I can focus more on job searching and working on my thesis. I look forward to continuing my career in the sports industry, but will very likely be based out of China moving forward. My thesis will also focus on the governance of professional sports in China and I'm fortunate to have the dean of the School of Public Policy and Management to be my thesis adviser.
Anything else you would like to add?
I want to encourage more people from the University of Rochester community to learn about our program through our website and potentially apply in the future years. It will be a transformative year of your life, I guarantee.
To view a video on Li produced by the Schwarzman Scholar program, visit: https://www.youtube.com/watch?v=D10ecN7wMII
Category: Campus Life