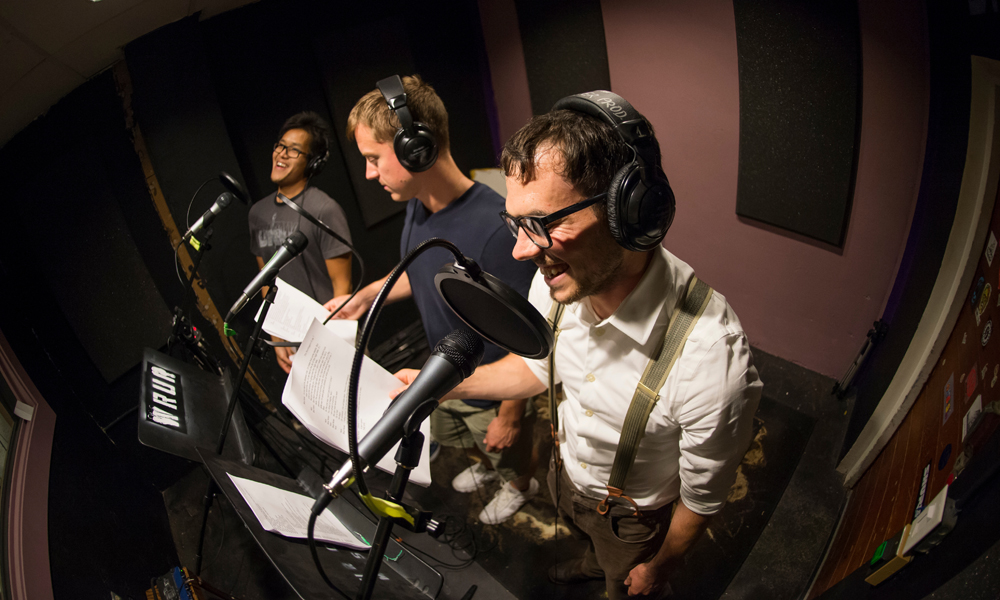 When the croak of seagulls hovering over Lake Ontario's shores washes over The Bootleggers soundscape in "Episode 1: A Fine Day for a Felony," it's not difficult to visualize a couple of bootlegging smugglers approaching Rochester's shores in 1921.
Pocket Radio Theater wrapped up the eighth episode of its feature production, The Bootleggers, in August with a cast of nine current Medical Center graduate students, including fifth-year biophysics PhD candidate Karl Smith (who uses the pen name Karl Sparks). The troupe hosts a variety of serial drama podcasts and standalone stories created by Smith and more than 50 participants from the University community.
The Bootleggers series takes place during prohibition-era Rochester, playing up aspects of local history and landscapes like High Falls, and expanding those parameters through imaginative auditory theater. Shoot-'em-up gangster scenes peppered with passionate language, the felonious clinking of glasses, and adventure-bound character progressions illuminate the narrative of a fictional Rochester past.
Bronwyn Lucas, a PhD candidate in biochemistry and original group member who plays Bootleggers' personality Madame DeBlanche, says the group, which was founded in February of 2013, started recording around Smith's kitchen table using household objects for sound effects. "Breaking a carrot sounds a lot like a breaking branch, as it turns out. I remember one occasion where we had to smash a bottle in [Karl's] backyard late at night. I wonder what the neighbors thought."
Smith says while they still do occasionally record their own sound effects, today they mostly use FreeSound.com—an online database of recordings released under creative commons licenses that free up the group from copyright issues.
"If you listen to Bootleggers 1, you'll see why we switched," he says. "On old-timey radio, the audio quality was so poor coming over an AM receiver that you could use a typewriter hit really fast as a machine gun … But with digital audio, the ear can't be fooled nearly as easily. Every misplaced or inadequate sound takes the listener a little further out of the experience."
Matt Payea, a PhD candidate in biochemistry, produces scripts for The Bootleggers and collaborated with Smith to write the serial's theme song, "Boy Gone Bad," as well as other transition music.
"It's become something for us all to do as friends and I think that's probably one of the reasons we're all still willing to take an hour or two out of the day to yell into a microphone," says Payea. "Karl deserves all the credit for this, unequivocally. He writes the scripts, organizes us, books the studio, and has bought a lot of the equipment we use."
Many of the cast members do not foresee continuation of The Bootleggers after Smith graduates because his energy and drive power the genius behind it. Toxicology PhD candidate Carolyn Klocke, however, thinks continuing the podcast from afar could be possible. "I know Karl has mentioned in the past if we're too busy to record a part that we can record it ourselves and send it to him, so that could be a viable option as we start to graduate and leave Rochester," she says.
Smith can't seem to let up: "Just last night I was trying to get the sound of boots sprinting on pavement by running across the parking lot next door, holding a microphone."
So what is the point of working so diligently on a podcast series when so many of the cast will go on to become medical professionals?
"The best part of doing this is that as friends, The Bootleggers retains the carefree atmosphere we began with, even as it has become more formal," Lucas says. "For us, it's a piece of our own history: a snapshot of a time in our lives and the friends we have here at the U of R."
Hear The Bootleggers for Yourself
Episode 8 of The Bootleggers debuted Saturday, August 15. Expect new episodes on the 15th of each month on the Pocket Radio Theater website, www.pocketradiotheater.org, or on iTunes, where previous episodes are also available for download or streaming.
Category: Uncategorized