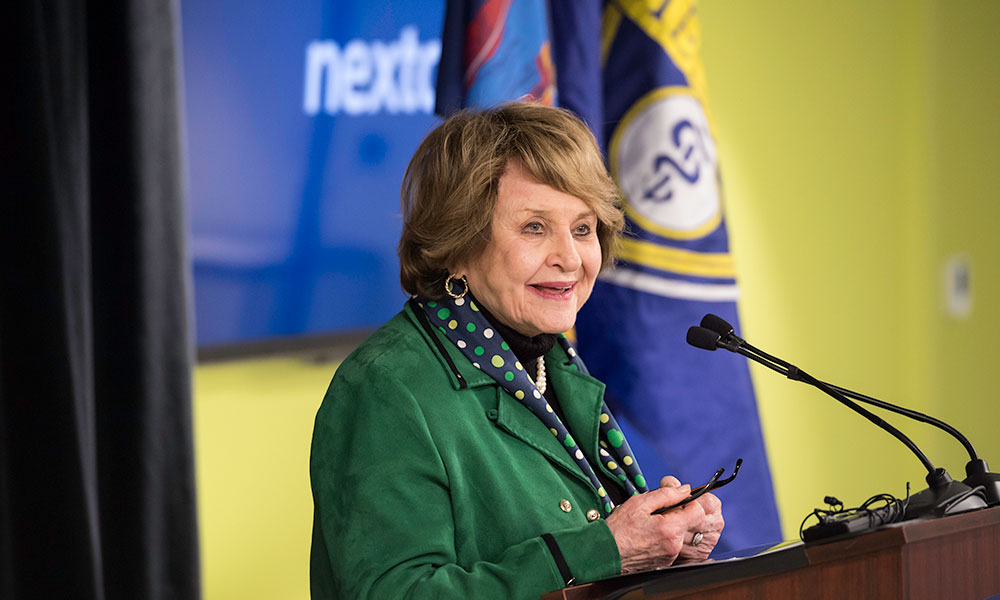 US Congresswoman Louise Slaughter died on Friday, March 16, after having been hospitalized for a fall at her Washington, DC, residence last week. Slaughter represented New York's 25th congressional district—which includes the University of Rochester campuses—for more than 30 years, and worked tirelessly to fund and support research initiatives at the University of Rochester.
President Rich Feldman issued a statement:
On behalf of the University of Rochester, I want to express my profound sadness at the news of Congresswoman Louise Slaughter's passing. I also want to extend my deepest condolences to her family and her staff. Louise was not only a close friend to this institution and to many who worked here, but she was also one of our greatest champions. She was a giant among her peers in the U.S. House of Representatives, a trailblazer, and a tireless advocate for science, healthcare, research, education, arts and the humanities, economic development, and women's rights. Even while being elevated as one of the most powerful members of Congress, Louise always remembered where she came from and her first priority was to her community and her constituents. Her contributions to the University and this region are enduring and her death is a significant loss to our state and the nation. Her achievements have left an indelible mark that will be felt for generations to come. The University was honored to have her open our new downtown business incubator only a couple of weeks ago, and we were extraordinarily proud to present her with the University's highest honor – the Eastman Medal – several years ago in recognition of her outstanding dedication as a public servant and for her extraordinary commitment to the citizens of New York and the nation. The University's flags will fly at half-staff in tribute to Louise Slaughter and her lifetime of extraordinary service, achievement, and leadership.
In her words
Louise Slaughter delivered the commencement address in 2009, after receiving the University's George Eastman Medal.
"You have come to a very special school, as you know. The degree that you have earned from the University of Rochester will be a door opener for you all over the world. And I hope that you will take a moment today to think about all of those who have gone before, to make this such an extraordinary university. So what I want most for you – and believe me because this university means so much to me you have no idea how much you mean to me – I want for you to go out from this university, from this city, remembering that this was a place of learning but also a place of a lot of love, a place of opportunity, and a place that throughout the rest of your life will have great meaning for you. And that you will know that because of the friends and the education that you have gotten here, the teachers who have taught you, all the great experiences that you've had, that you are really ready to go out and take on life. God bless you, graduates. Best of luck!"
In pictures
(University of Rochester photos / J. Adam Fenster)
Category: University News