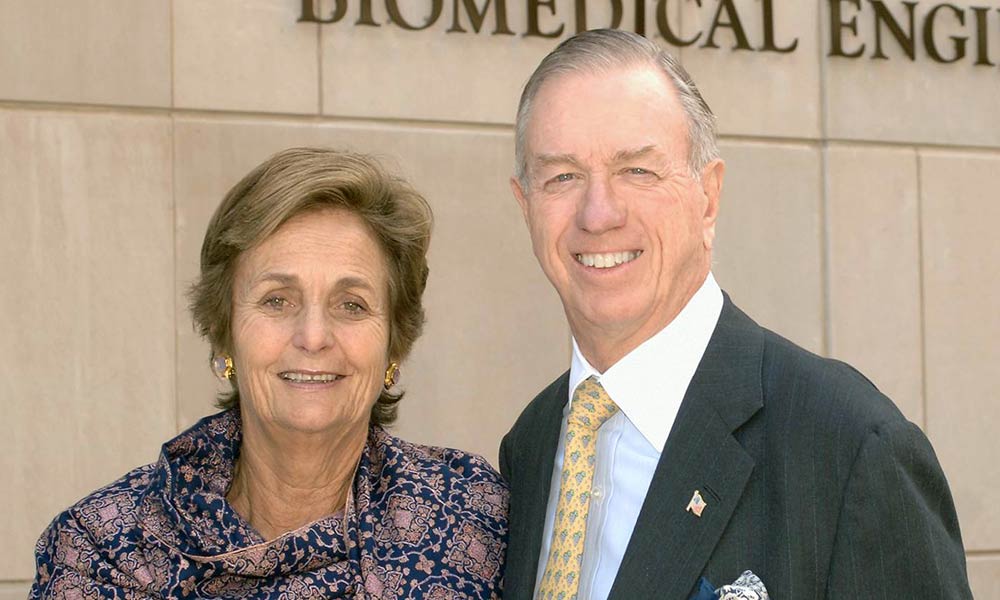 Robert B. and Pamela M. Goergen have committed $11 million to the University of Rochester's Institute for Data Science. The Goergens' support is the latest multimillion-dollar commitment to the University's Data Science Initiative, the centerpiece of Rochester's five-year strategic plan.
In recognition of the Goergens' commitment, the institute will be named the Goergen Institute for Data Science.
University President Joel Seligman made the announcement at a Board of Trustees meeting on March 25, and recognized the Goergens' commitment as the one that recently propelled the University to surpass its $1.2 billion goal for The Meliora Challenge: The Campaign for the University of Rochester. Bob Goergen has been a Board member since 1982 and served as chairman from 1991 to 2003. He is also an honorary chair for the Campaign.
"Bob and Pam have again provided us with a transformational gift that demonstrates their remarkable commitment to the future of our University," said Seligman. "I am deeply grateful to them for helping the institute to become a generative hub for education, research, and innovation in data science. The Goergen Institute will forever honor all they have done to make our University, and help make the world, ever better."
In 2013, Seligman announced the University was committing $100 million to greatly expand the University's research in data science. This initiative included plans to recruit top faculty members in the field and create a hub for collaboration among programs in medicine, science and engineering, the humanities, education, business and other disciplines where the analysis of mass quantities of data informs new discoveries and helps develop new applications.
"Data science is introducing exciting new research possibilities and discoveries at the University, as well as new degree programs and robust academic opportunities for students involved in a variety of studies," said Bob Goergen. "Science, engineering, and mathematics are the University's sweet spots, so being at the forefront of data science and maximizing our capabilities in high performance computing and calculating is very exciting. We are in a great position to help students become well-trained, highly skilled data scientists and meet the national demand for this kind of expertise."
"This is an important time for the University and we are happy to support this growth," said Pam Goergen. "Making a difference is really why we give the way we give and we hope our gift inspires others to contribute and make the University of Rochester an even better place for education and research."
The Goergens join Robin and Tim Wentworth and the Wegman Family Charitable Foundation among lead donors to the institute. In February, the University announced the Wentworths' $3 million commitment to endow the directorship of the institute. And in April 2014, the Wegman Foundation committed $10 million to the institute. A groundbreaking for a new building, which will bear the Wegman name and serve as the home for the recently designated New York State Center of Excellence for Data Science, is planned for this May.
"The driving force behind our transformation in data science is the convergence of computing power, storage capacity, and advances in machine learning and artificial intelligence, creating unprecedented opportunities to analyze disparate domains of information to create new insights, understanding, and knowledge," said Rob Clark, senior vice president for research and dean of the Hajim School of Engineering & Applied Sciences. "We are exploring new breakthroughs made possible through large-scale data assessment that is addressing some of the greatest challenges facing the world today."
The institute is amplifying the University's research strengths in machine learning, artificial intelligence, biostatistics, and biomedical research, and fostering important research collaborations throughout the University and through industry partnerships, including the Health Science Center for Computational Innovation, which houses an IBM Blue Gene/Q supercomputer. A 2014 report by the Center for Governmental Research shows that the Goergen Institute will create 460 jobs and generate an estimated $530 million in research funding over the next decade.
"Imagine living in a world where a mobile device alerts you when you are at high risk for sudden cardiac arrest," said Mark B. Taubman, M.D., CEO of the University of Rochester Medical Center and UR Medicine and dean of the School of Medicine and Dentistry. "Thanks to data science, this is a future we are working toward. Rochester is at the forefront of understanding data in this new world. We are already applying high-performance computing to research programs in brain injury, heart disease, and infection. And we have the technological, bio-statistical, computational, and basic research expertise to revolutionize health care and care delivery systems."
Researchers at the institute have already used data science to measure risk for life-threatening heart conditions, create computer systems that can recognize human emotion, and increase the power and security of high performance computing.
The Goergens have a distinguished history as philanthropists and University patrons, and their generosity includes several significant, strategically important gifts. Their $10 million gift in 2007 led the construction of the Robert B. Goergen Hall for Biomedical Engineering and Optics as a new home for the Institute for Optics and biomedical engineering programs. In 2000, the Goergens provided $5 million for renovations to the River Campus athletic and fitness facility, which today is the Robert B. Goergen Athletic Center. And in 1997, Bob and Pam established the Goergen Awards for Excellence in Undergraduate Teaching, presented annually to outstanding faculty members at the College Convocation.
Bob is one of the nation's most highly regarded business executives and entrepreneurs. In 2014, he received the national Horatio Alger Award, which is bestowed upon accomplished leaders—all with a commitment to philanthropy and higher education—who have overcome significant personal challenges to achieve success.
Bob was the first in his family to go to college. As an undergraduate student at the University, he was very involved in campus life and leadership, and graduated cum laude in 1960 with a bachelor's degree in physics. He went on to earn his MBA in finance from the University of Pennsylvania's Wharton School.
After much early success in advertising, management consulting, and private equity positions, Bob became part owner of a small Brooklyn candle company, which he strategically grew and later took public in 1994. He renamed the company Blyth, Inc.—honoring his mother's maiden name—and today the company has operations in 21 countries as a designer and marketer of home decorative and fragranced products. Bob currently serves as founder and executive chairman of Blyth, Inc., headquartered in Greenwich, Conn., as well as chairman of the Ropart Group, a private equity investment firm.
Bob was awarded the Charles Force and Marjorie Force Hutchison Medal in 2008—the University's highest alumni award—as well as the inaugural Arts, Sciences & Engineering Dean's Medal in 2010. Both he and Pam are members of the George Eastman Circle, the University's leadership annual giving society.
Pam received a bachelor's degree from Immaculata University, and an MBA from Baruch College. She is director of Blyth Inc., partner at the Ropart Group, and secretary and treasurer of the Goergen Foundation Inc. She is an honorary trustee of Bruce Museum of Arts and Science in Greenwich, and works with the Lost Tree Village Charitable Foundation in North Palm Beach, Florida, focused on strengthening the community and quality of life for residents.
For more information about the Institute for Data Science, visit http://www.rochester.edu/data-science.
Category: University News