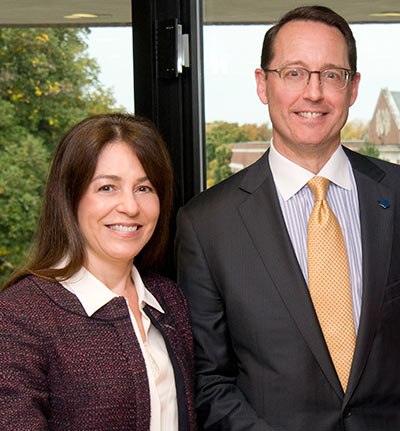 Robin and Tim Wentworth, University of Rochester parents and supporters, have committed $3 million to endow the directorship of the Institute for Data Science (IDS), a top priority for the University and a flagship of The Meliora Challenge: The Campaign for the University of Rochester with a $1.2 billion goal.
"I could not be more grateful to Robin and Tim for their generous pledge to the University and Data Science Initiative," said President Joel Seligman. "Their remarkable commitment to establish this directorship shows great vision as they are helping to secure our place at the forefront of this burgeoning field. With this gift, they are ensuring that we have exceptional leadership for the future."
Research underway at the Institute focuses on using data science to improve human health, create new industries, and expand fundamental knowledge.
"We view being part of the formative stages of the Institute for Data Science as a once in a lifetime opportunity," said Tim Wentworth, a member of the University's Board of Trustees since 2013. "It's very exciting to be on the ground floor of something that will be of long-term strategic significance to the University and of major importance to the world. Robin and I both believe strongly in thoughtful analytical solutions to problems, and data science captures our imagination."
"We hope that our commitment to IDS at this important time has a compounding effect to draw in a wide range of support for the Institute so that it can really be built out to its complete potential," he concluded.
In fall 2013, Seligman announced the University's $100 million commitmentto greatly expand its work in data science. As the centerpiece of the University's current five-year strategic plan, the Data Science Initiative features the construction of a state-of-the-art building to house theIDS, as well as support for new faculty members with expertise in the field.
Henry Kautz, current IDS director and computer science professor in the Hajim School, will be the first to hold the title of Robin and Tim Wentworth Director of the Institute for Data Science.
"The Wentworths' commitment will provide essential support that enables us to build on the University's historic strengths in research, including artificial intelligence and cognitive sciences, medicine, and business analytics," said Rob Clark, senior vice president for research and dean of the Hajim School of Engineering & Applied Sciences. "Henry will provide the strong leadership we need to launch new undergraduate and graduate degree programs and foster collaborative research across the University's divisions."
"Henry is an acknowledged leader in academic computer science and has experience and expertise in data science research," said Tim Wentworth. "Robin and I are excited to see all that he and his colleagues and students will create at IDS."
Kautz is founding director of IDS and former chair of the Department of Computer Science. His experience includes serving as director of Intelligent Systems at Kodak Research; technology leader at AT&T Laboratories; and department head of AT&T Bell Labs. He also was a professor of computer science at the University of Washington. He is a fellow of the Association for the Advancement of Artificial Intelligence, where he has served as president, and he is also a fellow of the American Association for the Advancement of Science, and of the Association for Computing Machinery. His research in artificial intelligence and pervasive computing has received over 20,000 citations.
"I am excited and honored to be at the helm of the Institute for Data Science, and grateful to the Wentworths and the other donors who are supporting this transformation of Rochester's research and education," said Kautz.
The Wentworths, Rochester natives who currently reside in St. Louis, are passionate about education and have been dedicated supporters of the University. Both graduates of Monroe Community College, in 2010 they established the Wentworth Family Endowed Scholarship to assist students who are transferring to the University of Rochester from a community or junior college. In addition, Wentworth Atrium in the University's Raymond F. LeChase Hall was named in recognition of the Wentworth's significant support of the Warner School of Education in 2012. They are also members of the George Eastman Circle, the University's leadership annual giving society.
Tim and Robin have three daughters, two of whom are University of Rochester students—Elizabeth graduated in 2011, and Abigail will graduate in 2016. The Wentworths are also members of the University's Parents Council and are co-chairs of the Parents Initiative for The Meliora Challenge.
Tim Wentworth is president and chief operating officer of Express Scripts, a Fortune 20 pharmacy benefits manager. He was previously senior vice president and president of sales and account management, and also held leadership and executive positions at Medco Health Solutions, Inc., which merged with Express Scripts in 2012, and at Mary Kay and PepsiCo. Robin Wentworth, a former executive assistant, has spent the last 27 years raising their daughters.
For more information about IDS, visit: http://www.rochester.edu/data-science/.
Category: University News