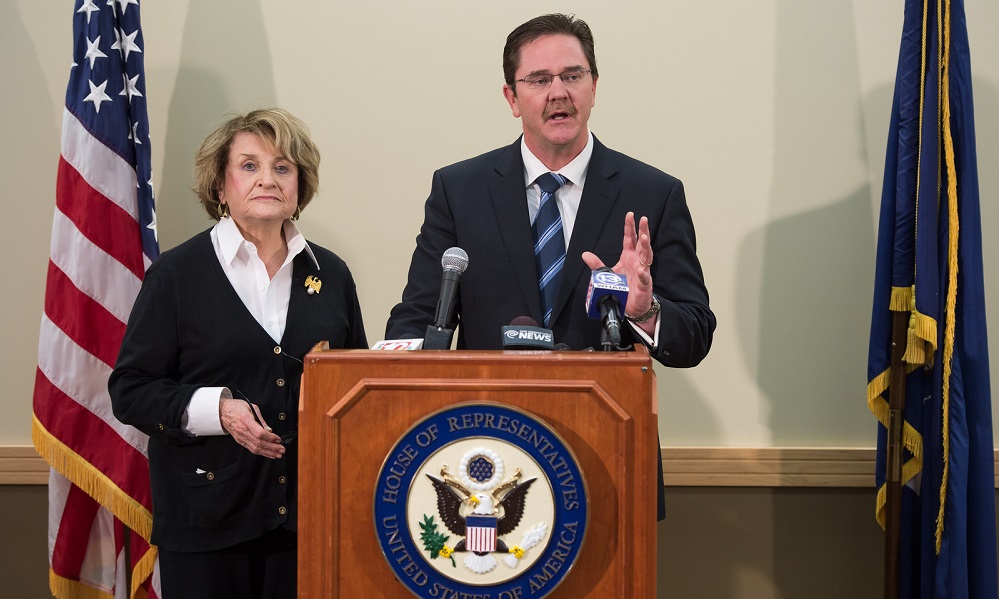 A consortium that includes the University as a key participant has been named one of three finalists to make New York the home for a new Integrated Photonics Institute for Manufacturing Innovation. The initiative, which has strong congressional and state support, took a step forward Friday when U.S. Congresswoman Louise Slaughter announced that the group had been invited to submit a full proposal for the institute.
Slaughter, U.S. Senators Charles Schumer and Kirsten Gillibrand, New York Assembly Majority Leader Joseph Morelle, and Rochester Mayor Lovely Warren have helped bring together the consortium of Rochester-area, SUNY, and other academic and industrial partners to support New York's candidacy. At a Rochester press conference, Slaughter was joined by Rob Clark, senior vice president for research and dean of the Hajim School of Engineering and Applied Sciences.
"Over the last three years, we have made substantial progress securing federal investments that have strengthened Rochester's optics and photonics industry," Slaughter said in a statement. "These awards have made a difference in creating jobs and spurring innovation but they also demonstrate our region's ability to work together in order to deliver results for our community. Today, we are one step closer to securing a federal photonics manufacturing innovation institute. I will continue to be relentless in my efforts to secure state and federal investments for an industry that is synonymous with Rochester because I know what it means for our economy and for local jobs. I would like to thank my friend and colleague Joe Morelle who has been a committed partner in this endeavor."
The Department of Defense, which is taking the lead in administering the institute, has committed $110 million in support, an amount that has to be matched from non-federal sources.
The new institute will focus on integrated photonics manufacturing, a field that influences a wide range of industries, including communications, defense technologies, medical technology, and imaging. The institute will strengthen U.S. competitiveness and encourage greater collaboration among industry, academia, and government. The New York application was submitted by the Research Foundation for the State University of New York (SUNY) on behalf of the University of Rochester, SUNY Polytechnic Institute, RIT, and other academic and industrial partners from around the country.
The final selection is scheduled to be made this spring.
Category: University News