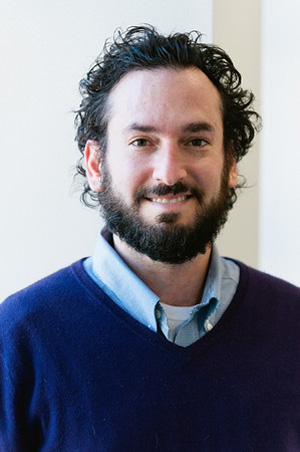 Joshua Dubler, assistant professor of religion at the University of Rochester, has been awarded a 2015 Collaborative Research Fellowship from the American Council of Learned Societies (ACLS) to study connections between religion and mass incarceration.
He and Vincent Lloyd, an assistant professor of religion at Syracuse University, are one of 10 teams of scholars selected to receive the highly prestigious and competitive grant, which gives two or more scholars the opportunity to collaborate on projects designed to ask big questions and whose scope and breadth exceeds the capacities any one researcher could bring. According to Dubler, their project will shed new light on how changes in the religious landscape in America have contributed to tremendous growth in the prison system over the last 40 years.
"In trying to explain what scholars call 'mass incarceration,' race, economics, and politics are often credited as causal factors, but religion has remained consigned to the margins," said Dubler. "Through this project, we plan to look at ways American religions have added to the rise of the prison population over the past couple of generations, and think through how various religious traditions might hold keys for bringing this moral and social abomination to an end."
The United States prison system is the largest in the world with over 2.3 million men and women currently incarcerated. Although the massive increase over the last few decades in the number of individuals behind bars has of late received more coverage in the media and attention in Washington, the sorts of reforms proposed are, according to some, wholly incommensurate to the scale of the problem. "This is partially a cultural problem," said Dubler. "By now we've been locking up so many for so long, that it is hard to us to envision what a better way of doing justice even looks like." Because the United States remains overwhelmingly a religious country, part of what Dubler calls "the cultural logic of mass incarceration" can be pinpointed in the changing ways that Americans relate to their gods and to their communities of worship. He says that whereas during the Civil Rights Era American collectivist thinking characterized religion, in our era spirituality is a private concern.
In their yearlong fellowship, Dubler and Lloyd will conduct a study of religion in recent prison strikes, including the largest prison strikes in U.S. history in California in 2013, and in Georgia in 2010. At the end of the project, they hope to produce a book that offers to scholars a new perspective on the rise of mass incarceration, and equips activists with additional resources for bringing mass incarceration to an end.
Dubler currently teaches courses on religion in America, religion and law, and the theory of religion. His most recent book, Down in the Chapel: Religious Life in an American Prison, takes a close-up look at religion behind bars at Graterford Maximum Security Prison, outside of Philadelphia. Dubler spent more than six years working with prisoners at Graterford as both an ethnographer researcher and as a college professor before arriving at Rochester in 2012. He received his master's degree and PhD in Religion at Princeton University, and was a fellow in the Society Fellows of the Humanities at Columbia University from 2008 to 2011.
This is currently the eighth year of the ACLS Collaborative Research Fellowship Program, which is funded by the Andrew W. Mellon Foundation. For more information on ACLS and on Dubler and Lloyd's research project visit, https://www.acls.org/research/cr.aspx?id=4378.
Category: Society & Culture