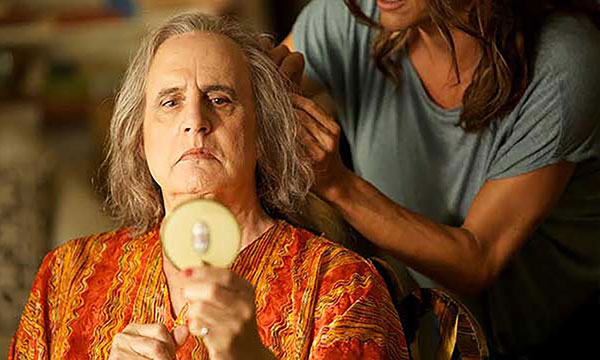 If you're like Nora Rubel, associate professor in the Department of Religion and Classics and director of the Susan B. Anthony Institute for Gender, Sexuality, and Women's Studies, then you are a fan of the hit Amazon series Transparent – the show that the New Yorker's Emily Nussbaum calls a "stealth masterpiece."
"I've wanted to be in a room with interesting people saying interesting things about Transparent since I binge-watched the first season back in 2014," said Rubel. And this coming December, she'll get her wish.
On Dec.1 and 2, the Institute will hold a two-day symposium aimed at fostering conversations aimed at the nexus of sex and gender studies, Jewish studies, American studies, and media studies. Through this symposium, Rubel hopes to bring together scholars, writers, and critics who are asked to submit research and questions related to the show's content, as well as the show's soundtrack and score and changing patterns of television viewing.
Transparent tracks the journey of the Pfeffermans, a secular Jewish family based in Los Angeles in the aftermath of their father's decision to transition from Mort to Maura. The show has won many awards since the first season began streaming on Amazon in the fall of 2014, including Golden Globes for both "Best Television Series—Musical or Comedy" and "Best Actor in a Television Series—Musical or Comedy" for actor Jeffrey Tambor.
Rubel says that from the first episode, the show "seemed personal to me in a way that was almost uncomfortable. I really felt that the transgender angle of the show was the hook, but that the story of the Pfefferman family was what kept me pressing 'Play Next Episode.'" In her academic life, Rubel writes mostly about Judaism and gender and she says that out of these two topics, she was struck most by the very real and relatable portrayal of the modern Jewish family that the Pfeffermans present.
She says that this is one of the defining characteristics of Transparent—that everyone can find something to identify with and to take away from the show. "Some people see it as a queer story, some see it as a Jewish story and some see it as an LA story." It's this element of connecting and attracting so many different types of people and issues that sparked her idea of a symposium.
But above all, Rubel hopes the symposium will help highlight the "many strengths and diverse subjects that make up the humanities at the University of Rochester." She has already enlisted co-sponsorships from the departments of Film and Media Studies, Religion and Classics, English and American Studies and hopes to include many more in the coming months.
Essay and topic submissions for the symposium are due Monday, August 1, 2016. For more information, visit http://www.rochester.edu/college/wst/assets/Transparent%20CFP.pdf
Category: Society & Culture