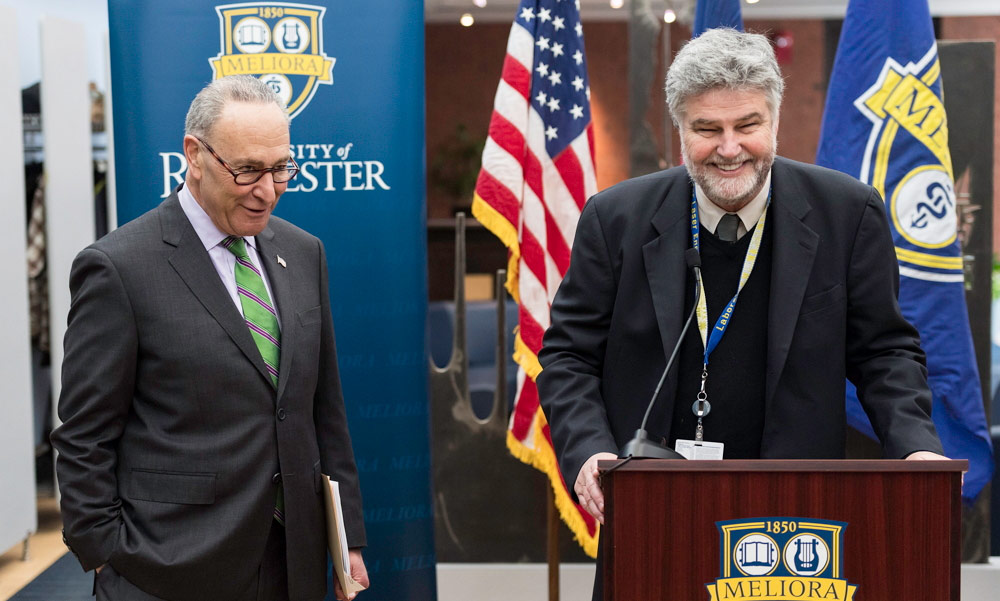 U.S. Senate Minority Leader Charles E. Schumer and U.S. Senator Kirsten Gillibrand announced that the Senate has included $80 million—a $5 million increase over Fiscal Year (FY) 2018—for the University's Laboratory for Laser Energetics as part of its version of the FY 2019 energy and water appropriations bill.
This Senate bill must now be reconciled with the House of Representatives' bill, which included $68 million for LLE. Importantly, both bills reject the Administration's budget request to cut the Lab's funding dramatically in FY19 and phase out of all federal support for LLE in three years.
"On behalf of the University of Rochester and the 350 scientists, engineers and staff at the Laboratory for Laser Energetics, I want to express my profound gratitude to Senate Majority Leader Schumer and Senator Gillibrand for their incredible leadership and support," said University President Richard Feldman. "We also thank Sen. Schumer for his recent visit to the Lab. I also want to thank Reps. Chris Collins and Reed, as well as the other members of the New York House delegation for their efforts to maintain support for this unique national resource that is vital for our national security and for science and education."
To read the full announcement, see: www.schumer.senate.gov/newsroom/press-releases/schumer-gillibrand-announce-80-million-in-funding-for-rochester-laser-lab-included-in-senate-energy-and-water-appropriations-bill.
Category: University News