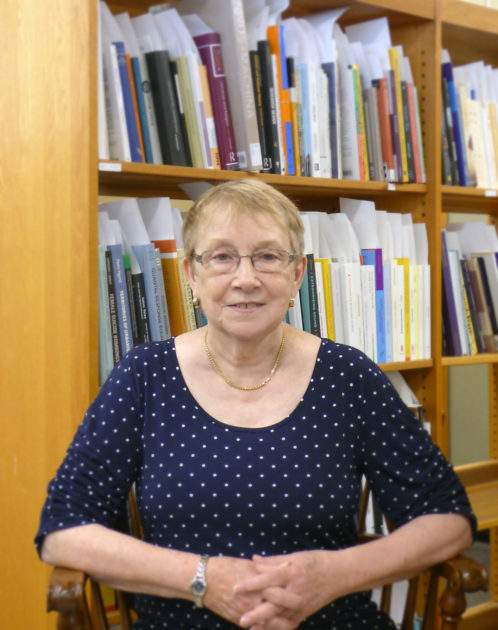 Every book found on the library's shelves and every electronic resource found in its databases is the result of a calculated process that takes into account scholarly, budgetary, and spatial needs. Oftentimes this process is led by Sharon Briggs, the winner of the 2016 Messinger Libraries Recognition Award.
Briggs, who celebrated her 50th anniversary with River Campus Libraries last September, has served as the head of River Campus Libraries' acquisition department. She has provided supportive leadership to her staff within an increasingly complex purchasing and licensing environment, and has helped students, faculty, and staff access appropriate scholarly resources that support teaching and research at the University.
"Sharon's commitment and devotion to the River Campus Libraries and the University of Rochester are outstanding and an inspiration to her peers," says Mary Ann Mavrinac, vice provost and Andrew H. and Janet Dayton Neilly Dean of River Campus Libraries. "This award is our way of thanking her for her cumulative contributions that, no doubt, will continue to accumulate."
Briggs has been instrumental to River Campus Libraries' implementation of a new data-driven collections allocation process that will ensure the library's scholarly resources appropriately reflect the evolving needs of the University community. In addition, her service on a number of library-wide working groups has resulted in the implementation of a variety of cost-effective workflows and practices. She is currently continuing her broader contributions to the library through her service on two library search committees.
As Jennifer Bowen, associate dean of scholarly resource management, notes, "through her long career, Sharon has amassed a wealth of expertise which she has shared generously with her colleagues. She can always be counted on to go the extra mile to benefit River Campus Libraries and its users."
"For me, the most important aspect of my job is the people," says Briggs. "They are the reason I get to work every day and the reason I enjoy doing what I do so much." She adds, "it is truly wonderful to be recognized for doing something I have been gaining so much pleasure from."
The annual Messinger Award honors contributions that advance the educational mission of the library or the library profession. Previous Messinger awardees include Melissa Mead, John M. & Barbara Keil University Archivist and Rochester Collections Librarian (2015); Kathy Metz, head of Patron Services (2014); Nora Dimmock, Assistant Dean for Information Technology, Research, and Digital Scholarship (2013); and Nancy Fried Foster, former Director of Anthropological Research for the River Campus Libraries (2012).
A longtime supporter of the libraries, Martin E. Messinger provided support for the 1998 restoration of the Periodical Reading Room and the creation of two graduate student study rooms in 2010. The Messinger family is a generous supporter of the Center for Jewish Studies, the Debate Union, and the Eastman School of Music, where Messinger and his wife, Joan, endowed the deanship. They also funded the building that houses the Eastman Community Music School, which is dedicated in memory of Anne Waltuck Messinger.
Category: University News