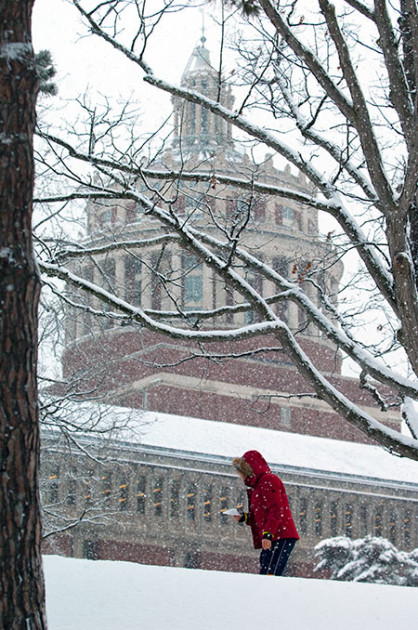 The NOAA's National Weather Service (NWS) has recognized the University of Rochester as a StormReady® university for its preparedness to handle all types of severe and potentially life-threatening weather. Rochester is the first private university in New York State to be certified StormReady.
"StormReady encourages communities, including colleges and universities, to take a proactive approach to improving local hazardous weather operations and awareness," said Judith Levan, warning coordination meteorologist at the NWS Weather Forecast Office in Buffalo. "StormReady arms communities with improved communication and safety skills needed to save lives and property before and during an event."
According to the NWS, approximately 98 percent of all presidentially declared disasters are weather related, leading to around 500 deaths per year and nearly $15 billion in damage. The StormReady program encourages communities to improve its hazardous weather operations by providing emergency managers with clear-cut guidelines. To be officially StormReady, the University's Office of Environmental Health and Safety confirmed compliance with the following criteria:
Establish a 24-hour warning point and emergency operations center
Have more than one way to receive severe weather warnings and forecasts and to alert the public
Create a system that monitors weather conditions locally
Promote the importance of public readiness through community seminars
Develop a formal hazardous weather plan, which includes training severe weather spotters and holding emergency exercises.
"I'm proud that our University has earned StormReady designation," said Ronald Paprocki, University senior vice president for administration and finance and CFO. "It affirms that our preparedness programs for all campuses are in line with national procedures and standards. Our priority is to provide students, employees and patients with the safest possible environment, which includes continuity of operations when severe weather strikes."
"The University is keenly aware of the importance of severe weather preparedness and planning and took advantage of StormReady process to validate the robustness of our comprehensive emergency plans, " said Mark Cavanaugh, director of Environmental Health and Safety at the University. "The StormReady program effectively assessed our communications, weather monitoring, warning, preparedness, education and alerting capabilities."
There are currently 164 universities across the United States that have earned StormReady recognition, with four now in New York State. Monroe County was recently re-recognized as a StormReady county for the fifth time.
"Having achieved our designation as StormReady in 2001, Monroe County continues to make the safety of our residents a top priority," said Monroe County Executive Maggie Brooks. "Monroe County is proud to be joined by the University of Rochester, the first StormReady private university in the state, as we go the extra mile to best protect our community and help keep our region prepared for any weather emergency that may come our way."
Category: University News