Tag: Memorial Art Gallery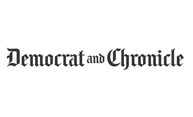 Grant Holcomb knew it the moment poet and former National Endowment for the Arts Chairman Dana Gioia stood up to receive an ovation at the Memorial Art Gallery last fall.
The MAG's centennial had consumed Holcomb, the gallery's director since 1985, for more than a year and Gioia's talk was the last in a series of commemorative events. Memorial Art Gallery officials plan to make an announcement Monday at 3 p.m. about the future director of the gallery.