Tag: Rettner Hall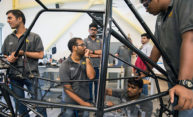 Rochester's Baja team is serving as host ambassadors to Team Helios Racing. The students flew 19 hours, stopping at JFK International Airport in New York City, and arrived Monday.
Students from any of Rochester's four humanities Ph.D. programs—English, history, philosophy, and visual and cultural studies—are invited to apply for admission to the fellowship.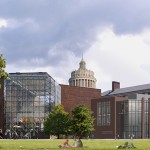 The new building is designed to be a hub at the cross-section of the study of arts, sciences, and engineering on campus.