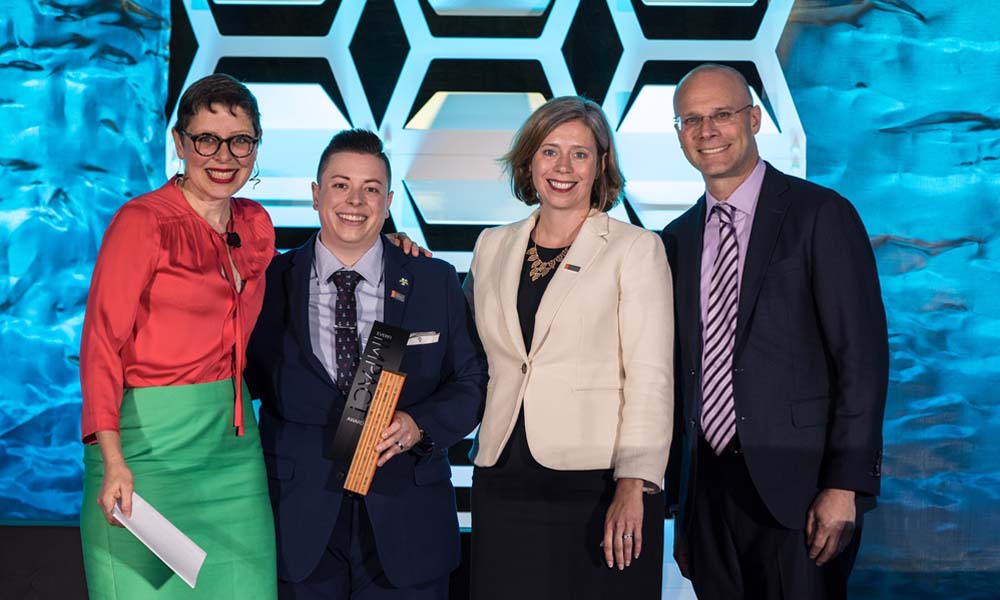 The University of Rochester has received a 2019 Campus Prevention Network Impact Award for outstanding achievements in sexual assault prevention. The Impact Award, which is presented by social impact education innovator EVERFI, recognizes Rochester's commitment to creating safe and healthy college campuses by implementing evidence-based practices. Rochester is one of 1,500 Campus Prevention Network (CPN) members, but one of only five to receive a 2019 Impact Award for Sexual Assault Prevention.
"The prevention work of the Title IX Office demonstrates the University's strong commitment to ensuring that all members of the University community have a place to live, learn, discover, and heal, free from sex- and gender-based harassment," says Morgan Levy, Title IX coordinator and director of University Student Services Coordination.
The University's sexual assault and misconduct prevention efforts are coordinated through the University's Title IX Office, which is staffed by Levy; Tiffany Street, assistant director for educational outreach; and deputy Title IX coordinators throughout the University. Additionally, there is ongoing collaboration between the Title IX Office and many University departments and units to develop and execute prevention programs throughout the year. These units include the Office for Residential Life and Housing Services, the Department of Public Safety, the Office of the Dean of Students, University Health Service, and the University Counseling Center.
EVERFI Impact Award winners consistently demonstrate a dedication to prevention efforts that exceed their peer institutions. Institutions are selected based on the results and scores of their Sexual Assault Diagnostic Inventory (SADI), a set of comprehensive evidence-informed assessments of an institution's prevention programs and practices grounded in peer-reviewed literature on best practices. Additional selection criteria include interviews with prevention experts and a careful review of each institution's accomplishments from the previous year.
The results of Rochester's most recent SADI earned the institution an "advanced" designation for its programming, critical processes, and institutionalization. Participating schools are designated as Emerging, Developing, Proficient, or Advanced.
In the past year, the University has taken a number of important steps to strengthen policies, clarify processes, and expand training and resources to support diversity, equity, and inclusion efforts as part of strengthening its Culture of Respect. To view these actions, visit the Culture of Respect website.
EVERFI Impact Award winners were recognized during EVERFI's 11th annual Campus Prevention Network Summit in Nashville, Tennessee, June 10-12. The Campus Prevention Network Summit is the preeminent opportunity for CPN partners to gather, learn, share, and explore strategies for enhancing prevention and compliance efforts on college campuses nationwide. Street accepted the award and received a special mention from the award committee for her hard work and dedication, as well as her unwavering commitment to creating a healthy and safe campus. The committee further noted that the University's success was "in great part due to Street's and Levy's leadership and tireless efforts to develop, implement, and sustain a set of effective education and prevention initiatives."
"The EVERFI Impact Award allows EVERFI the opportunity to recognize and celebrate the tremendous commitment these institutions are making by implementing comprehensive, data-driven prevention practices," says Rob Buelow, vice president, Impact and Education, EVERFI. "With so much recent emphasis on the shortcomings in campus prevention and response efforts, the EVERFI Impact Award aims to shift the narrative by highlighting campuses doing exemplary work to make their communities safe and inclusive."
The other four Impact Award winners for sexual assault prevention are Amherst College, Centre College, University of Chicago, and University of Delaware.
Learn more about the University's sexual misconduct prevention efforts.
Category: University News