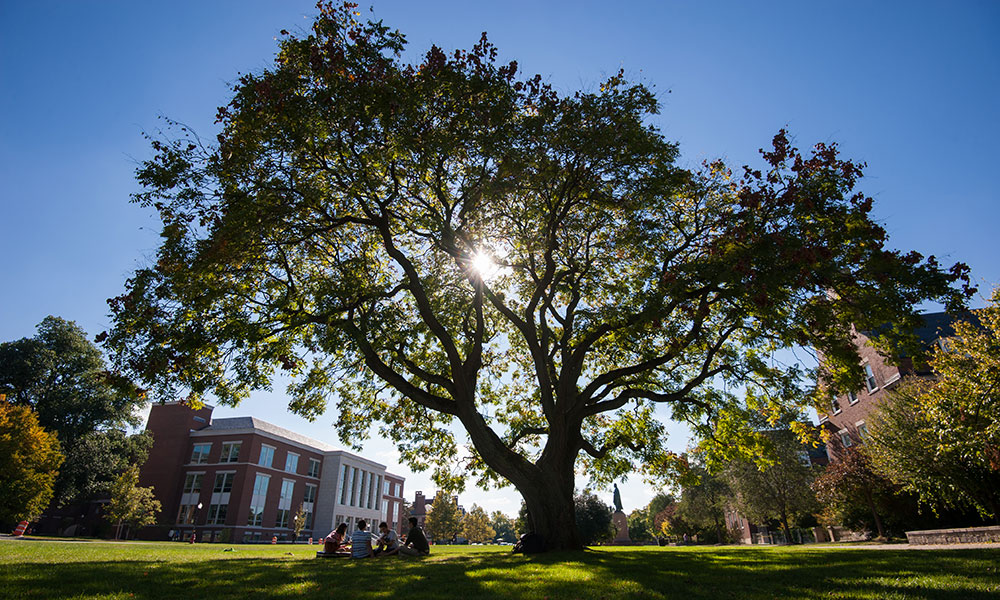 With its more than 1,400 trees of 116 different species, the University has again been named a Tree Campus USA institution for the sixth straight year, the Arbor Day Foundation has announced. Tree Campus USA is a national program created in 2008 to honor colleges and universities that have a commitment to effective urban forest management and engaging staff and students in conservation goals. The University of Rochester was the sixth institution in New York to receive this recognition just after the program began, and has been named a Tree Campus each year since.
The University's Horticulture and Grounds Department achieved the Tree Campus USA title by again meeting the program's five standards, which include maintaining a tree advisory committee, a campus tree-care plan, dedicated annual expenditures toward trees, an Arbor Day observance and student service-learning projects. The department, with support from vendors, is responsible for maintaining the University's arboretum and grounds, which includes the trees and shrubbery on the River Campus as well as the Eastman, Medical Center, South, and Mt. Hope campuses.
"It's a tremendous honor to be recognized as a Tree Campus USA," said David Nelson, manager of Horticulture and Grounds. "Educating our community and guests about our arboretum is a real point of pride. We have such beautiful campuses in large part to the University's commitment to caring for and highlighting a great and varied collection of trees."
Of note, the University harbors a former champion Ponderosa Pine tree—located on the Mt. Hope campus—which is among the largest known examples of this species in the State of New York. Additionally, the University planted 267 trees on the South Campus last year near the site of the new East River Road Medical building.
To view a River Campus Tree Tour video, as well as additional resources on the University's arboretum, visit: www.facilities.rochester.edu/arboretum/.
The Arbor Day Foundation has helped campuses throughout the country plant thousands of trees. Participating colleges and universities invested more than $26 million in campus forest management last year. The Arbor Day Foundation is a million member nonprofit conservation and education organization with the mission to inspire people to plant, nurture and celebrate trees. For more information, visit: www.arborday.org/programs/treecampususa/.
Category: University News