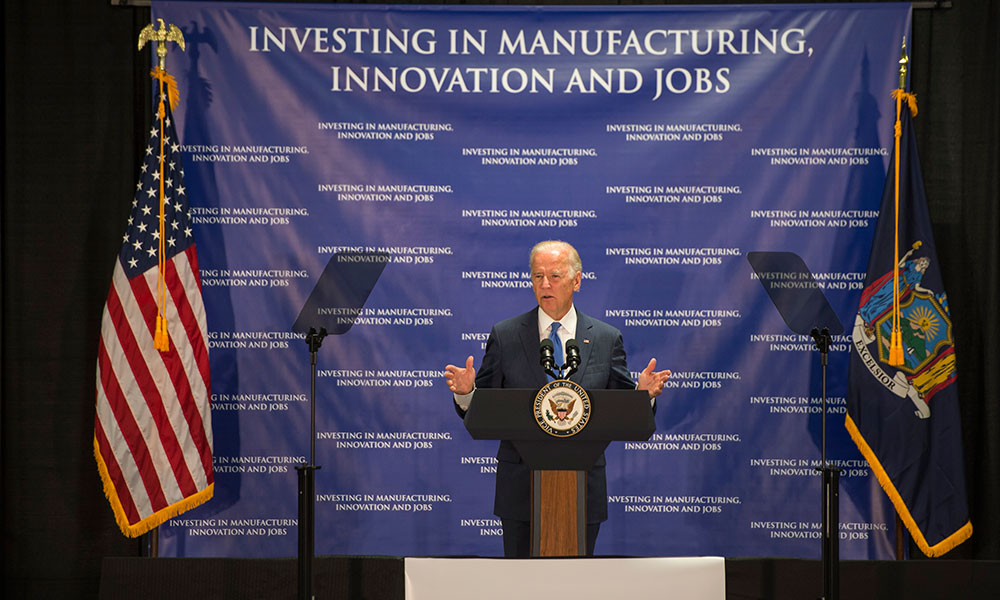 Total Funding for New Photonics Institute Will Exceed $600 Million
The University of Rochester is a key partner in a consortium that has won a national competition to advance U.S. photonics manufacturing capability. The new American Institute for Manufacturing Integrated Photonics (AIM Photonics) will be headquartered in Rochester, New York, and will bring the nation's leading talent from companies, universities, and federal research institutions together under one entity to develop the next generation of integrated photonics and deliver global manufacturing leadership.
"This is historic," said University of Rochester President and CEO Joel Seligman. "AIM Photonics will provide and empower the absolute best talent, sustainable relationships and infrastructure required to capture and sustain U.S. global leadership in this critical industry. As the headquarters for this new institute, Rochester is uniquely positioned to support this growth. Now, together with our partners, our work truly begins."
Seligman particularly thanked Governor Andrew Cuomo "for his extraordinary leadership, support and for helping convene the winning consortium. The investment by the state and federal governments will drive economic development in New York's Finger Lakes region and beyond. Governor Cuomo's commitment was decisive in helping us win this award." Seligman also expressed his deep gratitude to the members of the New York Congressional Delegation, led by Senator Charles Schumer and Representative Louise Slaughter, as well as Senator Kirsten Gillibrand and Representative Tom Reed, for their incredible leadership and support.
Seligman also praised the efforts of Assembly Majority Leader Joseph Morelle; Rochester Mayor Lovely Warren; Dr. Alain Kaloyeros, president and CEO of SUNY Polytechnic Institute; RIT President William Destler; and the University of Rochester's leaders in this effort, Robert Clark and Duncan Moore, for their vital work in "advancing our consortium's application through this extremely competitive process."
AIM Photonics will receive $110 million from the U.S. Air Force Research Laboratory, and that award will be supplemented by another $250 million from the State of New York, with additional funding commitments from public and private partners expected to exceed $245 million over the next five years for a 5:1 matching of federal funds. The proposal was put together by a coast-to-coast academic/industry consortium that includes the University of Rochester, SUNY Polytechnic Institute, RIT, MIT, University of Arizona, University of California-Santa Barbara, and Columbia University among its major academic partners, and corporate partners including Boeing, IBM, Intel, Hewlett-Packard, Lockheed Martin, Infinera, Corning and Synopsys. There are a total of 90 partners from 18 states. In addition to support from New York State, AIM Photonics is supported by the states of California and Massachusetts, along with leading national and regional industry consortia and economic development agencies.
Integrated photonics – devices that bring together multiple optics-based functions, often on an integrated circuit – is expected to revolutionize the carrying capacity of Internet networks, enhance medical technology and improve imaging-sensing capabilities for national defense and security. The U.S. has been a world leader in developing photonics technology for the past century. Defense applications and technologies encompass night vision systems, satellite surveillance systems, infrared, flexible displays, sensors, detectors, data communications, and lasers.
"AIM Photonics will leverage the capabilities of leading corporate partners, academic institutions, and a vibrant community of small and medium enterprises in Rochester to enable a new manufacturing base critical to the needs of our nation and the Air Force," said Rob Clark, dean of the Hajim School of Engineering and Applied Sciences and the University's senior vice president for research. Clark will serve as chairman of the nonprofit institute's board of directors. "AIM Photonics builds on the 2012 National Academies of Science report and is the culmination of several years of advocacy and bipartisan support from our Congressional delegation, and is also made possible by the recent enactment of the Revitalize American Manufacturing and Innovation Act."
In October 2014, President Barack Obama announced that the Department of Defense, through the Air Force Research Laboratory, would take the lead in the creation of an Integrated Photonics Institute for Manufacturing Innovation, committing $110 million to the project. AIM Photonics will be part of the federal National Network of Manufacturing Innovation proposed by President Obama to "create a competitive, effective, and sustainable manufacturing research-to-manufacturing infrastructure for U.S. industry and academia to solve industry-relevant problems."
In the winning proposal, the Rochester consortium partners state that the goal for the institute is to emulate the successes of the electronics industry over the past 40 years and "serve as an innovative ecosystem integrating efforts of researchers, technology developers, and manufacturers." AIM Photonics intends to apply key lessons from the electronics industry to the photonics integrated circuit (PIC) industry, which is currently low-volume, non-scalable, and uses expensive manufacturing methods and under-developed equipment. They aim to create a national infrastructure that is widely accessible and flexible enough to meet "the challenges of the marketplace with practical, innovative solutions."
Rochester is home to the oldest and largest hub for photonics manufacturing in the U.S. and has successfully competed for three other federal advanced manufacturing jobs programs: Advanced Manufacturing Jobs and Innovation Accelerator Challenge (AMJIAC), the Advanced Manufacturing Technology (AMTech) program and the Investing in Manufacturing Communities Partnership (IMCP) program. All of these awards were based on the region's strengths in photonics. In particular, the AMTech program awarded to the University of Rochester provides funding to develop a roadmap for the U.S. photonics industry and for developing a strategy to expand photonics manufacturing in New York State.  Rochester was chosen by the AIM Photonics team to be the hub for the effort, in part, because of its historical strengths and for its ability to provide a total solution to help advance technologies important to national security and make manufacturers more globally competitive.
More than $130 million of the awarded funds will be invested in the Rochester region. Moore, the Rudolf and Hilda Kingslake Professor of Optical Engineering and vice provost for entrepreneurship, who played a key role in coordinating the winning proposal, called AIM Photonics "a once-in-a-generation opportunity to help Rochester's optics, photonics and imaging industry become a national hub for producing next generation integrated photonics devices."
Effective workforce development will be central to the success of the institute's goals. As Moore points out, Rochester has a long history of training the next generation of optics, photonics and imaging workforce, and the institute will leverage the capabilities of the University of Rochester and RIT, as well as those of the other academic partners.
Category: University News